Monday sports: Northpoint opens volleyball playoffs past Harding
Photo: Northpoint's Hassie Clare Thurman and Isis Reid set a block at the net during Monday's victory over Harding Academy. (Bob Bakken/desotocountynews.com)
The Northpoint Christian volleyball team defeated Harding Academy in three straight sets to open postseason playoff action Monday night at Northpoint. Set scores in the closely contested match were 25-23, 25-22, and 25-21.
In the first set, Northpoint took a 3-1 lead after an ace by Kylee Reynolds, but the Lady Lions scored the next three points for a 4-3 lead. Harding would keep the advantage and at one point owned a 10-5 lead. Northpoint battled back to tie the set at 13-all r and a 19-17 Harding, Northpoint called a timeout.
The Lady Trojans again battled and tied the set at 21-all on a kill by Hassie Clare Thurman. Northpoint scored four of the next six points to win the set 25-23.
In the second set, the Lady Trojans took control early with a 6-3 edge after a Quinn Thurman kill. Northpoint extended the lead to 10-6 before Harding fought back and grabbed a 15-14 lead as the set continued. However, a Valerie Hurdle kill put the Lady Trojans ahead 20-18, followed by a Harding timeout and another Reynolds kill to give Northpoint a 22-18 edge. When Reynolds scored a point off a Harding block, the Lady Trojans took a 24-20 lead and finished the set at 25-22 when Reynolds' volley fell onto the Lady Lions' side of the court.
A kill by Quinn Thurman helped stake Northpoint to a 5-3 lead in the third set, a lead that became 10-5 on a kill from Isis Reid. Harding would climb back into the set to 12-11 Lady Trojans, forcing a Northpoint timeout.
The Lady Trojans came out of the stoppage and jumped out to a 21-15 advantage, a run that included another kill from Reid. A Harding ace got the Lady Lions within 23-19 but Northpoint extended the lead to 24-20 as Reynolds scored off a block. The Lady Trojans finished the match on this point.
Northpoint stat leaders the match were as follows: Quinn Thurman (12 kills, 1 ace, 18 digs), Isis Reid (19 kills, 1 block, 1 dig), Kylee Reynolds (10 kills, 5 blocks, 2 aces, 3 digs), Sarah Johnson (38 assists, 12 digs), Sailor Cole (15 digs, 1 ace), Hassie Clare Thurman, Val Hurdle (4 kills, 10 digs each).
Northpoint remains on the tournament trail, traveling to play Tipton Rosemark Academy in the semifinal round at University School of Jackson Tuesday, starting at 6:30 p.m.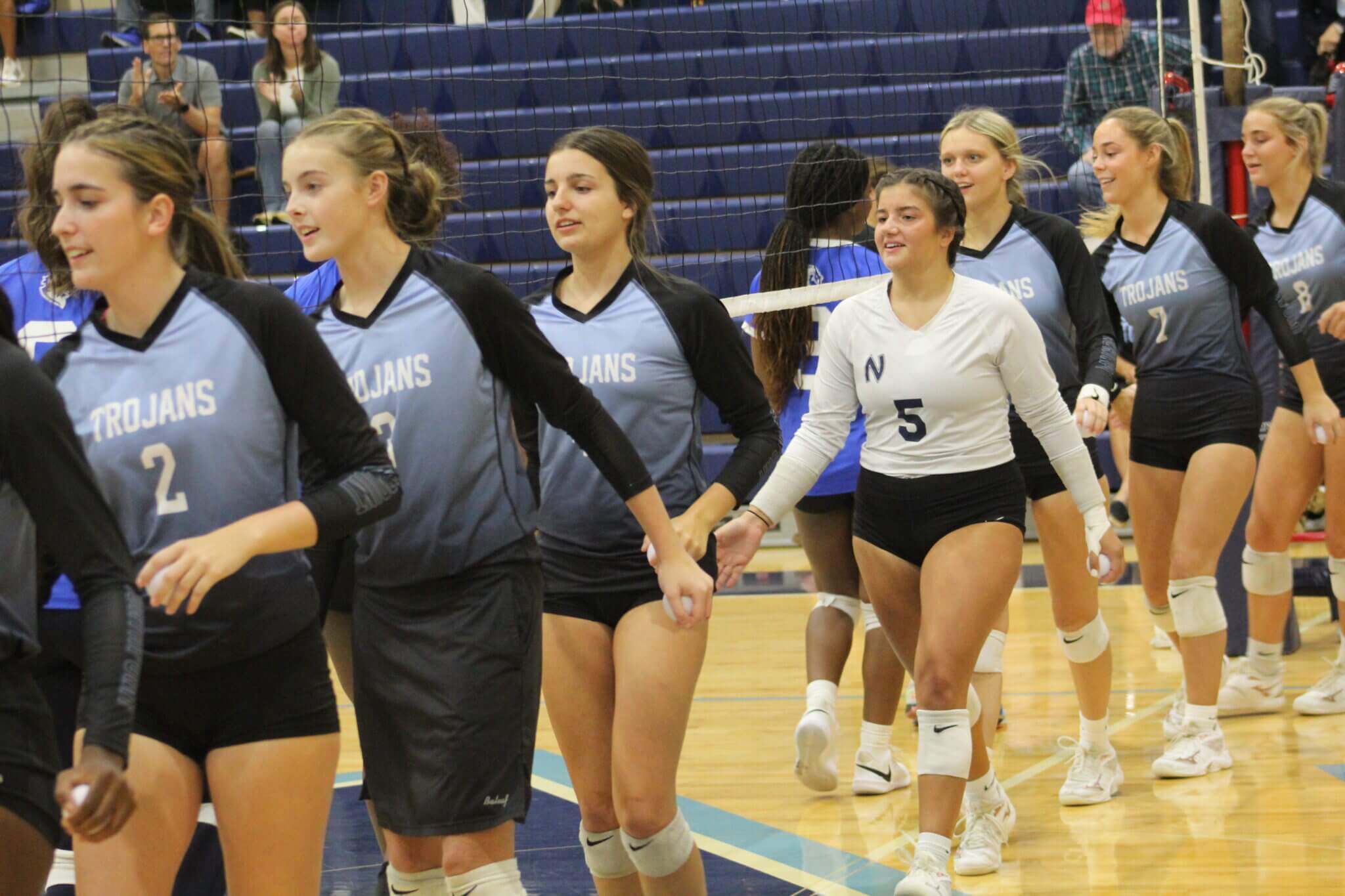 HERNANDO BEATS NEW ALBANY: Hernando stepped out of region play Monday night and swept New Albany 3-0 with set scores of 25-14, 25-18, 25-22.
Hernando is one of three DeSoto County teams that have qualified for the first round of Class 7A playoff action. The Lady Tigers will play at Madison Central on Oct. 10 in the first round.
Other DeSoto County teams in the volleyball playoffs will be Lewisburg, which hosts Starkville, and DeSoto Central, which will host Tupelo.
Lake Cormorant is in the Class 6A playoffs and will host a playoff match Oct. 10 in the first round against an opponent yet to be determined.  
NORTHWEST EDGES PEARL RIVER: The Northwest Mississippi Community College volleyball team won a five-set thriller over rival Pearl River in Senatobia on Monday.