Northpoint's Gilliland among NSD signings
Northpoint football lineman Chris Gilliland signs his letter of intent to play at Northeast Mississippi Community College. (Bob Bakken/DeSoto County Sports)
They call him "Mr. Northpoint" for his popularity and leadership. Now, Northpoint Christian School lineman Chris Gilliland plans to take on Booneville and Northeast Mississippi Community College.
Gilliland's commitment to Northeast on National Signing Day, Wednesday, Feb. 2, was one of a number of college football signings in DeSoto County.
Playing both sides of the football, both offensively and defensively for the Trojans, Gilliland is expected to be on the defensive side of the line for the Tigers.
"He's played everything, except for kick returns," said Northpoint coach Tyler Gold. "Chris is one of the best offensive and defensive linemen I have ever been around. He's done everything with a great attitude and an awesome effort."
An all-metro pick who in the classroom carries a 4.0 grade point average, Gilliland said Northeast can help him get to the goals he has for the future.
"The coaches were really interested in me," Gilliland said. "I can get a good education over there, my dream is to play Division I football and they said they could prepare me to get to that level."
Gilliland, who also plays on the Trojans' basketball team and at one time thought of pursuing college basketball, is a leader by example, said Gold.
"Chris doesn't talk a lot, but when he does talk, on the field or in the weight room, everybody drops and they listen," Gold said. "While he's a man of few words, what he says means a lot."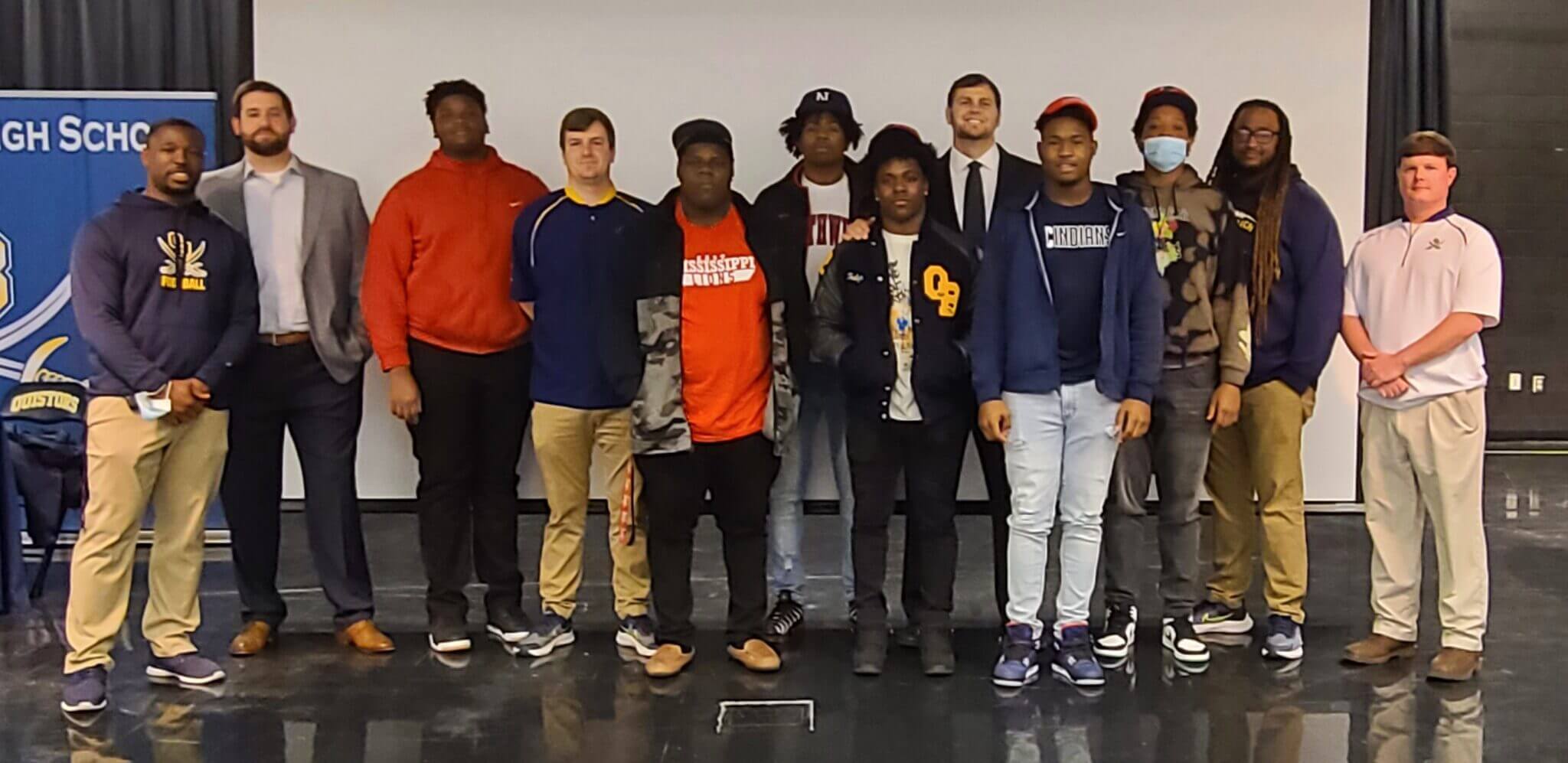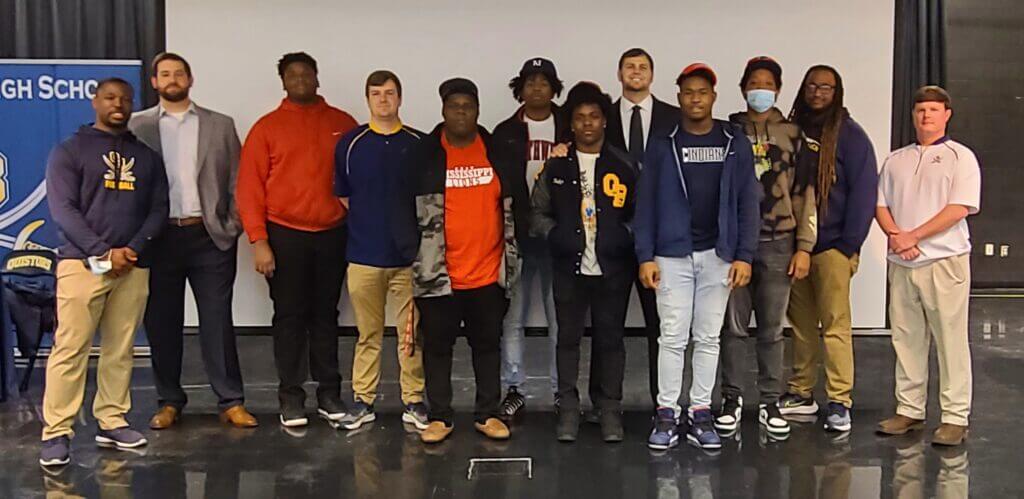 Over at Olive Branch High School, the National Signing Day program included highlights and commitments from six Conquistadors.
The group and their college locations were: Patrick Bell (East Mississippi CC); Keshun Sessom (Itawamba CC); Tralyn Oliver (Itawamba CC); DJ Harden (Northwest Mississippi CC); Mason Holmes (Itawamba CC), and Joseph Wyatt (Mississippi Delta CC).
"Wherever they go, they will always be part of the Olive Branch football family," said coach Jason Russell. "The road ahead is difficult and will require your best every single day. This group will accomplish this if you set your mind to it."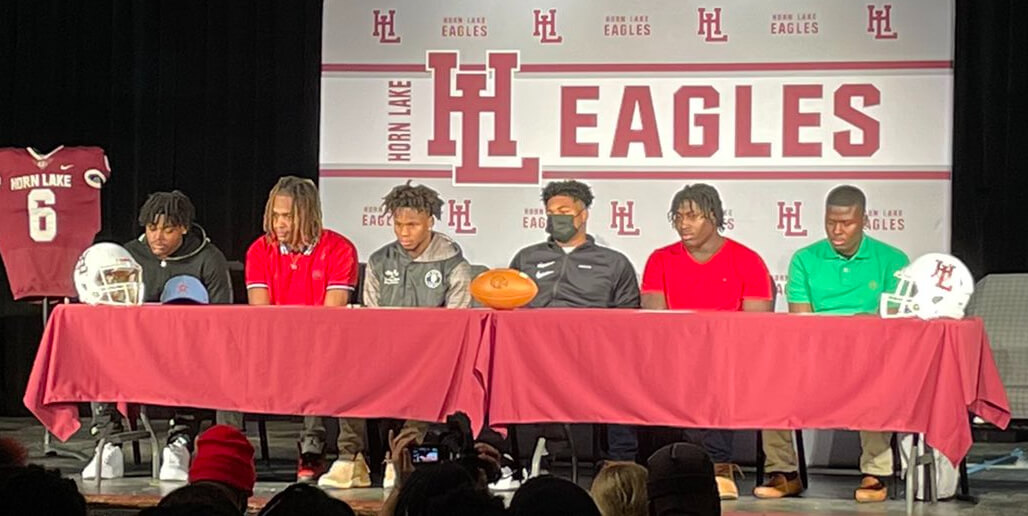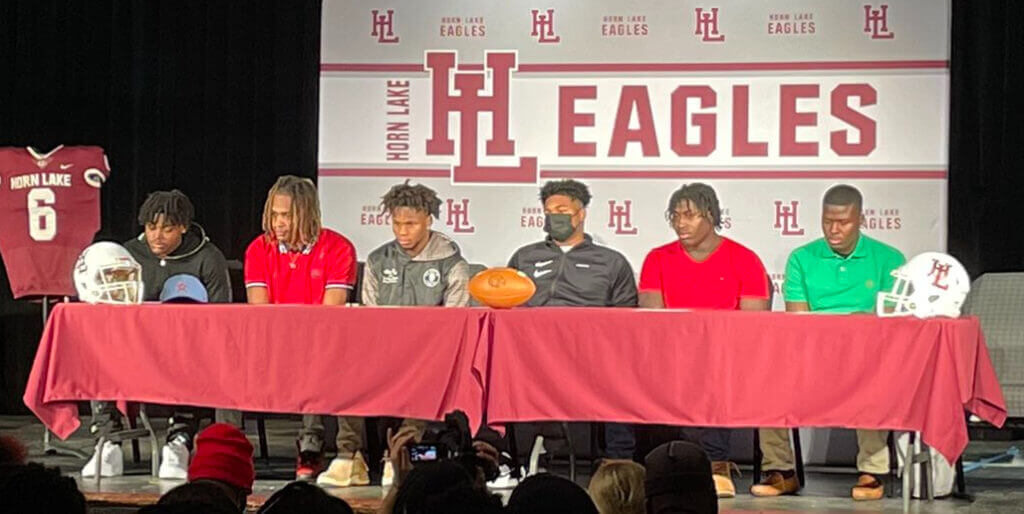 Another school that had a ceremony for football signings on National Signing Day was at Horn Lake, where six Eagles signed letters of intent.
Those signing were: Dyllon Bullard (Northwest Mississippi CC), Drevion Williams (Anderson University); Levante Hodges (Marietta College); Philtarias Oliver and Dontavious Allen (both to Itawamba Community College); and A'qui Thomas (Iowa Wesleyan University).
ALSO SIGNING… Other signings at the community college level included Telvin Amos of Lake Cormorant, who signed with Mississippi Gulf Coast, and Troy Sims of DeSoto Central to Itawamba.