Jeeps come to the rescue during snowstorm
Photo: Mid-South Jeep Club members line part of a parking lot at Baptist Memorial Hospital-DeSoto in Southaven after a parade in front of the hospital. (Bob Bakken/DeSoto County News)
The February snows may have kept many of us stuck at home, and maybe forced to work at home, when as much as eight inches of snow fell on DeSoto County and the Mid-South last month. Schools were closed, activities canceled, and some businesses even shut down because the ice and snow-covered roads wouldn't allow safe travel.
However, a medical care facility of the scope and size of Baptist Memorial Hospital-DeSoto in Southaven cannot just shut down and take the week off until the roads get better. The doctors, nurses, and other personnel who staff the hospital must be able to actually be at the hospital to provide patient care. They can't simply "phone it in" from home.
So, when the roads became treacherous and hospital employees were putting their lives and limbs on the line just to get to work, it was the Mid-South Jeep Club that came to the rescue.
"They knew that the patients inside the building still needed care and the healthcare workers were having a hard time getting to work," said Baptist-DeSoto CEO/Administrator Brian Hogan. "So they called the hospital and volunteered their services to our employees. It's just amazing what they did."
The good the jeep club members did for the hospital workers did not go unnoticed. A parade was held Wednesday afternoon, March 24. That's when about 40 club members came with their vehicles one more time. But instead of ferrying workers to the hospital, they paraded around from the front entrance to the north side of the facility to allow the employees to thank them through cheers, waves, and signs.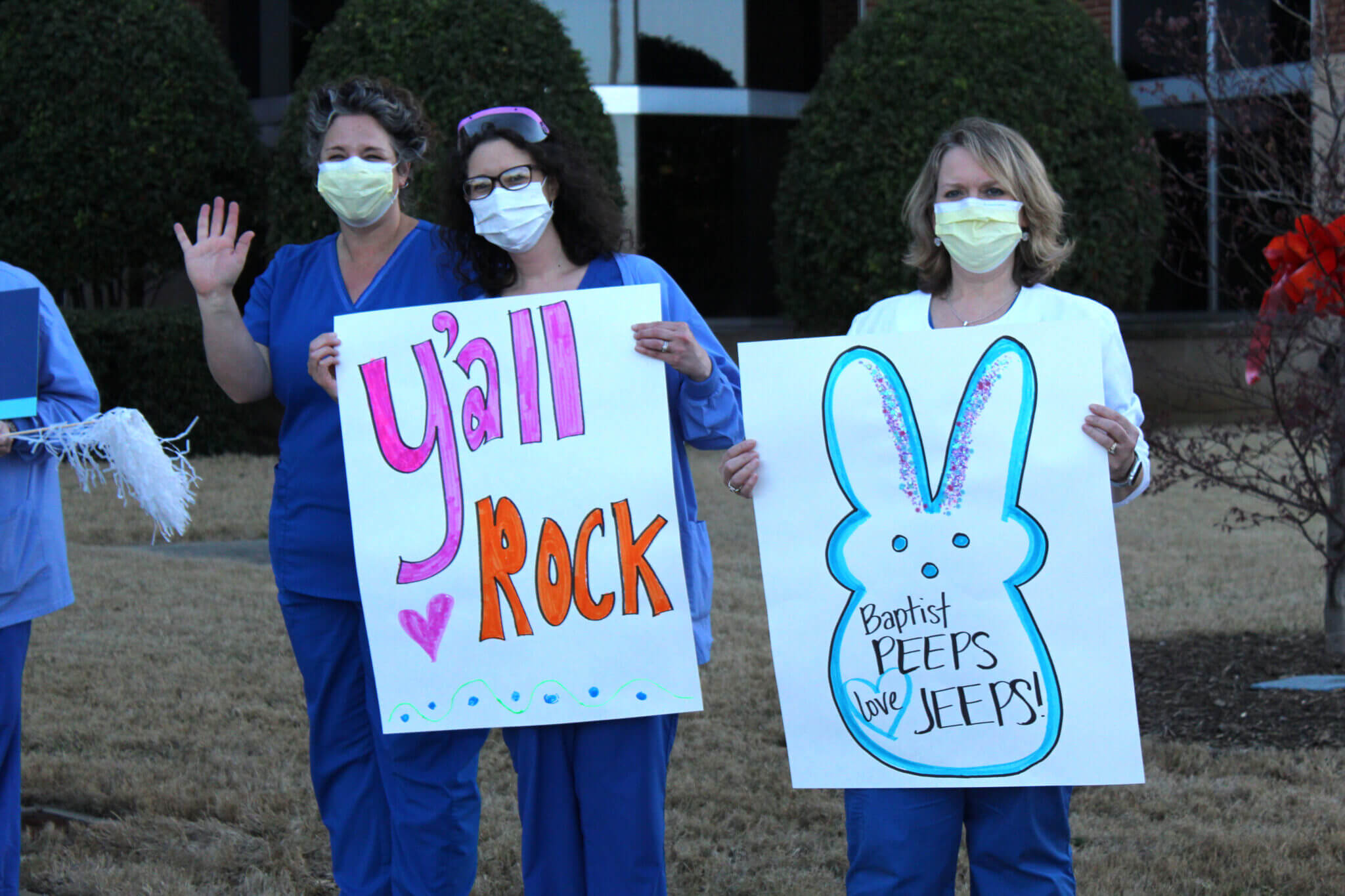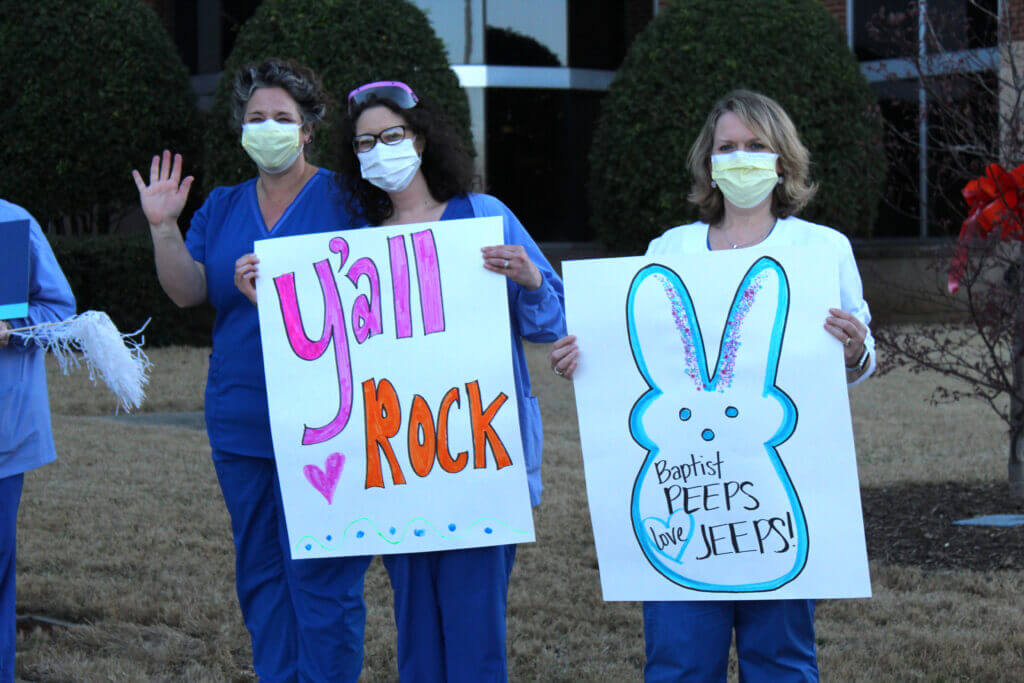 Hogan said when the snow started falling, the Mid-South Jeep Club put out a call to its members and others through a Facebook post asking for volunteers. Hospital workers saw the post and shared it with their friends and it all brought out a tremendous response, as workers called out for rides because either the roads were unsafe or their vehicles could not handle driving in the inclement weather.
The need for help through the snow at a hospital like Baptist-DeSoto is significant, Hogan said.
"We have a total of 1,800 employees and on an average day time, we have about 800 employees in the building," Hogan said. "If you came on the morning of the snowstorm, you would see a line of jeeps at our entrance dropping people off for work."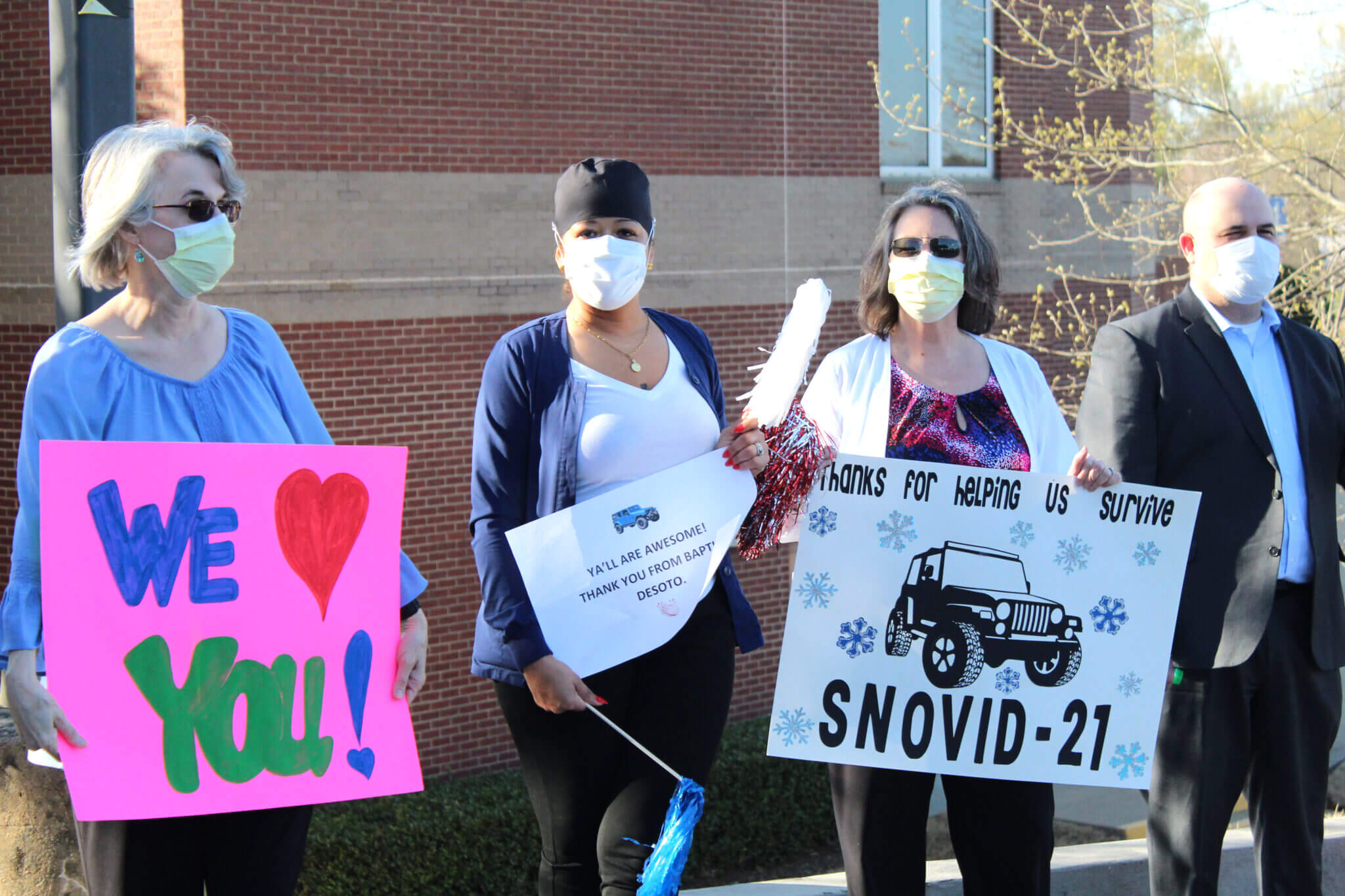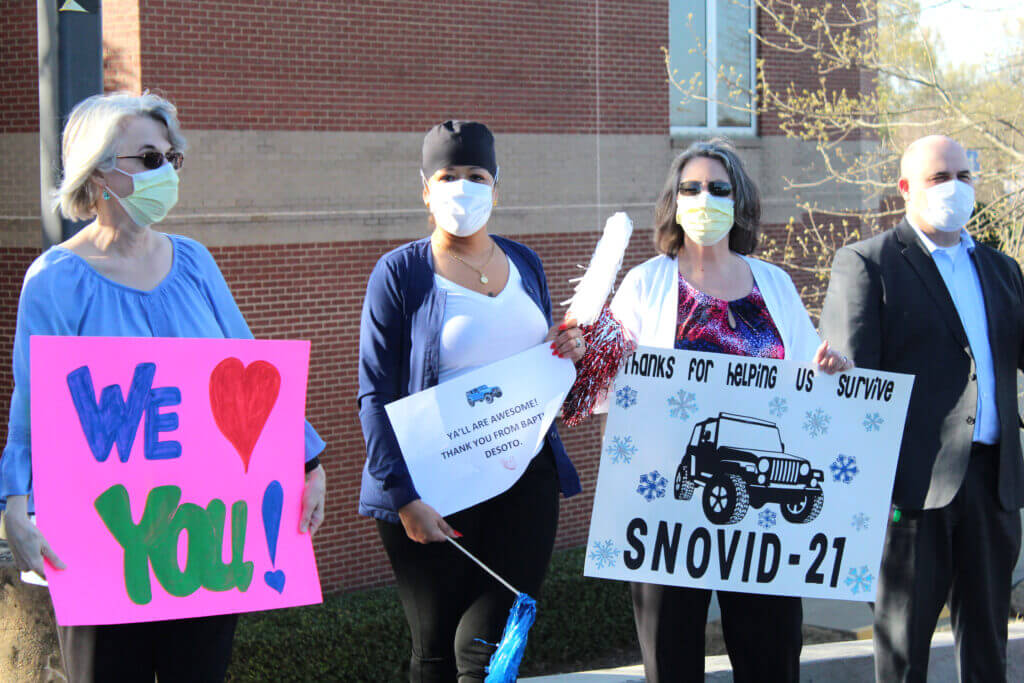 "I think at last count, we did about 3,000 shuttles, and anywhere from 200 volunteers were on the streets throughout the week," Mid-South Jeep Club President Chris Johnson said. "It was very busy, plus we switched between transport help to shuttling water. It was a big week for the club."
Some water issues developed during the week with some medical facilities in Memphis, so the jeep drivers were also bringing water to those locations when they weren't ferrying hospital workers.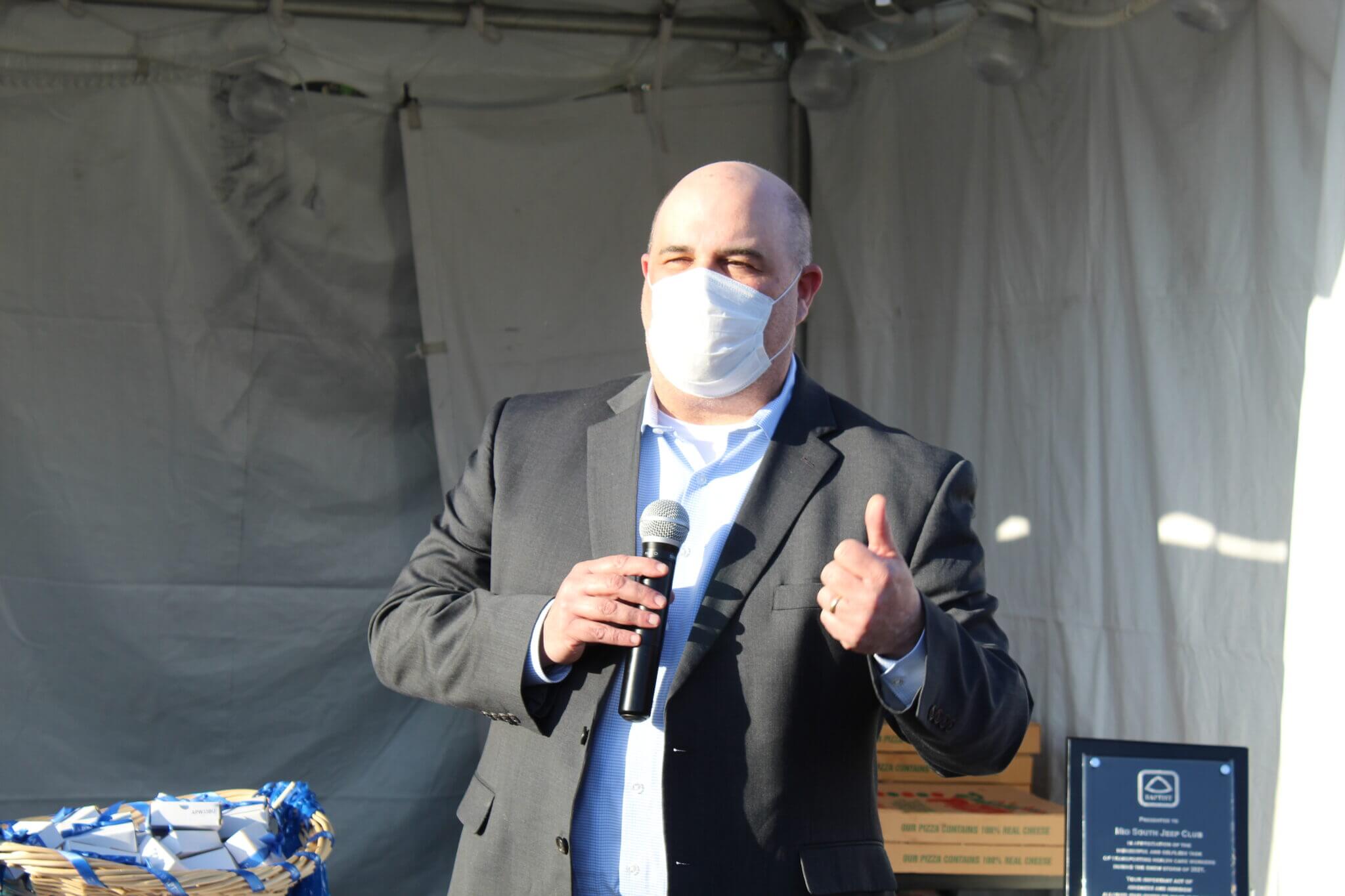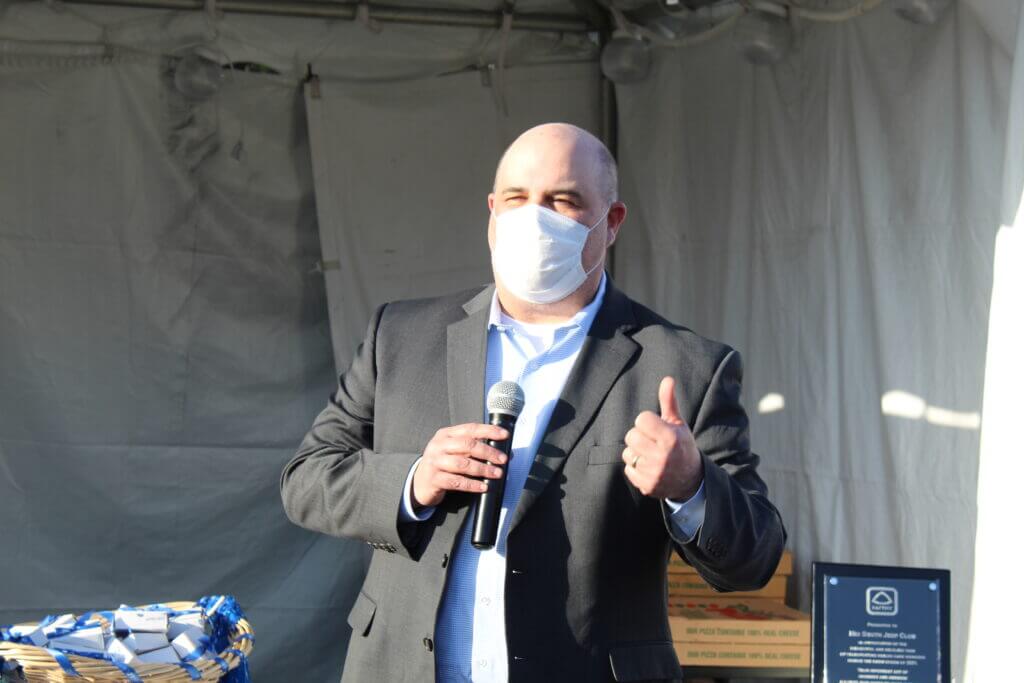 "During our major snow storm in February, the Mid-South Jeep Club transported our healthcare workers to and from work," said Hogan. "They did this without compensation and out of the goodness of their hearts. They transportated hundreds and hundreds of our employees to work each day and they were under no obligation to do that."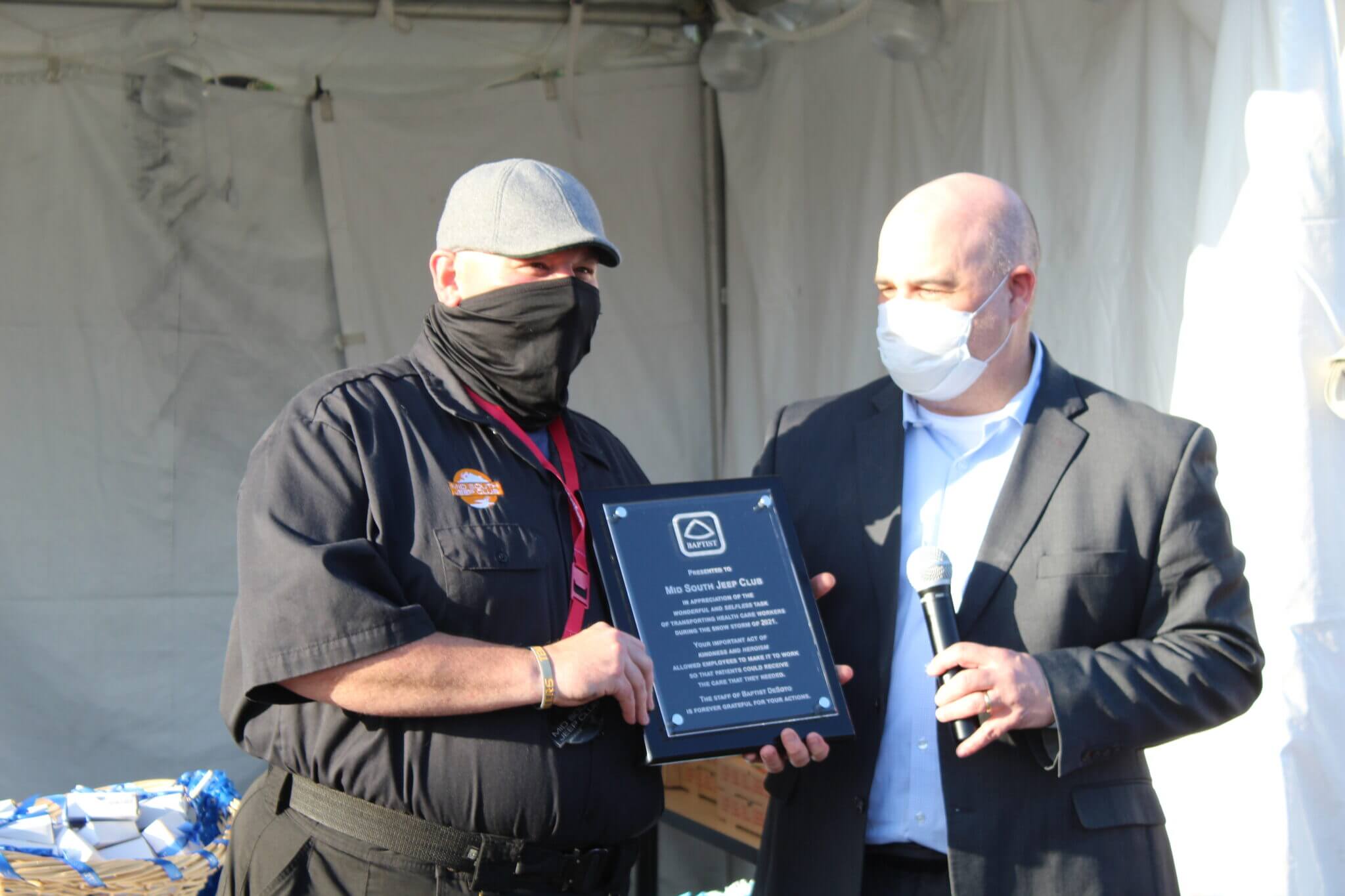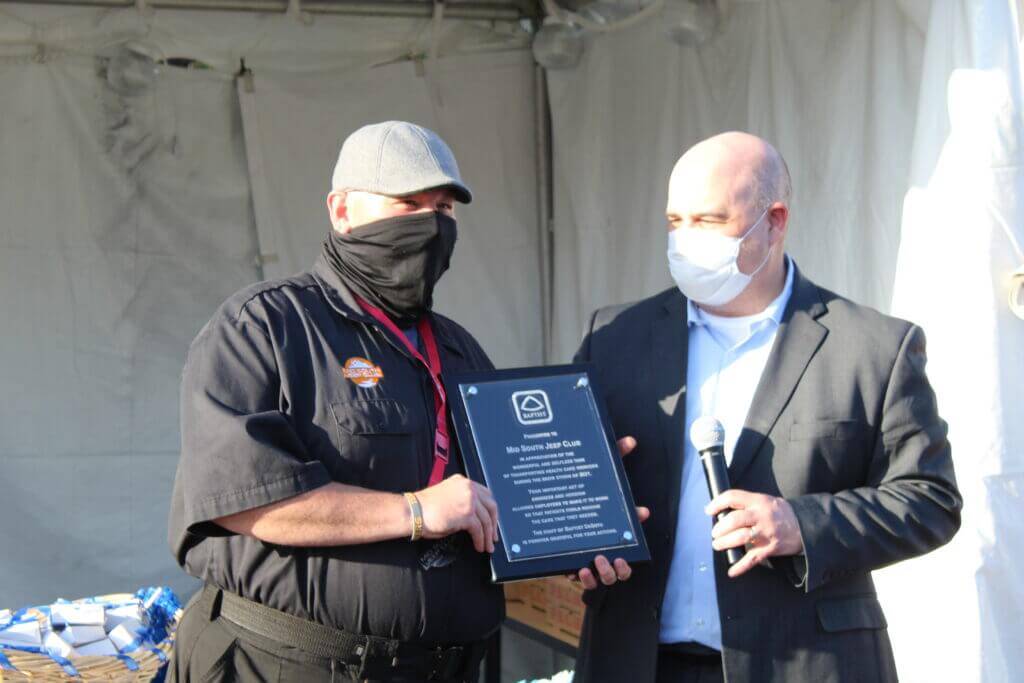 In addition to Baptist-DeSoto, Johnson said they were also helping out facilities as far away as Tupelo, Oxford, and Tipton County, Tennessee.
"We are a club of 770 paid members ranging throughout the Tri-State area," he noted.
Johnson said it was the club members, aware of the inclement weather coming to the area, who asked him how they could help.
"Usually jeep clubs will get together, drive around and pull people out of ditches, and such," Johnson said. "Being that I'm a healthcare worker and local first responder myself, I figured what better way to give back to the healthcare workers than to help the ones that can get them to work."
Johnson said he posted the offer on Facebook groups pages he's a member of, offering to give a ride, and as he said, "it just went from there."
"It's overwhelming that the hospital would do this for us," Johnson said of the parade and pizza that was served afterward. "The whole week was just overwhelming and doing this for the members makes us feel great."