Olive Branch schools help 'Make A Wish' come true
Photo: Annabelle Guy with her family, including parents Stephanie and Brian Guy at Olive Branch Intermediate School on Friday, May 12. (Bob Bakken/desotocountynews.com)
Annabelle Guy has been very active in her school life, especially as a cheerleader at Olive Branch Middle School and Olive Branch High School.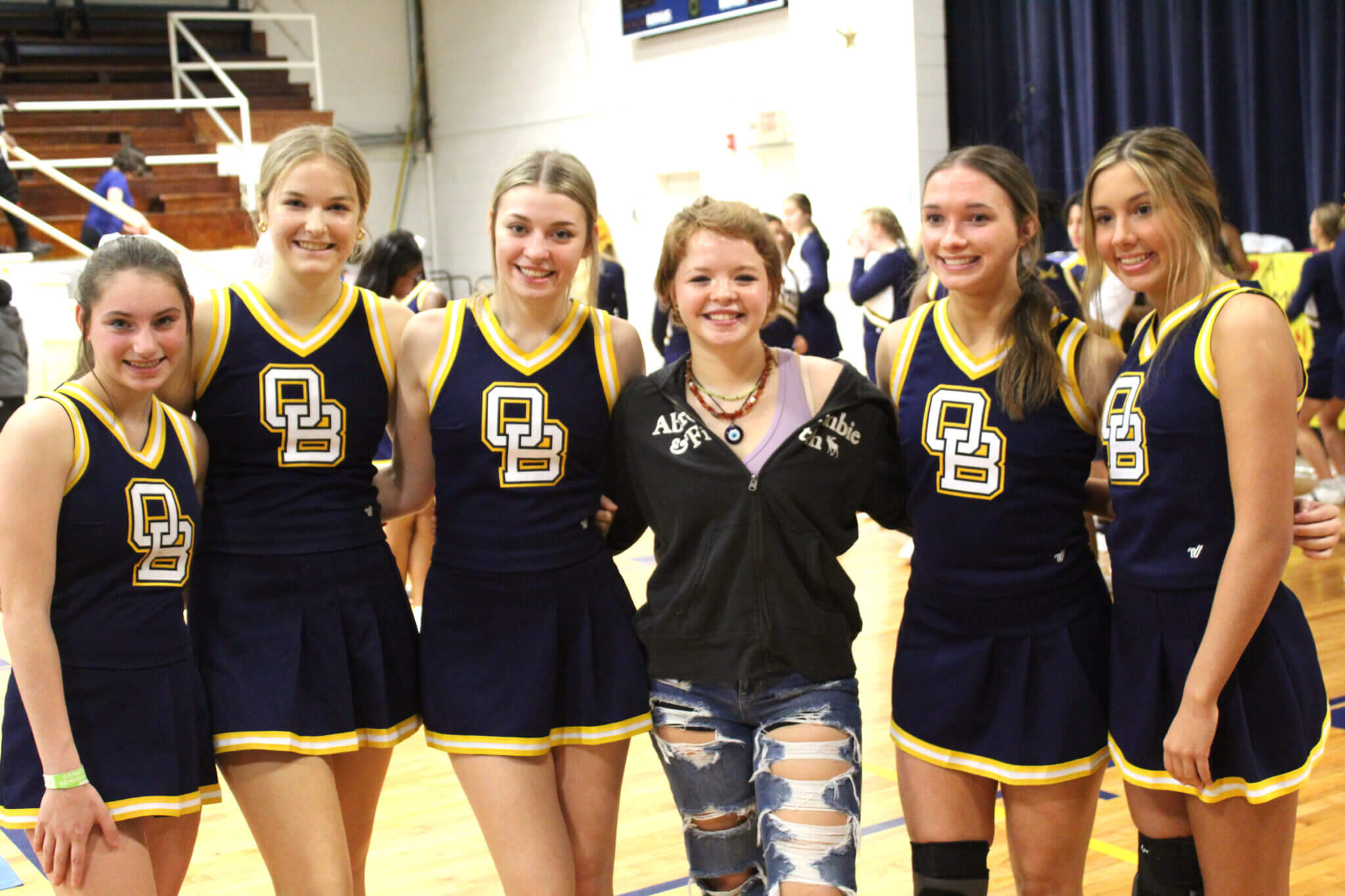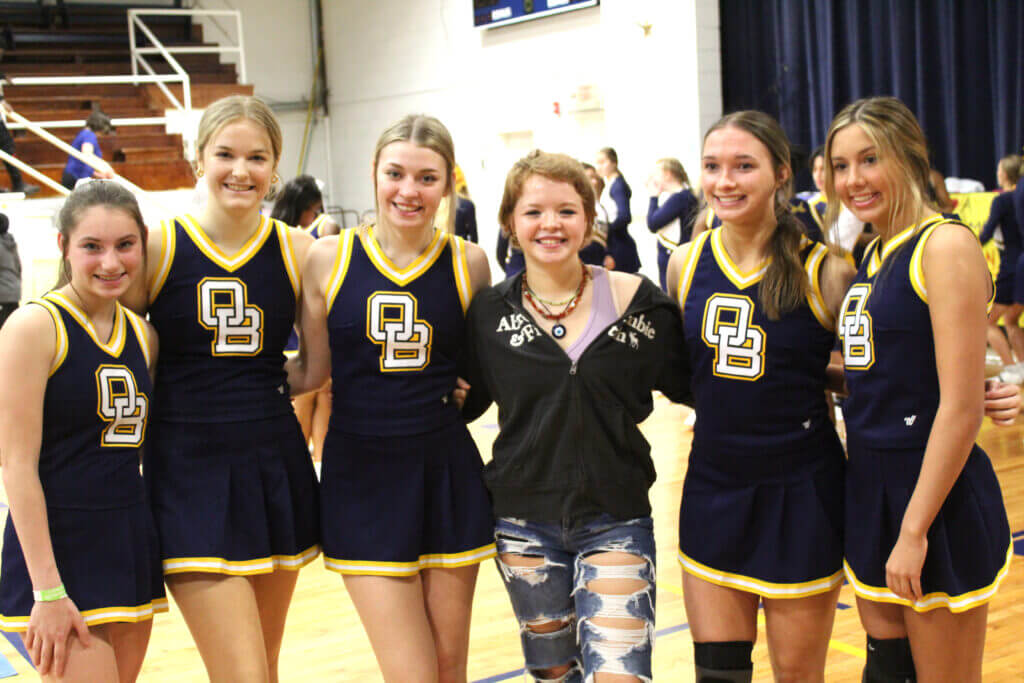 All that got put on hold for a while when Guy, a 10th grader at Olive Branch High, contracted a rare blood disorder associated with her catching COVID-19. A bone marrow transplant was needed for her to get through the illness, bone marrow supplied to her by her father, Brian Guy.
Guy is now in remission from the disease and is set to celebrate that, and will, with the help of Make-A-Wish and the Olive Branch schools: Chickasaw Elementary, Olive Branch Elementary, Olive Branch Intermediate, Olive Branch Middle, and Olive Branch High School.
Elizabeth Owen, Development Specialist for Make-A-Wish, said the Olive Branch schools this year were working on fundraisers to support a wish child, not knowing at first who it would be. Owen said it was soon discovered the wish child would be someone many of them might know.
"When we were working to find a wish child for them to sponsor, we learned that there was one of their own that was eligible for a wish," Owen said. "So, we were able to pair them with Annabelle."
Organizer Tiffany Harris set the fundraisers in motion with the result of more than $13,000 being raised for Annabelle's wish to be granted. She and her family will be spending a week on what is called the Ultimate Gatlinburg Trip to Gatlinburg, Tennessee.
"It's a trip I've always wanted to have happen so I'm just excited for it," Annabelle said Friday as her wish being granted was revealed during a school assembly at Olive Branch Intermediate. "I'm looking forward to just being there in that area."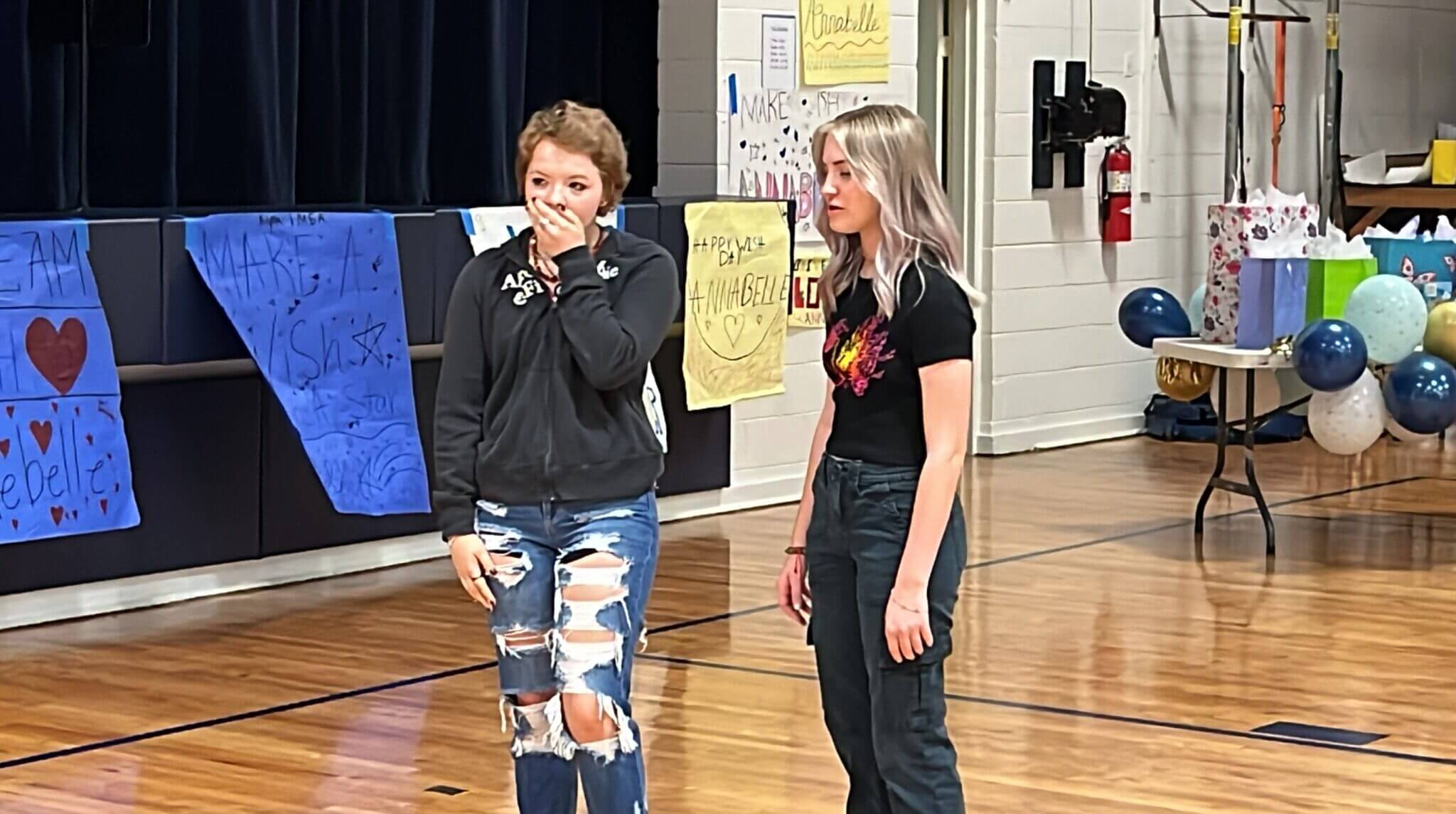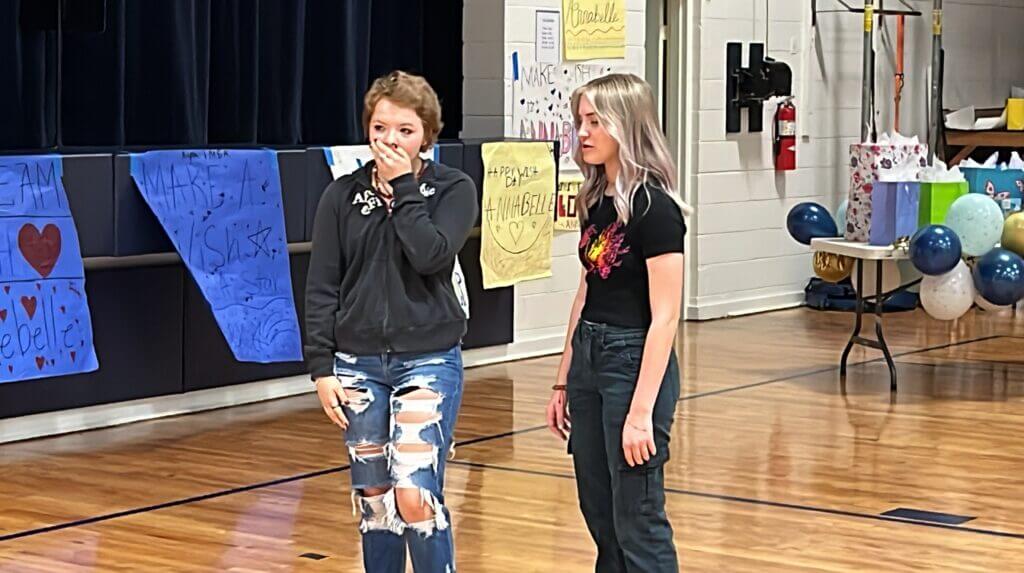 Owen said she could quickly tell from Annabelle that Gatlinburg would be the destination of the Make-A-Wish trip.    
"I actually got to do her wish introduction interview and we talked through a number of different options. Her face lit up when she talked about having the Ultimate Gatlinburg trip," Owen said. "When she brought this up, you could tell a change in her whole demeanor. She was so excited. She has been there with her family before but the experience you get with Make-A-Wish is unlike any other. They're going to have a fantastic time."
Annabelle's brother Hudson, who goes to school at Olive Branch Intermediate, was selected to be the one who revealed that the Gatlinburg wish was granted.  
A cheerleader who looks forward to being back on the cheer team when she returns to school in the fall, Annabelle felt it was special to have the support being shown for her from the local schools.
"I was excited and it just makes me happy to see that all these people are cheering for me," said Annabelle. "It brought me joy because everyone was together and doing it."
The schools had different fundraisers for Make-A-Wish, from coin collections to a pajama day at Olive Branch High, where students could wear appropriate pajamas to school if they donated to Make-A-Wish.
A big cheer greeted Annabelle as she entered the Olive Branch Intermediate School gym Friday afternoon.
Along with messages of support, the Olive Branch Middle and High School cheerleaders led the student body in cheers for Annabelle.
"It's the Ultimate Gatlinburg trip because it was what she wanted," Owen said. "This is what she has built up in her brain as how she wants to celebrate being on this journey that she is on. She'll get to go to Dollywood and they're staying at a beautiful cabin and with all of the other fine Gatlinburg attractions they will get to do while they are there."
It will make for a special week ahead for the Guy family as they celebrate Annabelle's successful fight against disease and enjoy a wish being granted, thanks to schools in the Olive Branch community.