I-22 crash injures one, clogs traffic
Photo: Early morning crash scene of the accident on I-22 near Byhalia. (MDOTtraffic.com)
The Mississippi Highway Patrol (MHP) continues to investigate an early morning accident that clogged traffic just outside of DeSoto County for several hours. 
According to MHP, the collision took place about 5:30 a.m. Thursday morning. A semi-trailer truck driven by Dustin M. Glidden, age 35 of Alma, Michigan, was eastbound on I-22 near the area of mile marker 13, near Byhalia and south of the I-269 interchange.
The Patrol reported that a 2017 Jeep Compass, driven by David H. Austin, age 38 of Forest City, Arkansas, entered the roadway from the shoulder and collided with the semi-trailer truck Glidden was driving.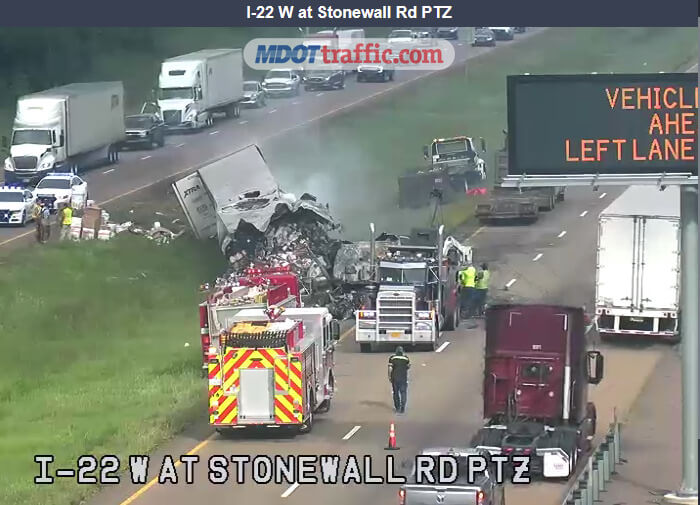 The vehicles ended up in the median where a fire began. Crews were called to put out the fire. Meanwhile troopers closed nearby lanes to traffic as the crash was being investigated and the accident scene cleared.
By early in the afternoon, much of the area had been cleared, with only cleanup work being done.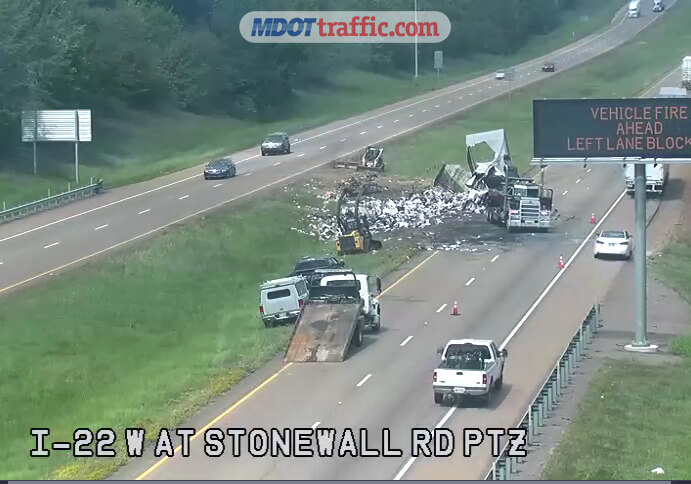 Austin was transported to Region One Health in Memphis for treatment of injuries from the crash.  There was no indication on the extent of his injuries given by the Highway Patrol.