"Big Easy" and the Globetrotters come to Southaven
The world-famous Harlem Globetrotters hit the Landers Center hardcourt on Friday night, July 30, to bring almost a century of basketball skills, finesse, and tricks to entertain young and old alike, spreading their unique brand of joy and goodwill. It's being called the "Spread Game Tour" and is the first time for the team to be traveling since the onset of the coronavirus pandemic in 2020.  
Founded in 1926 by Abe Saperstein, the Globetrotters have entertained more than 148 million fans in 123 countries and territories.
Big man Nate Lofton, known as Big Easy for his New Orleans roots, said many of the skills you may see on your hometown basketball floor today became popular after the Globetrotters originated it.
"We started over 95 years ago and we've been doing the slam dunks and no-look passes and things of that sort," Lofton said in a recent phone conversation with DeSoto County News. "I think basketball is entertainment. We are the most wholesome entertainment that you're going to get. When you come to a Globetrotters game, everybody can enjoy it."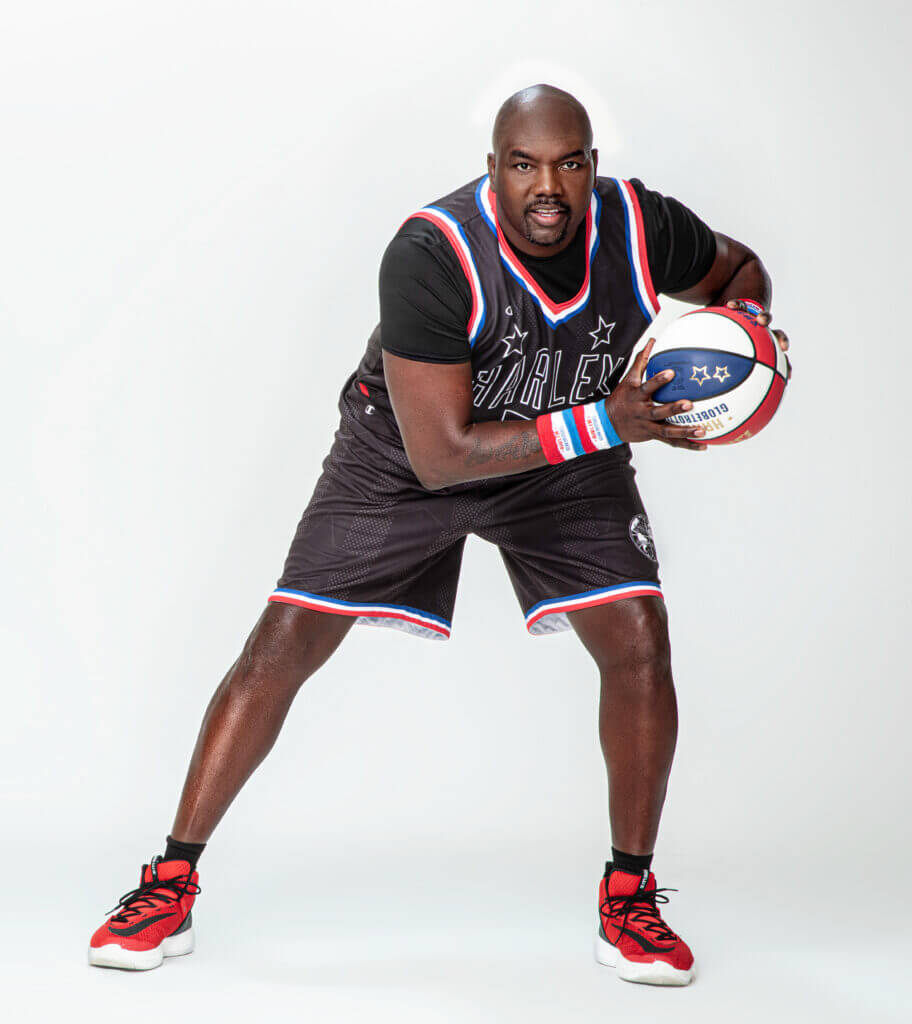 Lofton has been with the Globetrotters for 17 years, but he's done more than just dribble and shoot. Big Easy is also known for three appearances on the television show "The Amazing Race," where he traveled the globe with Herbert "Flight Time" Lang. They finished as high as runner-up in Amazing Race 18 of the program, which was titled "Unfinished Business," because of their elimination the first time they were on the show.
"It was awesome, at least up until losing every time," Lofton said. "I think I enjoyed being able to check out for 30 days and not have to answer emails, not having a phone stuck to my hip and being able to relax, and just be in the moment. I enjoyed that part of the race."
Other television appearances for Lofton have included Disney XD's "Kickin ' It," "Cupcake Wars," "The Price is Right," "Are You Smarter Than A 5th Grader?," "The Tonight Show Starring Jimmy Fallon," Kevin Hart's "What the Fit," and Nickelodeon's "Mutt & Stuff" and "Ryan's Mystery Playdate."
Traveling is certainly nothing new for the six-foot-nine-inch Lofton, who played college basketball at Southeastern Louisiana University. He and the Globetrotters spend the better part of half the year on the road, playing for and meeting people.
"We usually leave on Christmas morning, come back in May, and sometimes in June," Lofton said. "You're leaving your family but you're going to touch so many people along the way and that kinda evens it out. You have to be built differently to do it at a high level and we enjoy doing it."
Another "perk" of sorts for Big Easy is meeting people, some famous, but mostly the Globetrotters want to meet those who come to watch them play.
Among the famous people Lofton has met during his time with the team is Roman Catholic Pope Francis, who was named the ninth Honorary Harlem Globetrotter when they met the Holy Father in May 2015.
"I think meeting the Pope was awesome because he was a great guy and spoke English," Lofton said. "He told me to pray for him and I told him he's a little closer to the God we pray to, so he should probably pray for me."
Lofton's visit to Rome is among the more than 90 countries he has visited and all 50 United States.
The name "Big Easy" is a nod to his New Orleans roots, where he grew up in the projects but was able to find a means to get out and become successful. He hopes that can inspire other kids in the projects to strive to succeed.
"No matter what I do, I always have in my mind the kids in the projects like I was," Lofton said. "He or she may be wondering if they can make it. I want to be that person to look at and say, 'you know what? Big Easy made it, so I got a shot, too. I have a chance to do what I need to do and I'm going to go for it.'"
Lofton said he also wants to represent his family and the city he calls his hometown.
"Coming from where I come from and grew up, I couldn't imagine myself being in this position," Lofton said. "I love it, I enjoy it, I'm humbled by it and I don't take it for granted. I'm always representing my mother, my father and the rest of my family, and then my city. The city loves me and I always try to represent them in a positive way."
When the Globetrotters take the floor, you might see Big Easy try to replicate his current Guinness record for the farthest basketball hook shot at 72 feet, six-and-a-quarter inches, a feat he accomplished in San Antonio, Texas in November 2016. Lofton also holds the world record for farthest basketball hook shot done blindfolded at 58 feet, two-and-a-half inches, which he did the same night in San Antonio. Those tricks and shots are not something learned overnight, Lofton said.
"We work hard, year around. We're working on our ball handling, our tricks, and taking care of our bodies for the two or three minutes you see us doing those tricks," he said. "It's not because we just woke up and decided to do it, but we put the work in to get it done."
One thing you can be sure of, when the Globetrotters tangle with their opposition on the Landers Center floor Friday night, the outcome will not be in doubt. Big Easy is sure of that.
"I haven't lost one and it ain't happening on my watch," Lofton said. "That's like Santa not coming for Christmas, you know. We gotta make sure we keep it going and keep the kids happy!"
The Harlem Globetrotters make their appearance at the Landers Center in Southaven on Friday, July 30, starting at 7 p.m.
Ticket information is available on the Landers Center website. You can learn more about the Globetrotters on the Harlem Globetrotters website.