Monday sports: Lady Jags move ahead in playoffs
Photo: Londen Armstrong (15) of DeSoto Central drives to the basket and is defended by Taelar Felton (3) of Clinton during Monday's playoff game. (Bob Bakken/desotocountynews.com)
Postseason basketball tournament season began for MHSAA girls basketball teams Monday night and continued with second-round action in TSSAA Division 2-A West Division tournament play for Northpoint Christian.
Of the four DeSoto County teams in action Monday night, only DeSoto Central came away winners, posting a 55-40 victory at home over Clinton. With the win, DeSoto Central moves into second-round action later in the week at Horn Lake.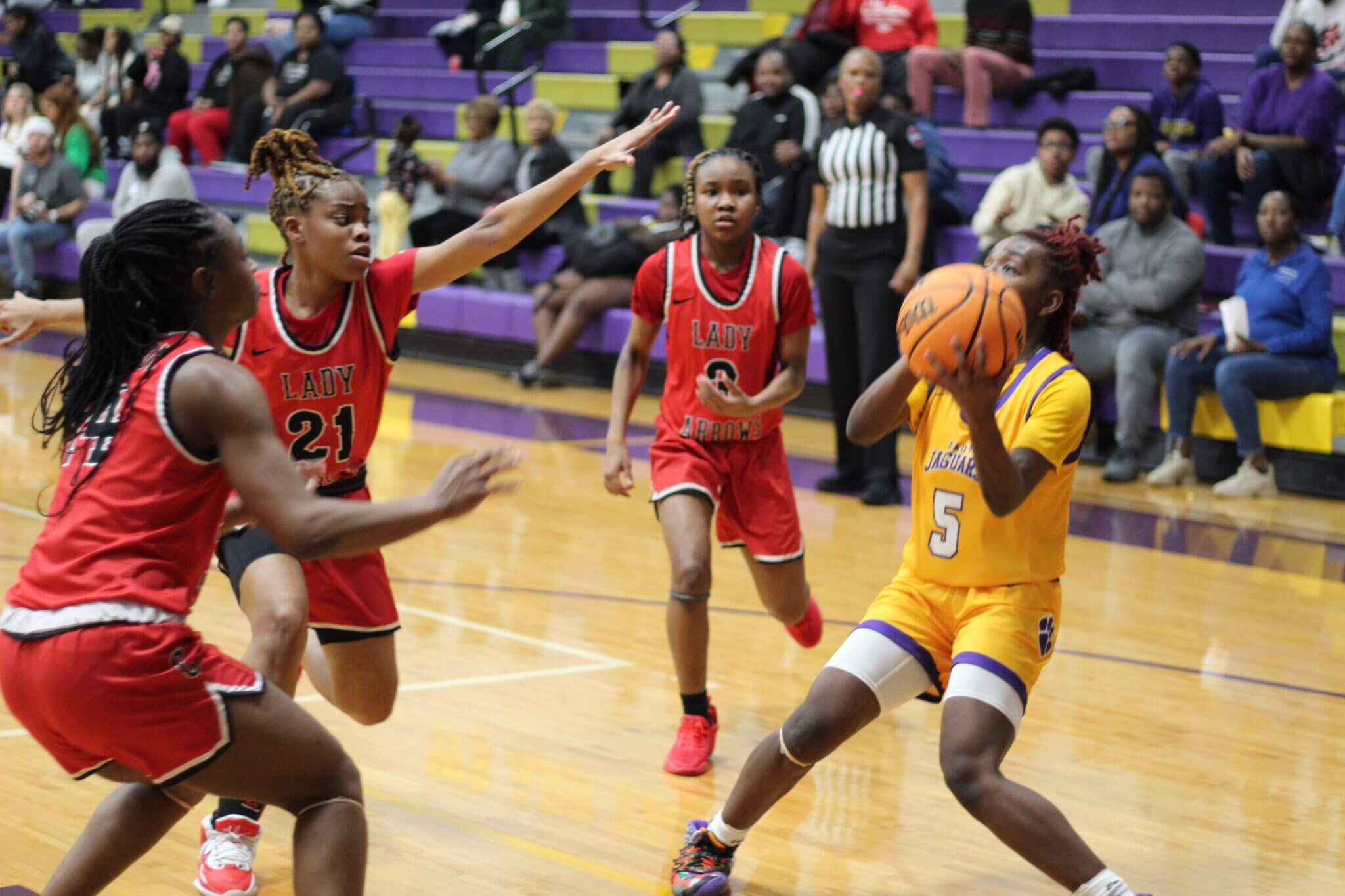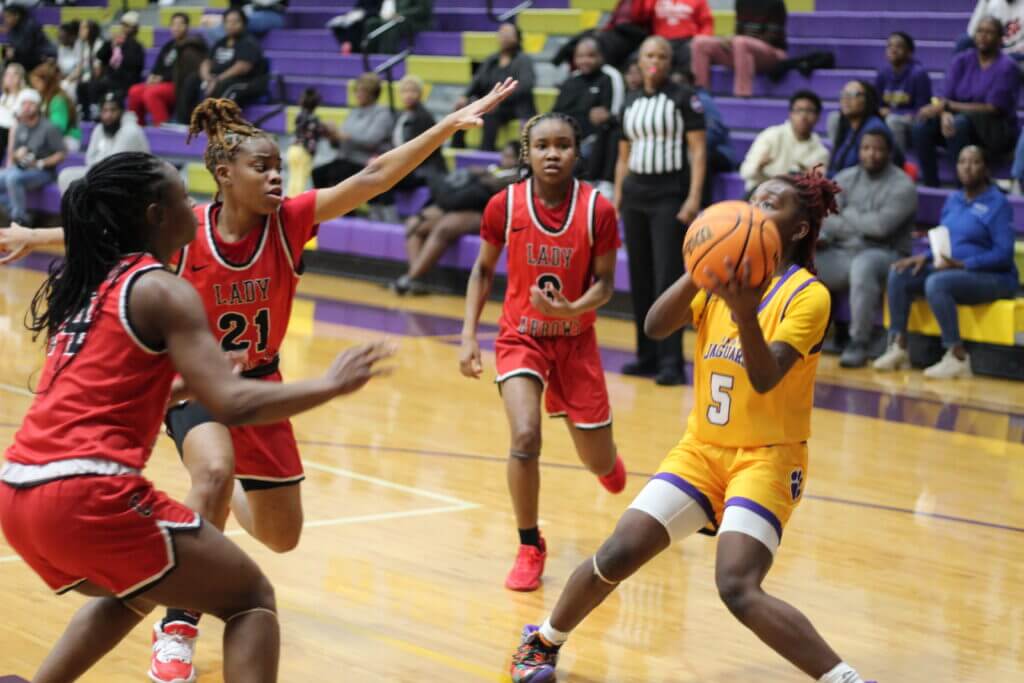 Monday's game was a close one pretty much the entire way until the fourth quarter, when DeSoto Central's Tereah Hayslett took advantage of numerous free throw opportunities. Hayslett was 12-for-14 from the charity stripe in the fourth quarter alone and added a pair of baskets to contribute 16 of the Lady Jags' 22 points in the final eight minutes of the game. For the night, Hayslett scored 24 points to lead DeSoto Central to the victory.
The Lady Jags trailed the Lady Arrows 10-9 after one quarter with Lacy Davis scoring six of Clinton's 10 first-quarter points. Hayslett led DeSoto Central with four.
Mya Richardson and Thailan Payne paced the Lady Jags in the second quarter, leading DeSoto Central to a 19-16 halftime lead. Richardson had seven points in the half on a pair of three-pointers.
It was Clinton's turn coming out of the locker room in the third quarter to take a 36-33 edge into the fourth quarter. Jatoi Johnson struck for eight points and Taelar Felton added seven for the Lady Arrows while Londen Armstrong answered with six points in the period for DeSoto Central.
The basket in third from the Lady Arrows would be their last of the night, however, as Clinton could muster only four free throws the rest of the game.
Meanwhile, Hayslett erupted with her long string of free throws, Jamaiya Hasley, Armstrong and Payne added points to finish off the Lady Arrows.
In addition to Hayslett's 24 points, Payne finished with 10 points for DeSoto Central. Clinton was led by Felton with 13 before she fouled out of the game in the fourth quarter.
Here's the Monday night DeSoto County scoreboard:
Monday, Feb. 13
Prep girls basketball
MHSAA 6A playoffs – first round
DeSoto Central 55, Clinton 40

DeSoto Central: Tereah Hayslett 24, Thailan Payne 10

Madison Central 46, Lewisburg 34
Starkville 60, Southaven 30
TSSAA Division 2-A West Region tournament – second round
University School of Jackson 30, Northpoint Christian 21

Northpoint: Nailah Herrera 10, Lillie Milligan 8
JUCO men's basketball
Mississippi Gulf Coast 84, Northwest 65
JUCO women's basketball
Mississippi Gulf Coast 66, Northwest 50
Prep baseball
Center Hill 10, New Albany 0 (5 innings)

Center Hill: Hunter Peaks – no hitter

South Panola 3, DeSoto Central 2
North Delta 4, Lake Cormorant 3
Prep softball
Lewisburg 7, Corinth 5
Hernando 11, Lake Cormorant 0