Jaguars move on past Lewisburg
Photo: Mahri Ingram (14) of Lewisburg is chased down by DeSoto Central's De'Onte Green in first half action of Thursday's game. (Bob Bakken/DeSoto County Sports)
DeSoto Central advanced into the MHSAA 6A state playoffs with the Jaguars' 69-52 victory over Lewisburg Thursday night in the Region 2-6A boys' consolation game.  The result also ended the Patriots' season with the loss.  
Dorian Whitley powered the DeSoto Central offense again, finishing with 24 points, 16 of which came after halftime. Alex Pete hit a trio of three-pointers and finished with 13 points and George Saulsberry added 10 more for the Jaguars.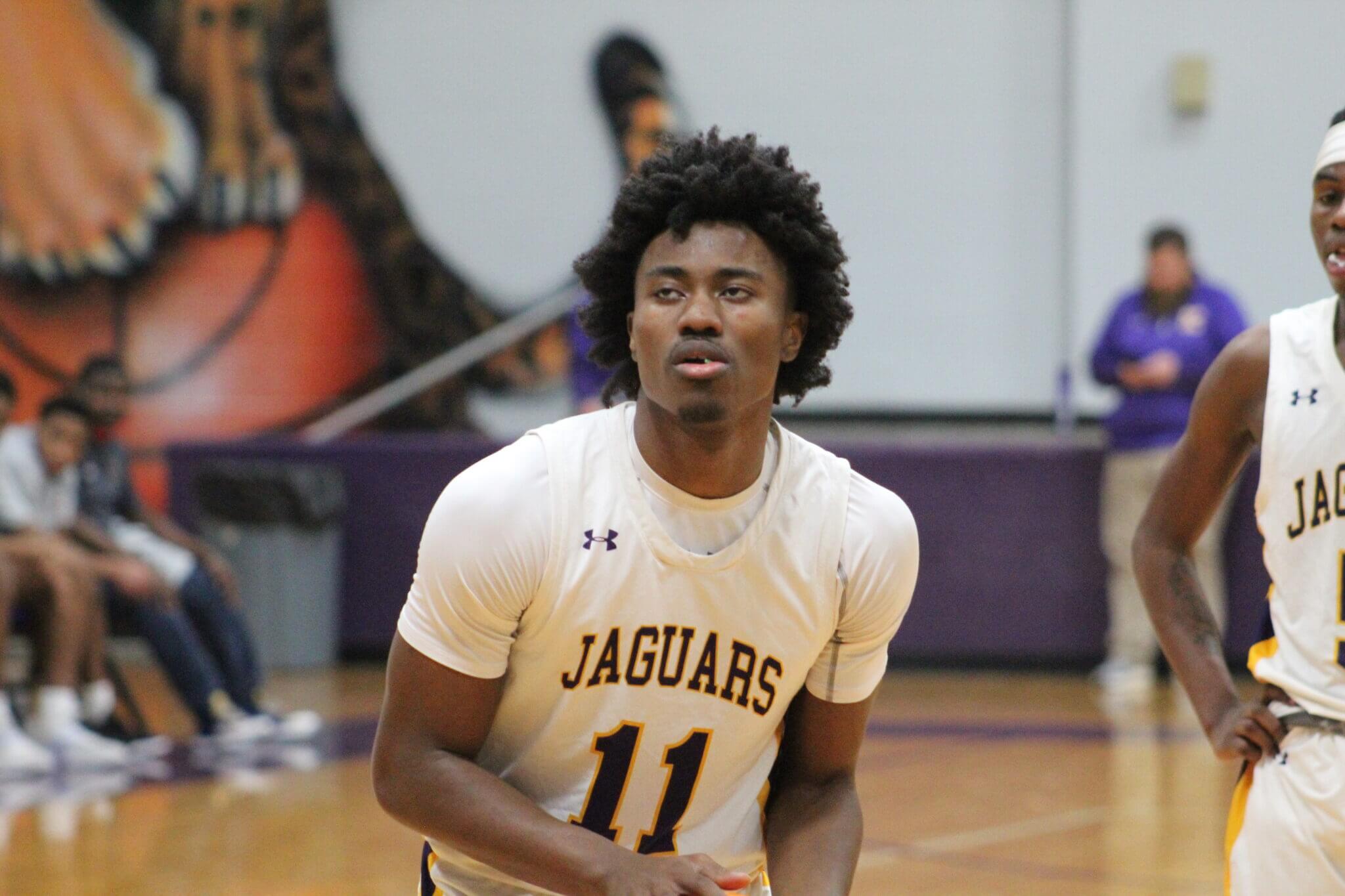 Josiah Nelson was the leading scorer with Lewisburg Thursday night with 14 points, all coming in the second half. Amarian Davis had 13 for the Patriots, all but two coming in the first half, and Hayden Drumwright finished with 12 for Lewisburg.
"Lewisburg is a tough, gritty team," DeSoto Central coach Blake Orman said after the game. "We knew they were going to come in, fight and scrap and make it tough on us. We responded when we had to."
The Patriots took the early lead in the contest at 12-7 midway through the opening quarter and held a 14-9 advantage at the end of the period.
Whitley and Pete led the charge back for the Jaguars in the second quarter as DeSoto Central held a 28-24 lead at intermission. Both Whitley and Pete had eight points in the first half, while Lewisburg was led by Amarian Davis with 11.
The Jaguars extended the lead to 38-31 with three minutes left in the third quarter as Whitley continued his hot hand with seven points in the quarter, and Saulsberry got into the action with six points of his own in the period, all coming from the floor. Drumwright led Lewisburg in the quarter with seven points as DeSoto Central claimed a 45-36 lead at the quarter's end, although the Jaguars did take an 11-point lead with less than two minutes left before the quarter's end.
Nelson came alive in the fourth quarter, hitting for 11 points, including a pair of treys, but got little help in the final eight minutes. Whitley helped put the game away with nine points in the final period as DeSoto Central pulled away for the 17-point victory.
"This was his (Whitley's) kind of game, gritty and tough," Orman said. "He's the guy we rely on to carry that toughness on our side."
With the win, the Jaguars await the winner of Friday's game between Tupelo and Starkville and will travel there for the first round of the state playoffs on Tuesday night. 
Prior to the game, all-district awards for DeSoto Central and Lewisburg were handed out.