Hernando, Center Hill drop girls' playoff games
Photo: Hernando's Fran Kelly drives on a Madison Central defender Monday night. (Bob Bakken/DeSoto County Sports)
Five DeSoto County girls' basketball teams were in action as tournament play began in Mississippi and continued in Tennessee Monday night.
Of the three MHSAA 6A teams in action, only DeSoto Central advanced to the next round with a fourth-quarter surge toward a win against Oxford, while Hernando struggled against Madison Central and Center Hill fell in a closely-contested game at Starkville.
Meanwhile in MHSAA 5A, Lake Cormorant upset Columbus New Hope, and in a TSSAA Division II-A West Region contest, Northpoint Christian eliminated Jackson Christian.
MADISON CENTRAL 41, HERNANDO 34: The visiting Jags led throughout the MHSAA 6A first-round game, including a 10-point margin twice in the contest, 27-17 in the third quarter and at 37-27 in the fourth quarter. But it was at that point the Lady Tigers put together a seven-point run to get to within 37-34 inside the one minute mark of the game, but could get no closer.
"I think some of them finally realized that this could and would be the last game if they didn't change anything," said Hernando coach Blake Jones. "It was just too little, too late."
Free throws finished off Hernando from the playoffs and sent Madison Central to a second-round game at Tupelo on Friday, Feb. 18.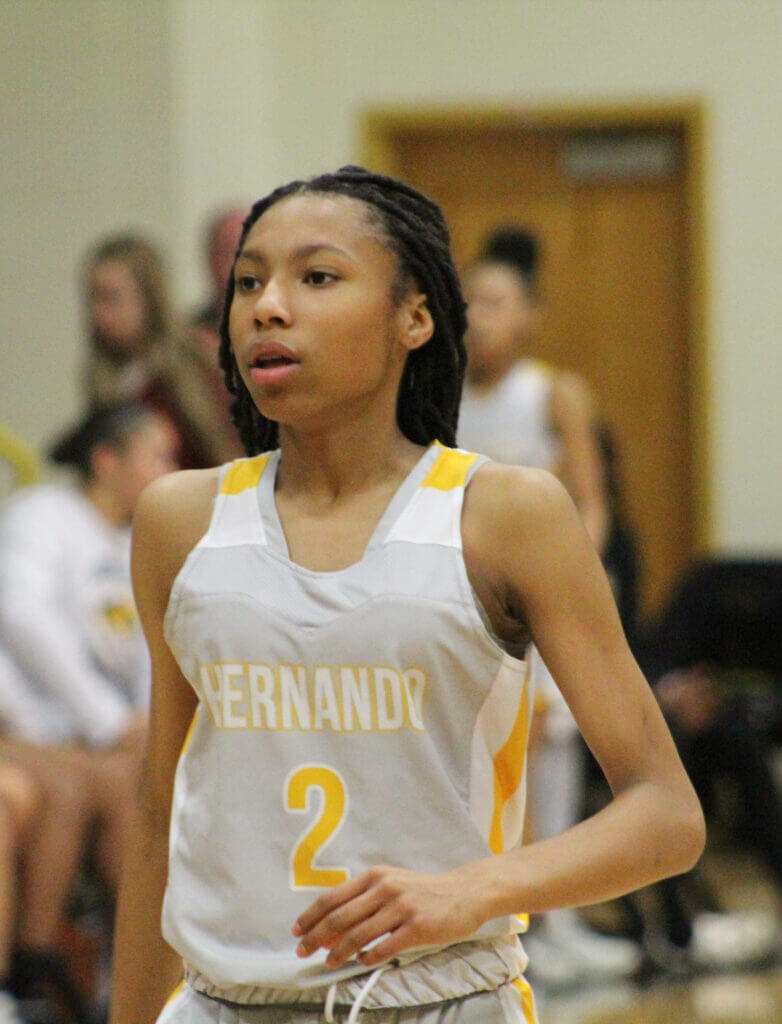 Eighth-grader Fran Kelley led Hernando with 13 points in the victory, points that included one three-pointer. Kelly was held to just two points after halftime, however.
"I was proud of Fran for having a good game," Jones said. "It goes to show that there's a lot of talent in our middle school that can hang with the high schoolers."
Damiya Cummings was next with 12 points before she fouled out of the game in the fourth quarter. Cummings' points included three baskets from beyond the arc. However, post player Abbey Harrison, the team's leading scorer and playing her last game as a Lady Tiger, could manage only five points for the entire contest.
Madison Central was led by Jamyiyah Cotten, who also finished with 13 points.
Free throws were crucial in the contest, as Hernando ended just two of 11 from the charity stripe, while the visiting Lady Jags were 6-for-9 at the line, including four of five in the fourth quarter.
DESOTO CENTRAL 48, OXFORD 38: The DeSoto Central Lady Jags struggled for three quarters with the visiting Lady Chargers in the MHSAA 6A first-round game in Southaven, but came alive to win in the fourth. Oxford took the early lead at 11-8 after one quarter, but DeSoto Central rallied for a 20-19 edge at halftime. Oxford would tie the game at 32-32 going into the fourth quarter, but DeSoto Central held the Lady Chargers to just six points in the final eight minutes of action. Tereah Hayslett and Reagan Dale each led the Lady Jags with 13 points in the win, which put them into the second round Friday at Clinton.
STARKVILLE 59, CENTER HILL 57: The Lady Mustangs, playing in its first state playoffs as a 6A school, battled hard and came close to upsetting Starkville in the two-point loss. After leading 16-14 following the first quarter, Center Hill held a 27-26 lead at halftiame. Starkville would recover for a 42-40 lead after three quarters and the teams matched each other point-for-point the rest of the way. Balanced scoring propelled the Lady Mustangs in the contest, led by Madison Bush with 15 points. Jairya Rankins scored 13 and Kayleigh Prentiss and Madison Hughes each added 10 for Center Hill. With the win, Starkville now travels to Horn Lake to meet the Eagles in the second round on Friday evening.  
LAKE CORMORANT 39, COLUMBUS NEW HOPE 32: Lake Cormorant continues to show growth in its girls' basketball program under coach Justin Neely with Monday's 49-44 MHSAA 5A first-round playoff victory at New Hope. The Lady Gators were led in scoring by Ja'Keria Hawkins with 21 points and Ariel Phillips with 12. "It's a big win for us," Neely said after the victory, which now sends the Lady Gators to the second round to Philadelphia, Mississippi and Neshoba Central on Friday evening. 56-4
NORTHPOINT CHRISTIAN 43, JACKSON (TN) CHRISTIAN 34: The Lady Trojans moved into the quarterfinals of the TSSAA Division II-A West Region tournament with Monday's 43-34 victory over Jackson Christian. In a low scoring first quarter, both teams were tied at 6-6 after one quarter, but Northpoint outscored Jackson Christian 12-2 in the second quarter for an 18-8 halftime lead. The Lady Trojans offense came alive in the third quarter as Northpoint put together a 32-15 lead, but Jackson Christian would rally, but not enough in the nine-point Lady Trojan victory.  Brylee Faith Cherry led Northpoint in scoring with 15 points and Bethany Wright chipped in another 14, as the Lady Trojans moved on to the semifinals Thursday night against Fayette Academy at Fayette Academy. Game time is 7:30 p.m.
PLAYOFF ETC.: Germantown's 56-41 first-round victory over South Panola Monday night mans the Lady Mavs head to Olive Branch to play defending 6A champion Lady Quistors Friday in the second round.