Haralson signs to play at Northwest
Photo: Zandon Haralson signs with Northwest Mississippi Community College. (Bob Bakken/DeSoto County Sports)
One of the most prolific scorers on the basketball floor in DeSoto County this past season is taking his talents to Northwest Mississippi Community College next year. 
Center Hill's Zandon Haralson signed a letter of intent to the Senatobia junior college Wednesday morning at the school.
"I just feel like it is the best fit for me," Haralson said. "The coaches came everywhere that I went and they always supported me through everything."
Northwest coach Shane Oakley did see a lot of Haralson as he recruited the forward turned point guard and has to like the offensive threat Haralson can be for the Rangers next year.
"They said that I spread the floor and was a versatile player," Haralson said. "I can step out and shoot the three and I can get to the paint any time I want. I can fit in just right when they need a shooter."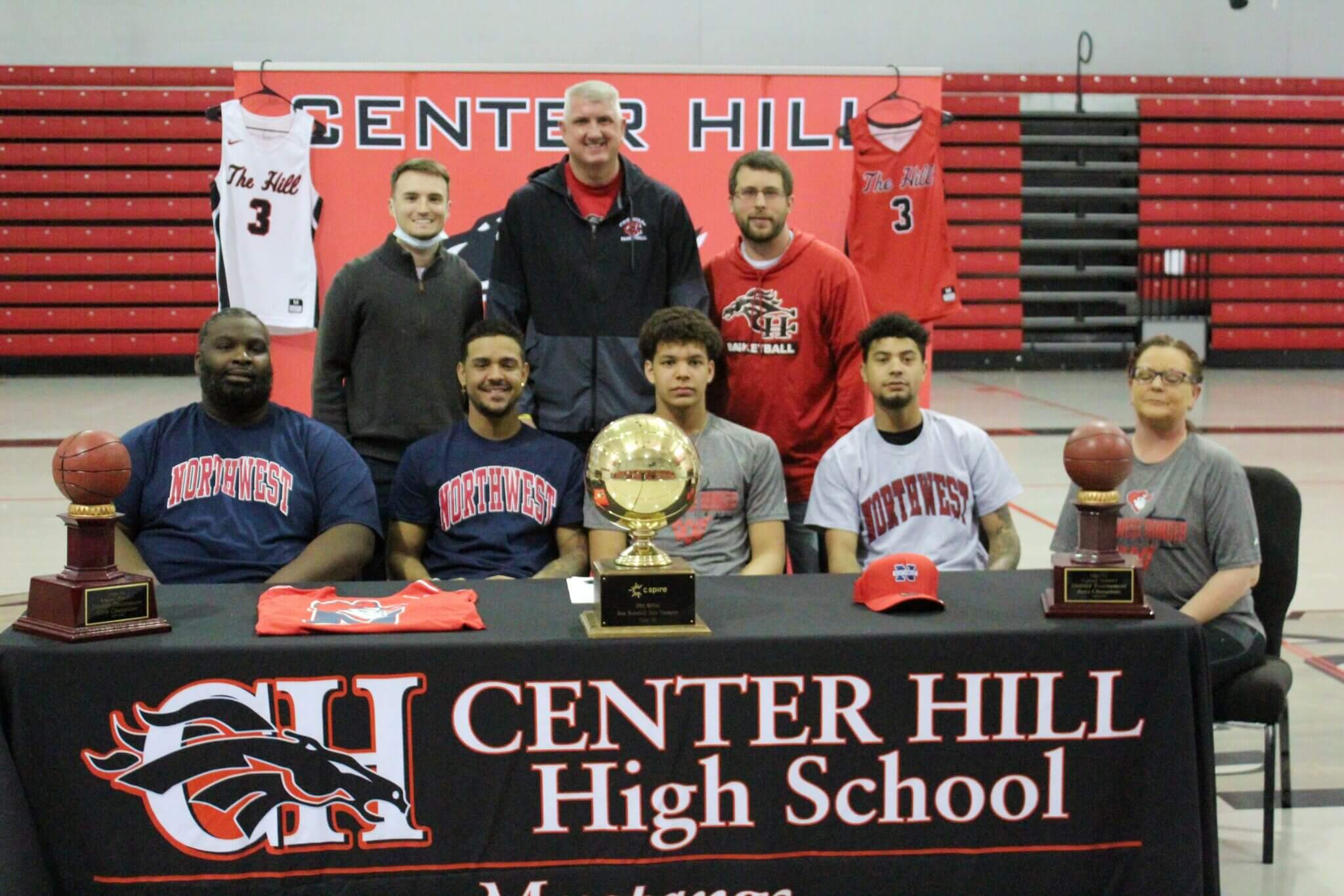 It was Haralson's ability to score the basketball that caused Mustangs' coach Newton Mealer to move the six-foot-five Haralson from forward to the point guard position.
"What made him so valuable was that in our system you have to have a scoring point guard," Mealer said. "He took over the role and it really helped us because the ball was in his hands 90 percent of the time."
As a result, Mealer said Haralson this year had two nights scoring more than 40 points, four games of 30-or-more points, and several games with more than 20 points. Haralson was named a first-team player at the prestigious Next Level Hoopfest in Nashville, Tennessee last December and was named the Region 1-5A Most Valuable Player. He finished the year with a 20.8 per game scoring average in 24 games.
It truly has been a transformation of a young man who wanted to play basketball like his father. Larry Haralson played at all levels, including a tryout with the Chicago Bulls. Larry played college basketball at Campbellsville University in Kentucky and Mealer said the school was very interested in having Zandon play for his father's alma mater.
"They offered Zandon a full scholarship to a four-year school and wanted him badly," Mealer said. "But Zandon said he wants to blaze his own path. He said, 'I want to go to Northwest because I want to be a Division One basketball player and I need two more years to get my body and mind and ability in shape.'"
Haralson has worked hard becoming the player he is, including a loss of 40 pounds over the past two years and learning through experience how fast the high school game can be.
"We put him on the varsity team as a sophomore so he could see the speed of the game," Mealer said. "His father brought him to me and said that he wants to play and he'll put the work in. The speed really got to him, he got with weights, got with trainers and bought into the system.
His shot is one of the most pure shots around, especially in DeSoto County."
Haralson said he wants to eventually become a chiropractor and Oakley hopes to see his new addition crack some defenses with his scoring skills the next two seasons for the Rangers.