Eagles fly past Patriots to open region football
Photo: Horn Lake receiver Erwin Reed caught a 75-yard touchdown pass to open the scoring against Lewisburg Friday night. (Bob Bakken/DeSoto County News)
THE VITAL STATISTICS
Prep football
Northpoint Christian 49, Millington (TN) Central 20
Lake Cormorant 41, Greenville 0
Horn Lake 42, Lewisburg 7
DeSoto Central 28, Olive Branch 7
South Panola 25, Hernando 9
Southaven 41, Center Hill 15
THE DETAILS
Horn Lake's Jarnorris Hopson ran through the Lewisburg defense for four touchdowns in Friday's 42-7 victory to open Region 1-6A football action in Horn Lake.
Friday's game was Lewisburg coach Dustin Hectorne's first game as head coach against the school he was defensive coordinator for, before taking the open Lewisburg position earlier this year.
The win for the Eagles was the fourth straight over the Patriots all time.
"It was a great start to district play," said Horn Lake coach Mitchell Harville. "Being able to start off with a win is always a good and positive note. We had some guys step up and make plays tonight when they needed to make plays on both sides of the ball."
Horn Lake took a 6-0 lead in the first quarter when senior wide receiver Erwin Reed caught a long pass in stride as he found a wide open secondary and ran the rest of the way on a 75-yard touchdown pass reception. The score came on Horn Lake's first possession of the night after a Lewisburg punt.
Despite trailing after one quarter, Hectorne thought his team had played well.
"I thought we started really well, played a great first half with just little miscues here and there," Hectorne said. "The second half, we continued to fight and they were a little too much for us in the second half."
The Eagles broke the game open in the second quarter with three touchdowns, two of which were scored by Hopson, for a 28-7 halftime lead.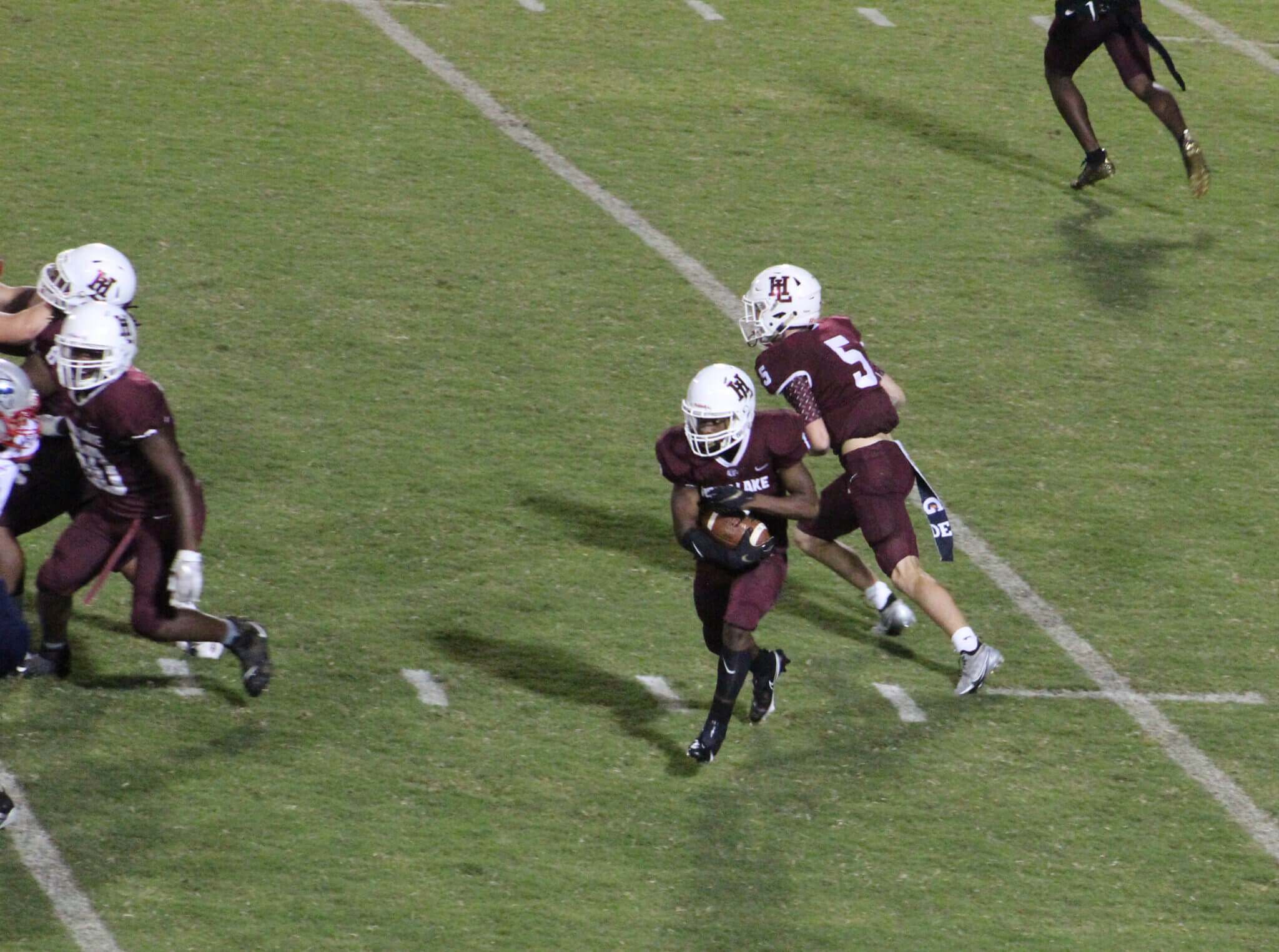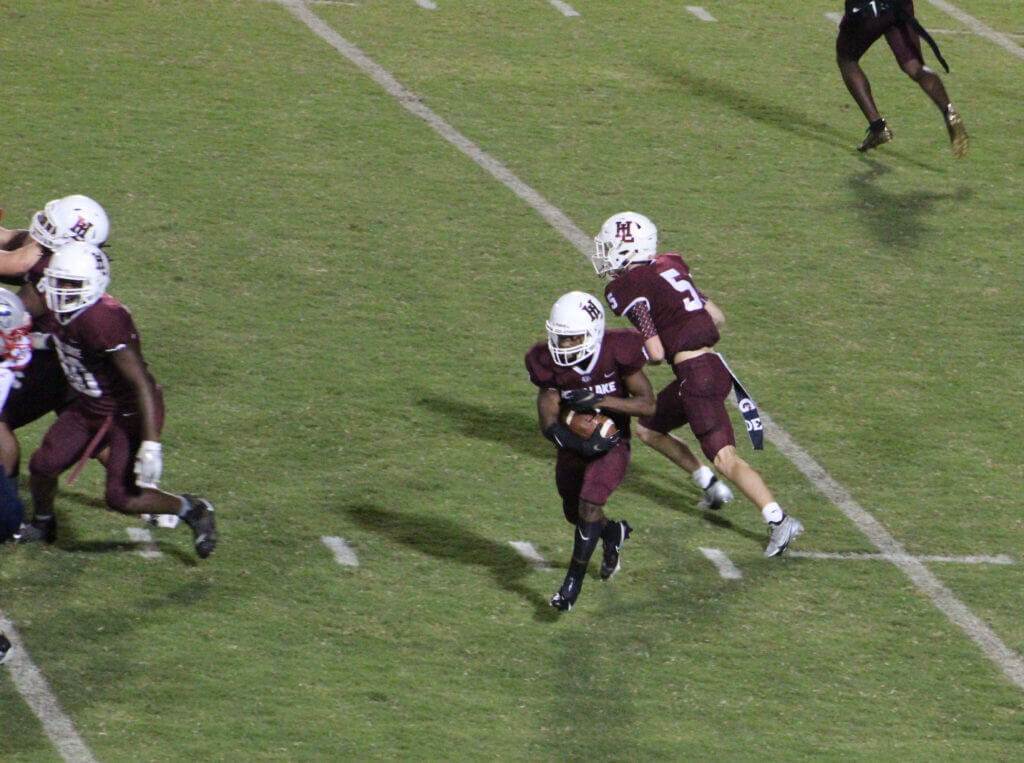 The Patriots appeared to be on their way to a tying touchdown in the first four minutes of the second quarter, but the drive stalled and a 27-yard field goal attempt was blocked by the Eagles with 7:12 left in the half.
Later in the quarter, Horn Lake worked a fake punt play on a fourth and eight call near midfield that had Hopson run the ball down to the Lewisburg 11 yard line.
From there, Hopson went over from one-yard out for a 13-0 lead after the extra point kick.  
It quickly became 21-0 when on the first play from scrimmage for Lewisburg, Jamarion Bobo picked off a Gunner Gilmore pass and returned it all the way for the score, followed by Hopson scoring the two-point conversion with a run into the end zone and a 21-0 lead.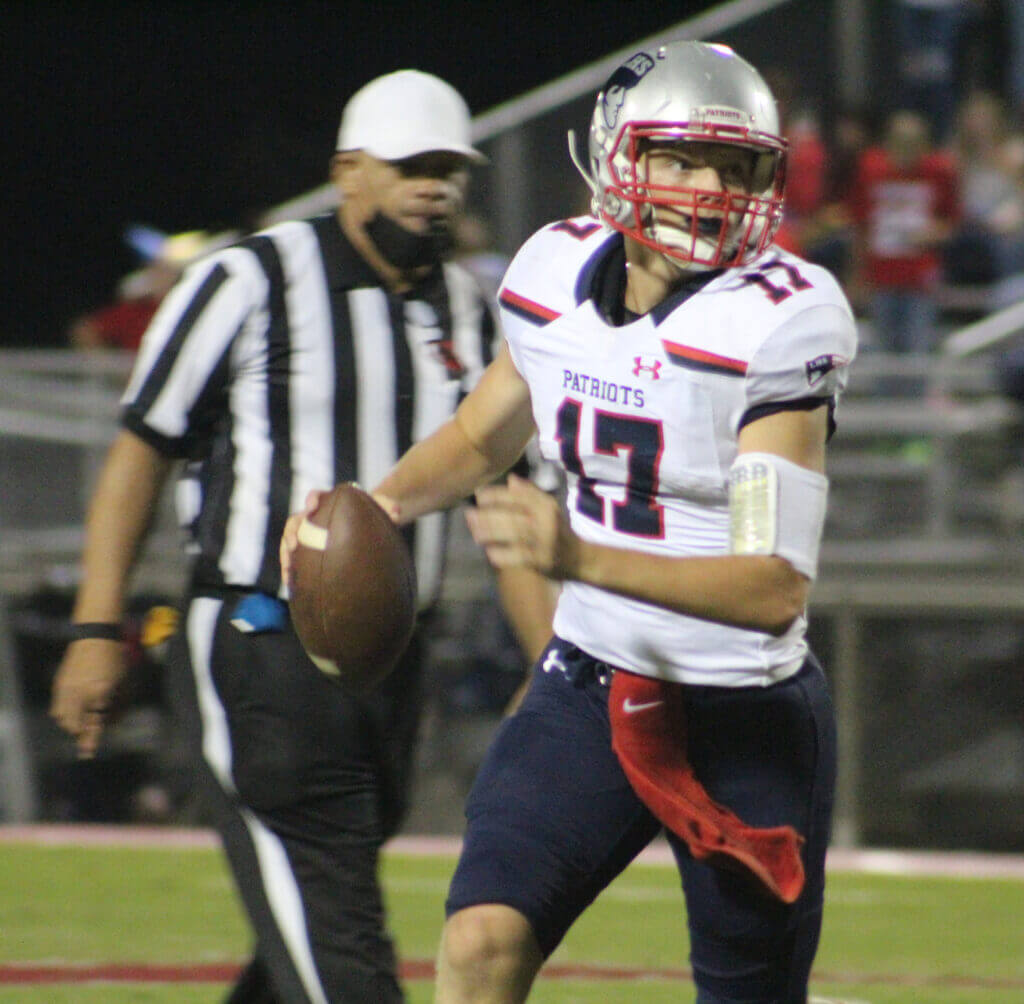 Lewisburg got what turned out to be its only score of the night in the final minute of the half, as Gilmore finished off a drive with a three-yard pass to Cole McKinney. The play with 58 seconds left before halftime momentarily got the Patriots within 21-7 after the extra point kick.
"It was great to get in the end zone and have some points to show for the work that we did do well in the first half," Hectorne said.
Horn Lake was not satisfied, however, and took 43 seconds to add one more touchdown before the break when Hopson scored from two yards away and a 28-7 halftime lead.
A Mississippi State commit, Hopson scored twice more in the third quarter, from 39 and 46 yards away for the final result of 42-7 in favor of the Eagles. He finished the night with 158 yards on the ground, part of a 342-yard offensive attack by Horn Lake.
"He (Hopson) is a really, really good football player and he has been for some time," Harville said. "Since he's been here, he's been one of our best players. It's always nice to have somebody like that on your side of the field."
Condor threw for 79 yards on seven attempts, three completions and a touchdown.
Myles Smith led the Lewisburg rushing attack with 61 yards on 13 carries. Gilmore threw 20 times for 152 yards on nine completions, one touchdown, and two interceptions.
With the win, Horn Lake evened its record to 2-2 while Lewisburg dropped to 1-3 with the loss.
Hectorne was greeted after the game by several members of the Horn Lake defensive team he coached the past several years before coming to Lewisburg. Hand shakes, smiles and hugs were shared as the Patriot players waited for Hectorne's post-game talk to his team.
"It proves and says a lot about what we did here (at Horn Lake)," Hectorne said. "That meant everything in the world to see those guys."
"A lot of what goes on here is a tribute to him (Hectorne)," Harville said. "He is a great man and I respect every bit of him."
WORTH NOTING…
In DeSoto Central's 28-7 victory over Olive Branch, quarterback Andrew Moore was 16-of-21 passing for 208 yards and two touchdowns. Ryan Musselwhite caught both scoring passes, part of a three-touchdown night, as he also ran for a score. Musselwhite caught eight passes for 119 yards. Marquis Fields had another successful night running the football, as he carried 25 times for 164 yards and a touchdown.
In Lake Cormorant's 41-0 victory over Greenville, Jayden Benson blocked a punt for the Gators' first touchdown. From there, Jeremy Henderson scored two rushing touchdowns and quarterback Telvin Amos threw for two TDs and ran for another. Tre Walker and Jordan Martin benefited from Amos' passing strikes for touchdowns. It was the first-ever meeting between the now 5A region rivals.
In Northpoint Christian's 49-20 win over Millington, Tenn. Central, quarterback Jack Patterson threw three times to Jackson Thomason for scores. Patterson also threw a 66-yard touchdown bomb to Christian Gilliland. Josh Fisher scored twice for the Trojans and James Smith picked off a Millington pass for a score. It's the second straight week that Northpoint has scored 49 points in a game, however in the previous contest, Water Valley scored 76 in a 76-49 victory.
A recap of all season scores and upcoming schedules is found here.