Tuesday sports: Eagles fly by South Panola in hoops action
Horn Lake, Hernando, advance in prep boys soccer playoffs
Photo: Horn Lake's Kyren Pernell shoots over South Panola's Derrick Weston Jr. in Tuesday's contest at Horn Lake. (Bob Bakken/desotocountynews.com)
HORN LAKE BOYS 75, SOUTH PANOLA 39: Horn Lake is ranked number one in Mississippi high school boys' basketball and at 24-1 there are few who could argue with that assessment. The Eagles continued to write up a strong resume for that ranking with Tuesday night's 75-39 thrashing of the South Panola Tigers in the Horn Lake gymnasium. The Pernell twins continued to be important reasons for Horn Lake's basketball success this season. Kyren Pernell paced the Eagles with a game-high total of 25 points, followed by Kylen, or Dimp, Pernell was right behind with an effort of 22 points. Jayden Smith led South Panola with 10 points.
Horn Lake opened the contest with a 23-6 first-quarter lead, but actually were held to just eight points in the second quarter as the Tigers were able to get within 31-19 at halftime. Kyren Pernell had 10 points in the first half as did Kylen Pernell, who had two go down from deep among his 10 first half markers.
In the second half, the Eagles started to pull away, outsourcing the Tigers 28-13 in the third quarter for a 59-32 lead going into the final eight minutes. And defense took charge in the fourth quarter for Horn Lake, which held South Panola to just seven points in the final quarter.
Coach Chico Potts later said the challenge he made to his team before the game was to provide a better defensive effort.
"That's one of the things we've been lacking on and we've got to be good defensively as we wind down, getting ready for the district tournament and the playoffs," Potts said. "That was the focus of this game."
It's been awhile since Horn Lake basketball has been at this level and Potts has the challenge of keeping his Eagles playing at an elite level and not being blinded by the spotlight. Potts said only a perfect game would bring him satisfaction.
"They know that until we play a perfect game, I won't be satisfied, and that's practice and all," Potts said. "I highly doubt we're going to play a perfect game,"
Forward John Randle added, "I know as a team we're going to put the work in, win or lose. We're going to put the work in to keep this journey going."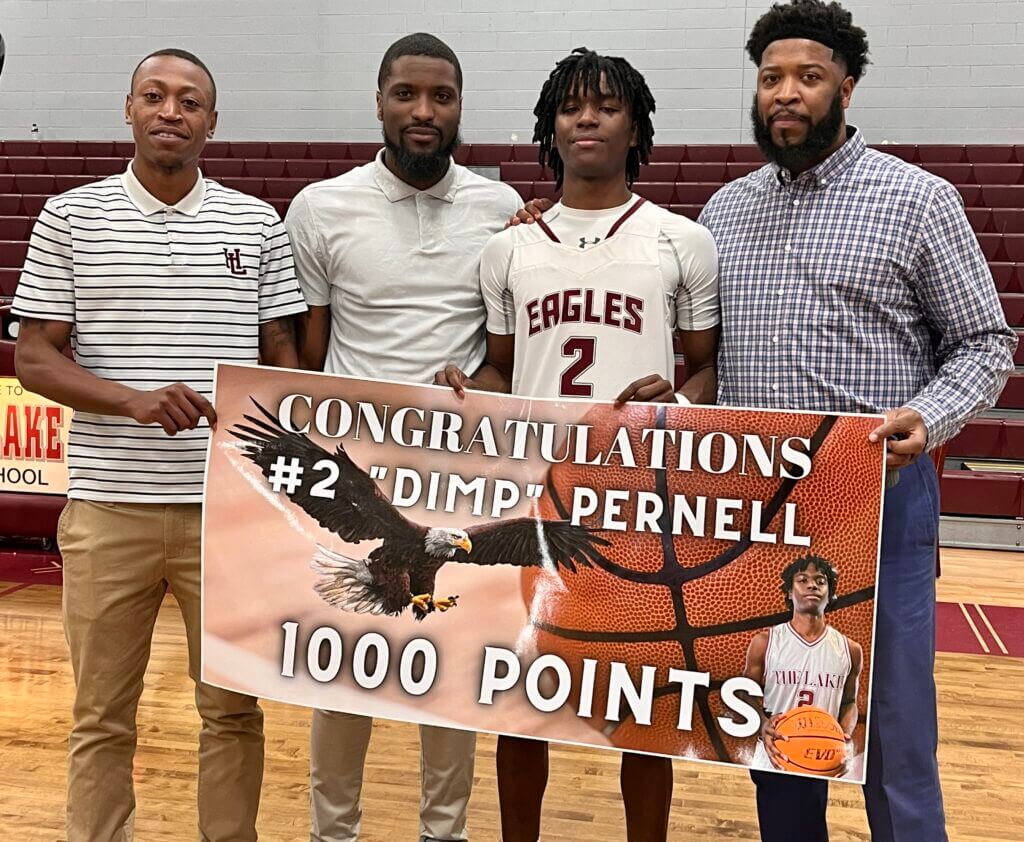 The Eagles held a brief celebration after the game on the floor for another reason, as they recognized Dimp Pernell on reaching the 1,000 career point level, a mark he reached the last time Horn Lake met South Panola.
HORN LAKE GIRLS 69, SOUTH PANOLA 66: They are the top two teams in Region 3-6A and battled to a one-game win for coach Darryl Partee's Lady Eagles Tuesday night. Horn Lake's Indiya Bowen was the Player of the Night in DeSoto County, knocking down 35 points in the win, and at the end the Lady Eagles needed every one of them to hold off the visitors from Batesville.
Both Horn Lake and South Panola are now tied for the region lead at 4-1 but Partee said the top seed in the postseason tournament may be settled on point differential, which would go the Lady Tigers' way because of their earlier 66-54 win at South Panola.
Horn Lake held a 19-12 lead after one quarter as Bowen scored nine points to lead the Lady Eagles and Shania Fondren paced South Panola with seven.
The Lady Tigers took charge in the second quarter, out scoring Horn Lake 25-15 for a 37-34 intermission advantage. Fondren had seven points and Jada Wilson added six for South Panola while Bowen notched eight points, including six-for-six at the free throw line.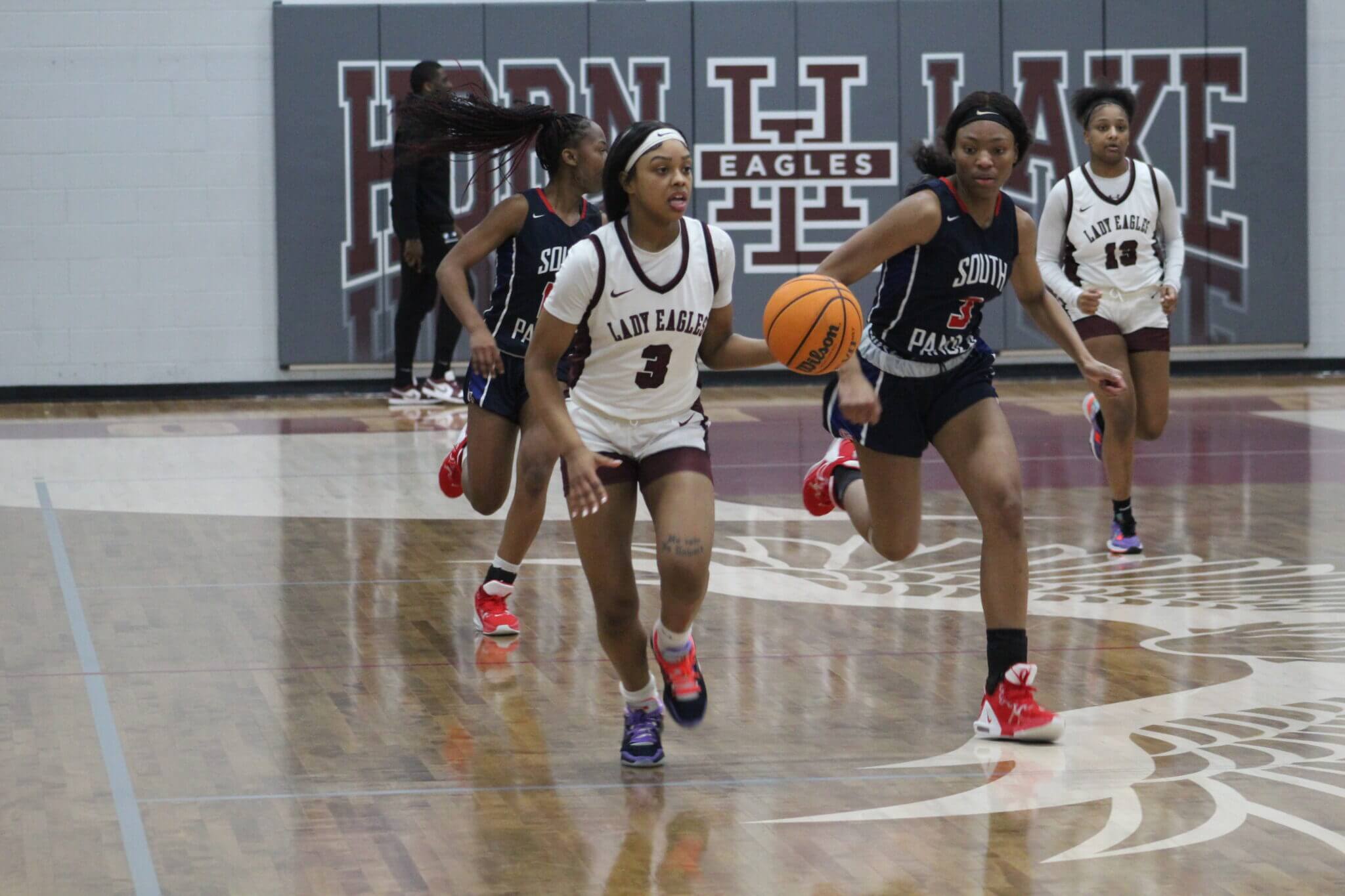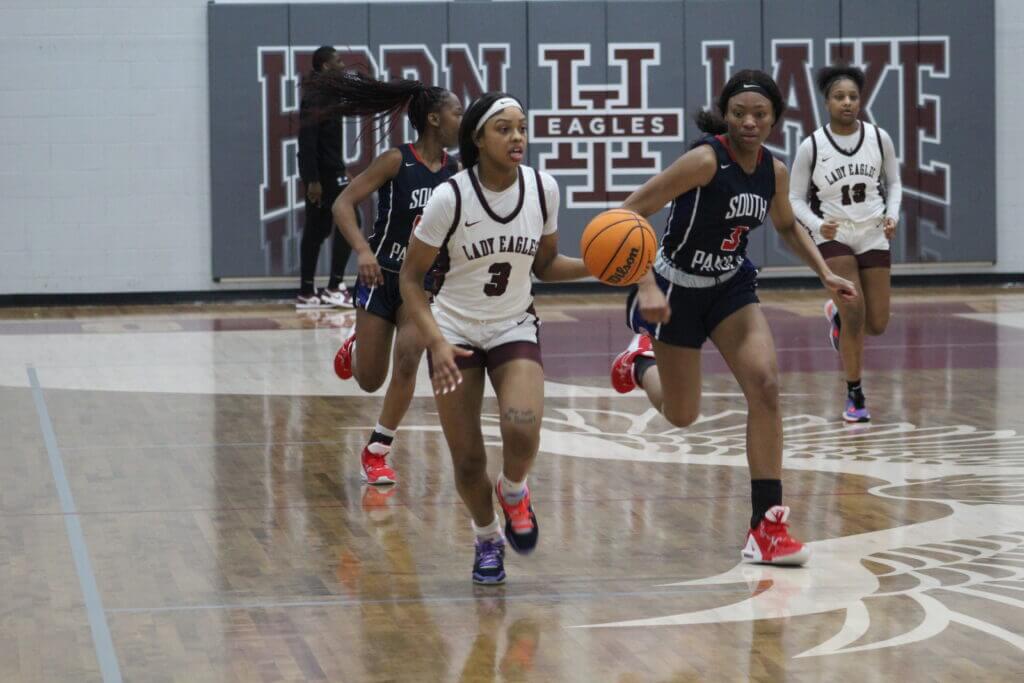 Defense took over for Horn Lake in the third quarter, holding South Panola to just seven points while Bowen and Kiearnezia Ellis combined for 12 of Horn Lake's 20 third-quarter points.
Bowen took charge offensively in the fourth quarter with 12 points, including a three-pointer, but Partee said she was key at the end by holding the ball and Lady Tigers were forced to foul and eventually put her on the free throw line to ice the win.
For the night, Bowen, a Southeast Missouri State signee, was 10-of-12 at the charity line and scored a trio of three-pointers among her 35 points.
"What more can you ask from her," Partee said. "She is Miss Do-It-All, does a lot for us offensively and defensively, and she's stepping up to be a good leader like I thought she would be."
Ellis added 10 for Horn Lake. Fondren led South Panola with 25 points followed by KaMiyah Green with 13, and Wilson finished with 11.
HORN LAKE, HERNANDO ADVANCE IN 6A BOYS SOCCER, GATORS PLAY WEDNESDAY
Hernando scored twice in the first half and added two more in the second half to eliminate Center Hill 4-1 in Hernando Tuesday night. The second-round victory will put the Tigers into a third round contest between either Madison Central or Starkville. The pairing will be decided Wednesday when the two meet at 5:30 p.m.
Action was a bit more tense for Lewisburg and Horn Lake on the Patriots' pitch Tuesday night, a match that was not decided until the second overtime period. That was when an apparent Lewisburg goal was waived off on an offside call, followed by a hand ball call in the penalty box resulting in a penalty kick to Horn Lake, a kick that found the back of the net for a 1-0 Eagles' victory.
Horn Lake now advances to the third round of the 6A playoffs, where the Eagles will meet either Clinton or Oxford. Those two teams are also set to play Wednesday, starting at 6 p.m. in Clinton.
Meanwhile, Lake Cormorant is also playing on Wednesday in the Class 5A boys soccer playoffs, as the Gators travel to Ridgeland for a 6:15 p.m. match-up. The winner meets Saltillo, a 4-1 victor Tuesday over New Hope, in a third round match.
Here's the Tuesday night DeSoto County sports scoreboard:
Tuesday, Jan. 24
Prep boys basketball
Lewisburg 49, DeSoto Central 46
Olive Branch 83, Center Hill 67

Center Hill: Kaison Saunders 18, Jaidyn Rankins 16, Jarvis Barber 11

Southaven 58, Hernando 52

Eric Oliver 19, Derrell Tate 11

Horn Lake 75, South Panola 39

Horn Lake: Kyren Pernell 25, Kylen Pernell 22

Lake Cormorant 56, Lafayette 42

Lake Cormorant: Alijah Jackson 26, Kamarion Franklin 11, Keviarr Lang 11

Northpoint Christian 70, Rossville Christian 56

Northpoint: Christian Gilliland 32, Grayson Alford 11
Prep girls basketball
Center Hill 64, Olive Branch 43

Center Hill: Dominique Collins 13, Jairya Rankins 13, Paige Wilcher 11

DeSoto Central 32, Lewisburg 22

Lewisburg: Allie Carroll 9
DeSoto Central: Mya Richardson 10.

Hernando 56, Southaven 54

Hernando: Damyia Cummings 20, Skylaar Cummings 19

Horn Lake 69, South Panola 66

Horn Lake: Indiya Bowen 35, Kiearnezia Ellis 10

Lafayette 78, Lake Cormorant 41
Class 6A boys soccer playoffs-second round
Horn Lake 1, Lewisburg 0
Hernando 4, Center Hill 1
Prep wrestling
Center Hill 41, Lewisburg 31