Tournament update: Gators run out Tigers in 5A
Photo: Lake Cormorant's Marshall Odum attacks the Saltillo defense during Tuesday night's 5A division semifinal game. (Bob Bakken/DeSoto County Sports)
TUESDAY'S VITAL NUMBERS SCOREBOARD
PREP BOYS BASKETBALL
MHSAA 6A division semifinals at Olive Branch
Olive Branch 72, Lewisburg 55
MHSAA 6A division semifinals at Oxford
Southaven 71, Hernando 46
Oxford 63, Horn Lake 62
MHSAA 5A division semifinals at Lake Cormorant
Lake Cormorant 61, Saltillo 39
PREP GIRLS BASKETBALL
MHSAA 6A division semifinals at Olive Branch
Olive Branch 87, Lewisburg 34
MHSAA 5A division semifinals at Lake Cormorant
Saltillo 48, Lake Cormorant 28
PREP GIRLS BASKETBALL
Regular season
Northpoint Christian 60, Houston (Germantown, Tenn.) 40
FEATURED GAME
LAKE CORMORANT BOYS 61, SALTILLO 39
It will be another round of Lake Cormorant vs. Center Hill for the 5A division tournament championship Friday evening on the Gators' home floor.
To get there, Tuesday's 61-39 Lake Cormorant semifinal win over Saltillo was basically the Gators outrunning, outshooting, and outrebounding the Tigers. Damien McKnight, in particular, was a one-man wrecking crew in the first half, scoring 20 of his 23 game-high points before halftime.
"He's got it in him, we've been waiting on that," said Gators' head coach Bryant Worsham. "Athletically, he's always one of the best players on the floor every night."
When McKnight was shut down, Donovan Sanders took over, scoring all 12 of his points in the second half. Keithean Brooks also scored 12 points for the Gators, seven of which were in the first half.
Lake Cormorant had a 19-10 lead after one quarter, which increased to 37-24 at the break. The Gators scored 12 points in each of the final two quarters, but at the same time held Saltillo to just eight points in the third and only seven in the fourth quarter. The final score became the biggest lead for Lake Cormorant in the contest.
Worsham liked what he saw from his team against Saltillo.
"It might be the most complete game we've played this year," Worsham said. "Defense was everything you could ask for. I think we gave up only two offensive boards all night."
Braxton Gibbs led Saltillo in scoring with 13 points.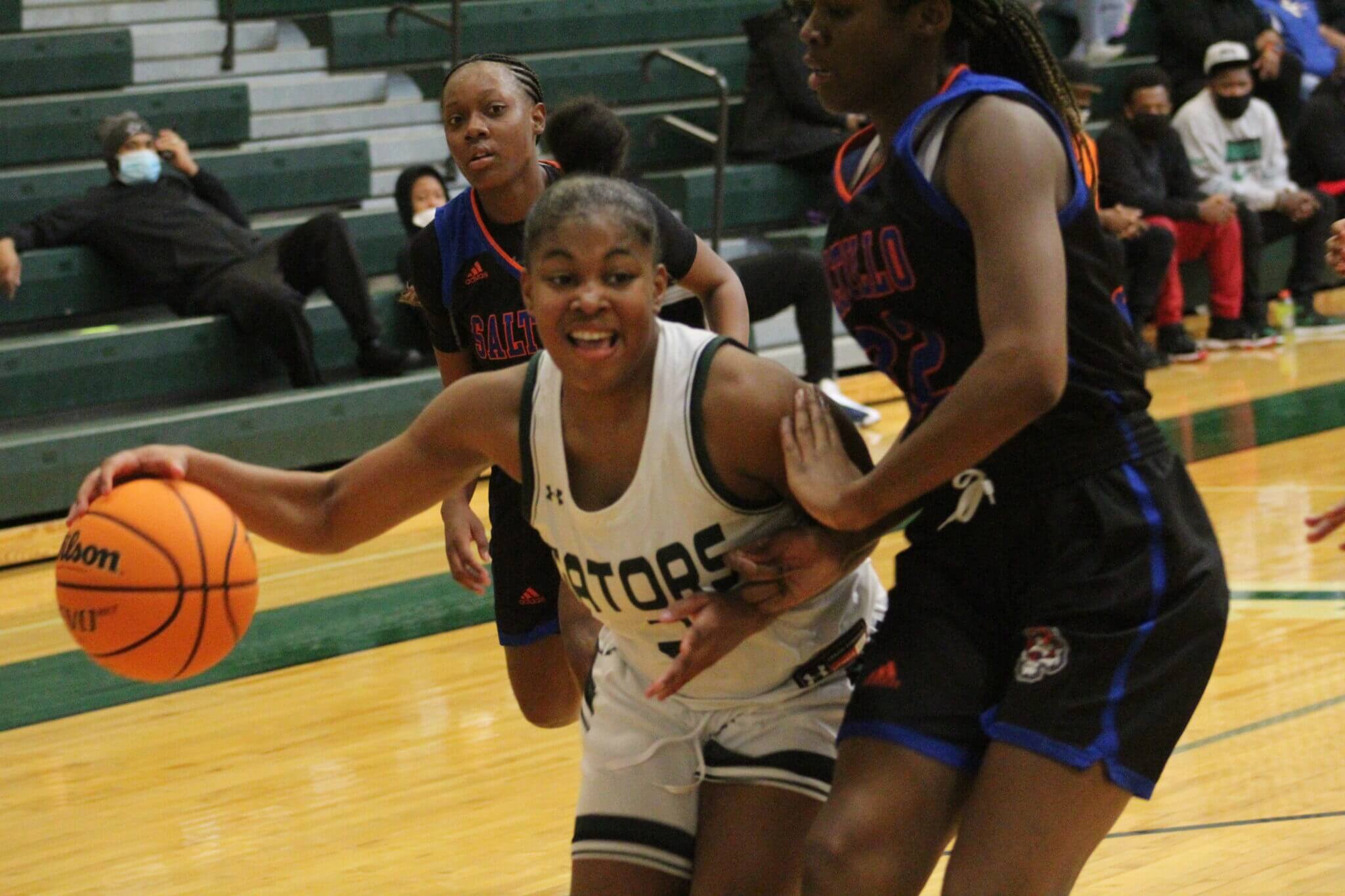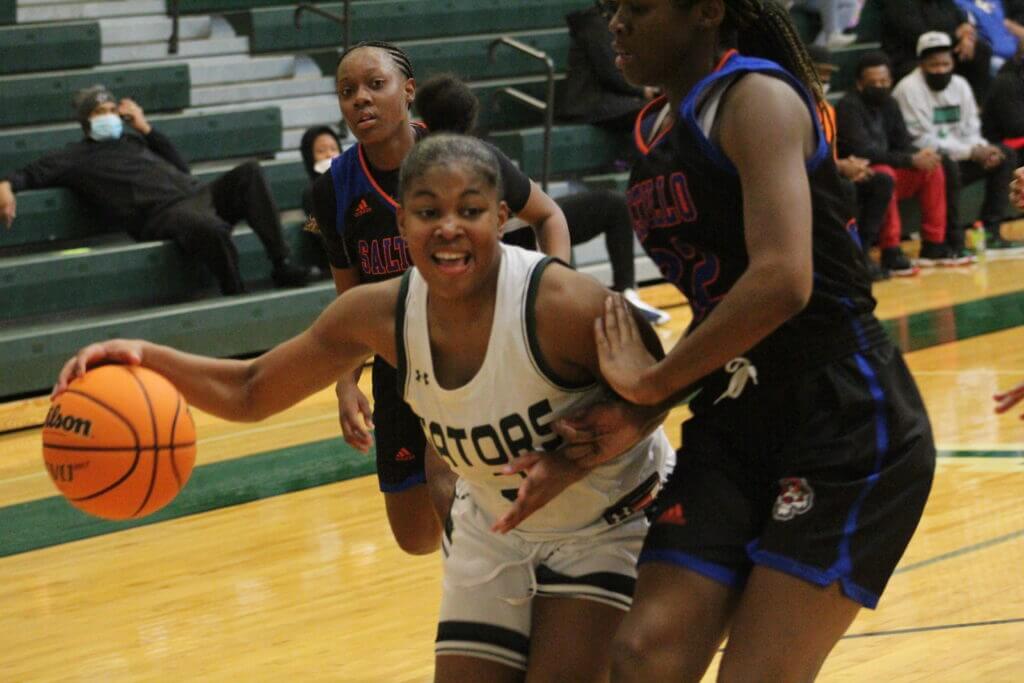 SALTILLO GIRLS 48, LAKE CORMORANT 28
The Lady Gators hung with Saltillo through the first half, actually leading 12-10 after one quarter of play. But, Lake Cormorant trailed 22-14 at halftime and was held to just two points in the quarter, which was a basket by Malaesha Liddell.
Saltillo took a 36-20 lead heading into the final eight minutes of the game.
Liddell dominated the offense for Lake Cormorant, scoring 11 of her team-high 16 points in the first half and nine of that total in the first quarter of play.
Caroline Hamm led three Lady Tigers in double figures with 14 points, including a pair of three-pointers and seven of her point total came in the third quarter, as Saltillo started to pull away.
NOTABLES
Leading 47-43 Tuesday night, the Lewisburg boys saw their lead against Olive Branch evaporate when a foul was called against a Patriot player late in the third quarter on a three-point shot by Olive Branch. Apparently protesting the call, Patriots' coach Adam Tipton and Logan Coker were both tagged with technical fouls. The Quistors made all seven free throws and followed with a basket for a 52-47 lead on their way to a 72-55 victory in the 6A division tournament semifinals at Olive Branch. 
Logan Coker finished with 19 points for Lewisburg in the loss to Olive Branch. Eli Lamb scored 17 points and David Kiesel with 11. Lamb reached the 1,000-point mark in the third quarter of the game and Max Zizman followed in the fourth quarter, netting his 1,000th career point. Five Patriots in school history have now reached the 1,000-point mark in the basketball careers, three just this season.
Oxford's DJ Smith hit a game-winning layup at the final buzzer to give the Chargers a 63-62 victory over Horn Lake in the 6A division tournament semifinals in Oxford.  
Northpoint Christian's girls basketball team rolled past Houston (Germantown, Tenn.) 60-40 with another strong offensive effort from Leah Jones and Brylee Faith Cherry, each with 17 points, and Bethany Wright with 13.  
Former DeSoto Central baseball standout Peyton Mills, an infielder with Northwest Mississippi Community College, has been named Mississippi Association of Community Colleges Conference baseball Player of the Week. Mills' highlights of the week In four games included going 7-for-11 at the plate for a .636 batting average. The former Jaguar smashed five home runs during that span, along with two doubles and 11 RBIs.