Walls man accused in Tupelo commercial burglary
Tupelo Police have made an arrest of a man from Walls in connection with a burglary that took place on Monday.
Officers responding to a business on North Gloster Street in Tupelo obtained evidence at the crime scene and a description of stolen property that led them to locate James Carter, age 60 of Walls, and recover property from the burglary.
Police did not release the particular business that Carter is accused of burglary from, just a street address.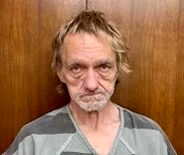 Further investigation led to Carter's arrest by the police and charges of burglary of a commercial building.
Tupelo Municipal Court Judge Weir has set Carter's bond at $25,000. The charges will be presented to the Lee County Grand Jury.