Slight drop in cases, quarantines in weekly school report
This week's report from DeSoto County Schools (DCS) for new COVID-19 cases and quarantines is showing fewer numbers from the previous week, which was a high for the early part of the school year.  
Still, nearly 400 new cases of coronavirus were discovered among DCS students during the past school week ending Sept. 3. The district listed 398 new positive cases among its more than 40 attendance centers, led this week by Lewisburg Middle School with 30 new cases. That school is still in virtual learning through Sept. 8. Parents were informed they will transition to 100-percent in-person learning on Thursday, Sept. 9, according to information parents were recently sent.   
After Lewisburg Middle, DeSoto Central High School reported 29 new cases and Southaven Intermediate had 27.
Southaven Intermediate School also reported the most new students in quarantine with 88, or 8.56 percent of the student body, followed by DeSoto Central High with 84 new quarantines. Lewisburg Middle had 79 new quarantine reports.
Among teachers and staff, DeSoto County Schools saw 61 new positive cases of coronavirus.
The numbers show improvement from the previous week, when 496 cases and 1,410 quarantines were recorded, causing lengthy public comment at the last school board meeting about the pros and cons of wearing masks.
District officials continue to say mask wearing is encouraged, but the state's largest public school district will not have a mandate requiring mask wearing in place.
The latest school report is found below and is also on the district website.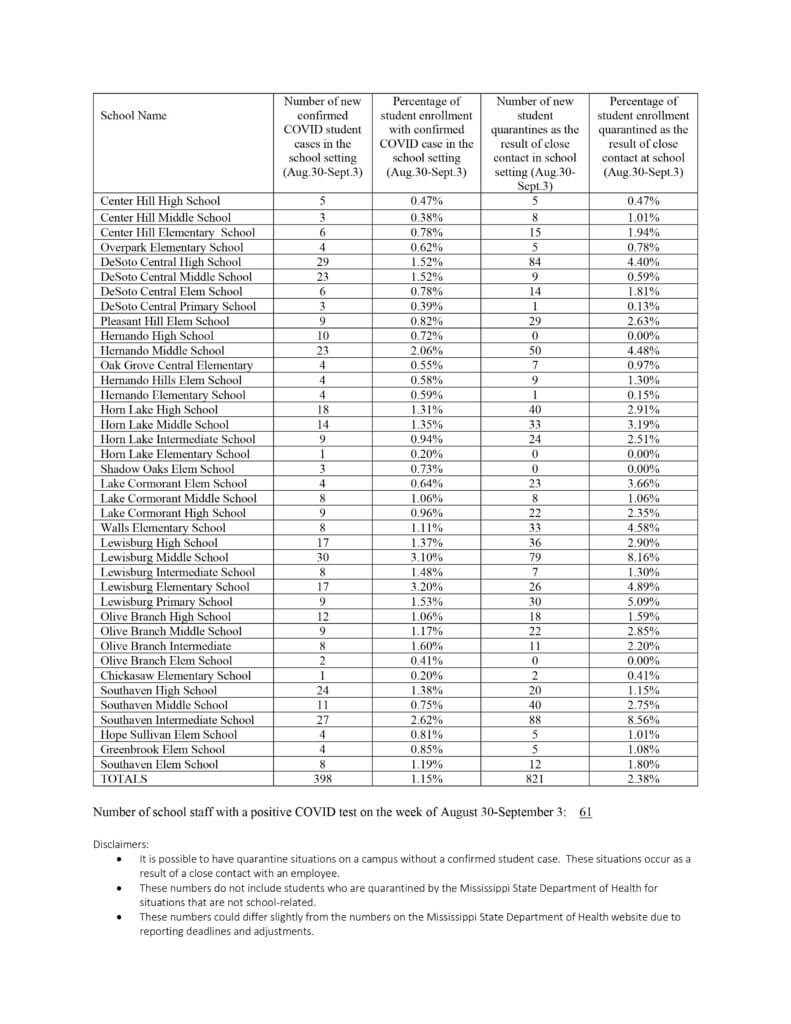 On Tuesday, the Mississippi State Department of Health said it had received 704 new positive cases of coronavirus and reported 21 new deaths related to the virus. None of the new death reports came from DeSoto County, however, which has reported 318 deaths since the pandemic started and a total of 28,440 positive cases.