DCS School Board hears both sides of mask issue
As DeSoto County Schools (DCS) deal with rising numbers of COVID-19 cases and quarantines among its children, teachers and staff, the county district school board Thursday heard from people on both sides of mask requirements.
This past week, DeSoto County Schools reported nearly 500 new cases and 1,410 new quarantines among its more than 34,000 students. The district percentages are low, just 1.44 percent with new cases and 4.1 percent new quarantines.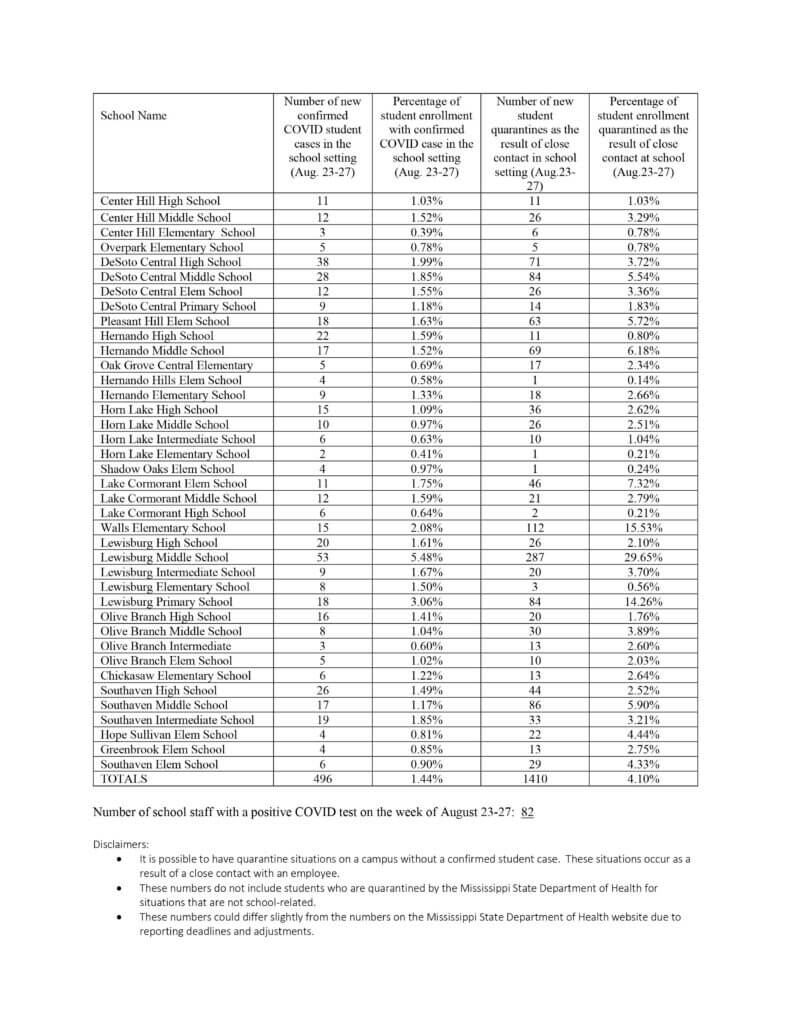 However, Lewisburg Middle School was placed into virtual learning because of the growing number of coronavirus cases and quarantines among its students; 53 new cases and 287 new quarantines. The new quarantine figure amounted to 29.65 percent of the student body.
Hernando High School is in a hybrid mode after it was first placed in virtual learning due to high case and quarantine numbers.
Elsewhere in the district, Monday's weekly report had Walls Elementary with 15.53 percent in quarantine (112 students) and Lewisburg Primary reported 14.26 percent, or 84 students, in quarantine.
The alarming figures brought a number of residents to Thursday's public comment portion of the meeting to speak for and against using masks as a deterrent against COVID-19.
There are school districts in Mississippi that have chosen to require mask usage in its classrooms, but it is not a state mandate.
DCS Supt. Cory Uselton says mask usage is allowed and encouraged for those who wish to do so, but the district is, at this time, not going to mandate mask use in the more than 40 attendance centers.
As the public comment began, John Williams of Hernando asked the board to stay the course in leaving masks to be an option.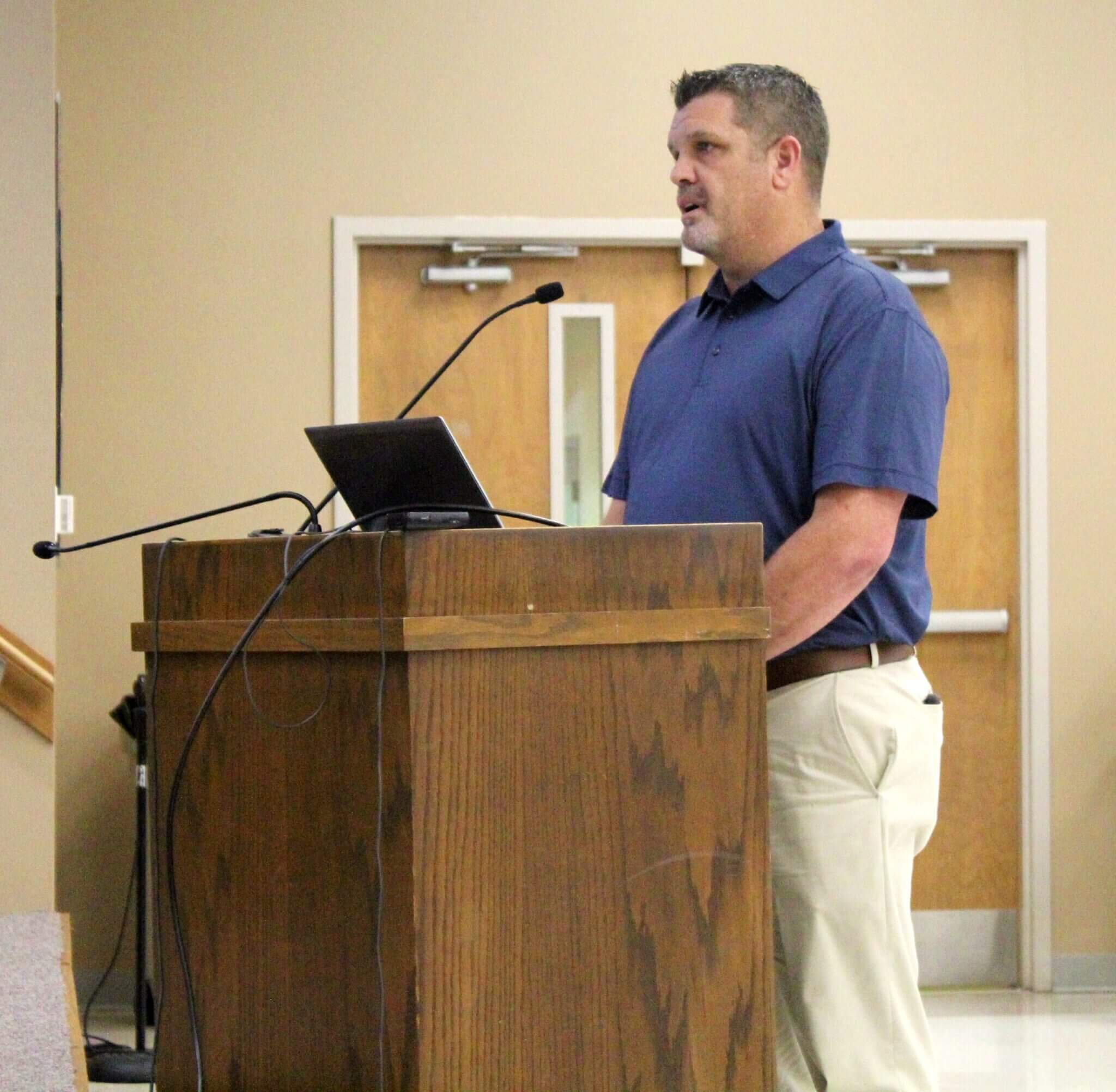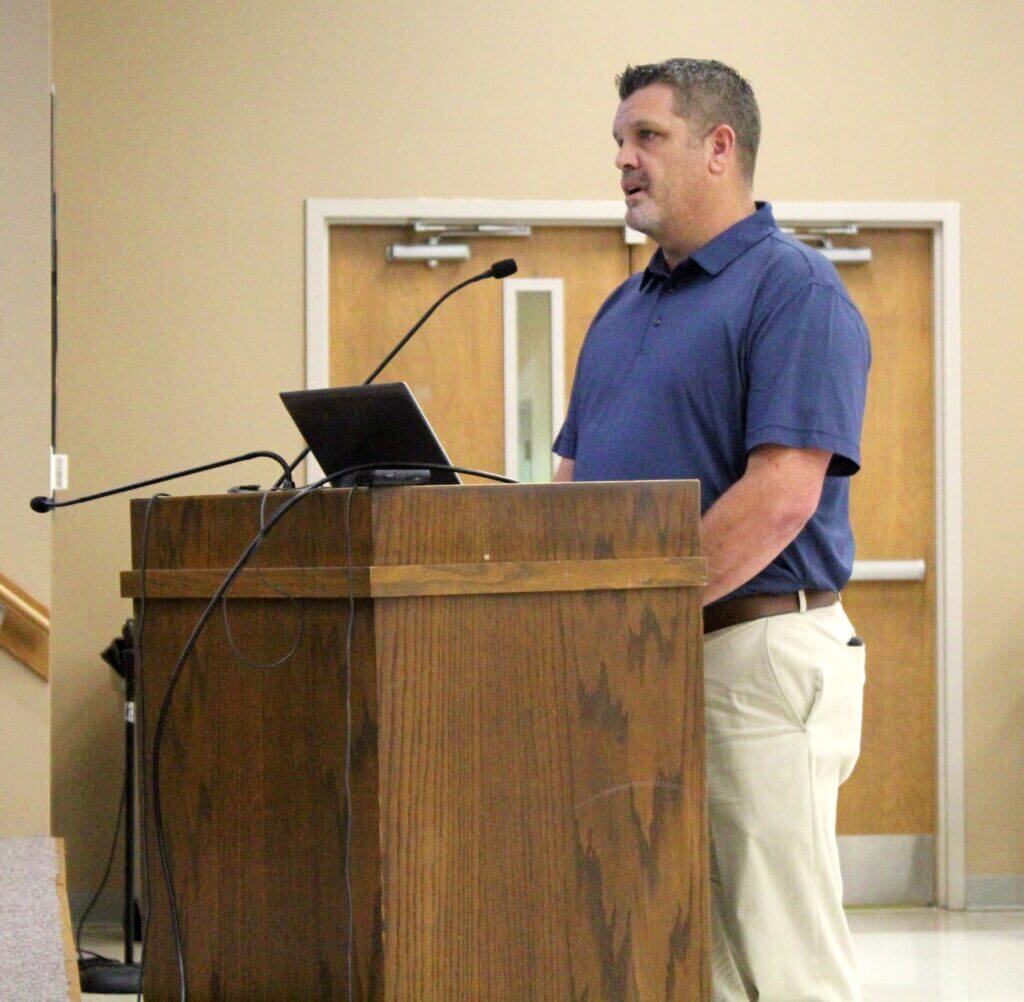 "I want my child to enjoy the same liberties and freedoms that I had," Williams said. "To try to force our children to continue to wear masks is a gross violation of our civil liberties. As a country, we are supposed to have the freedom to make those choices."
Williams said the tool of virtual learning gives those afraid of the virus and don't want their children to be exposed to the virus the chance to learn through today's technology.
"I thank you all for having the courage to start our schools on time with a full schedule without mask mandates," Williams told the board. "I hope you will continue to have the courage to stand up for that."
Another parent came forward to support virtual learning being an option that any student could have.
However, a small business owner who has children at Lewisburg Primary School said the district should embrace masks, social distancing and vaccination.
"This Delta variant is more contagious than where we were 18 months ago," she said. "The use of masks is a heavily-debated topic, but among public health officials, there is no mask controversy. Masks work."
She went on to list a myriad of statistics that indicated that mask usage would severely drop the incidences of coronavirus.
Dr. Matthew Rees, a board-certified pediatrician who has three children in DeSoto County schools, sided with those supporting mask requirements.
"We're not asking for Herculean efforts to drive the risk of COVID down to zero," Rees said. "I don't think that's reasonable and I don't think that's even possible. We are asking that we use the best tools available to us. These are simple, evidence-based measures recommended by the vast majority of medical professionals."
Rees asked the district for vaccinations for those eligible, universal masking requirements, and testing before students return to school activities.
But the last word on the issue for this meeting came from Robert Foster, a former state representative and Hernando-area business owner, who was adamant the district retain its current policies against mandating masks.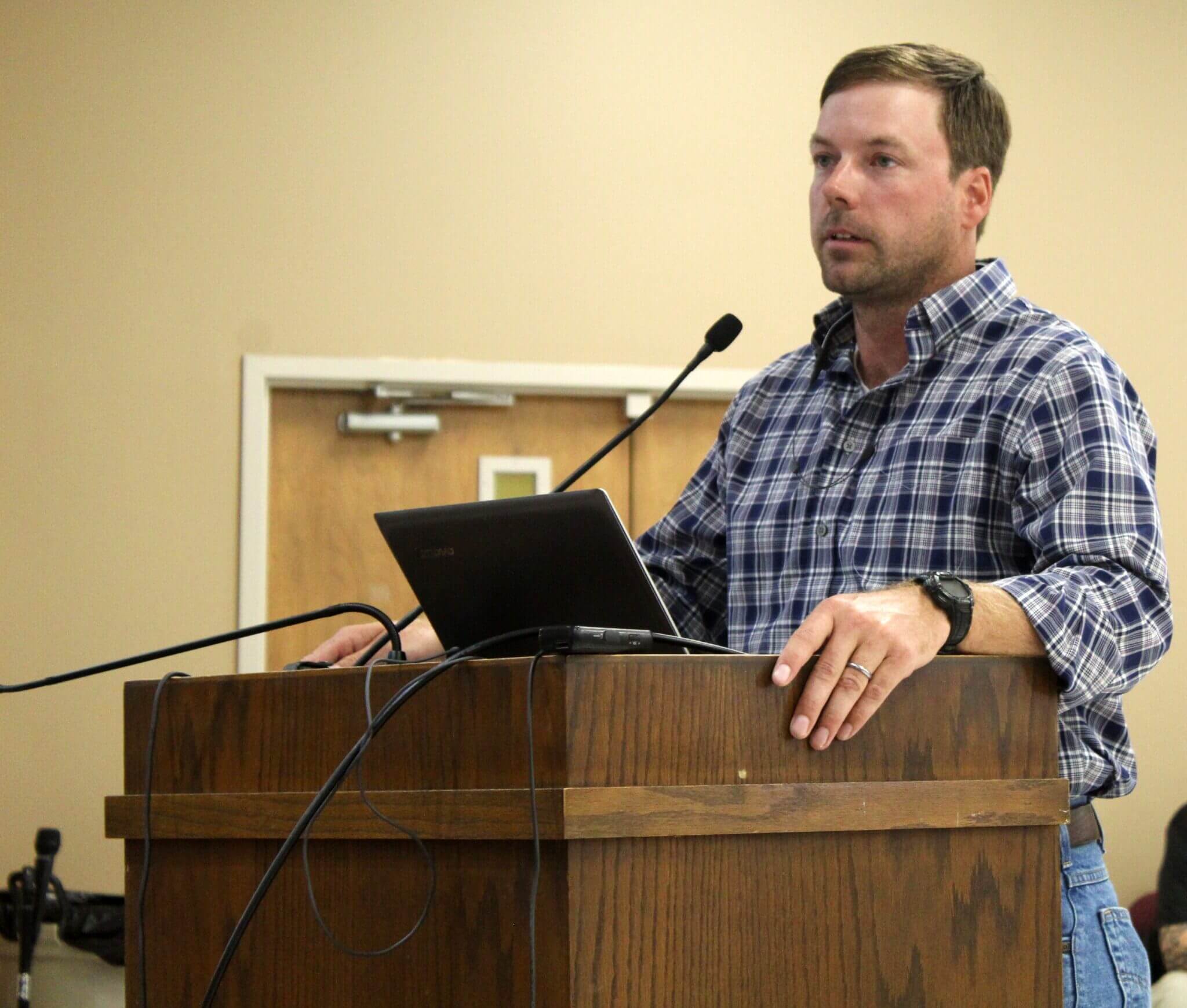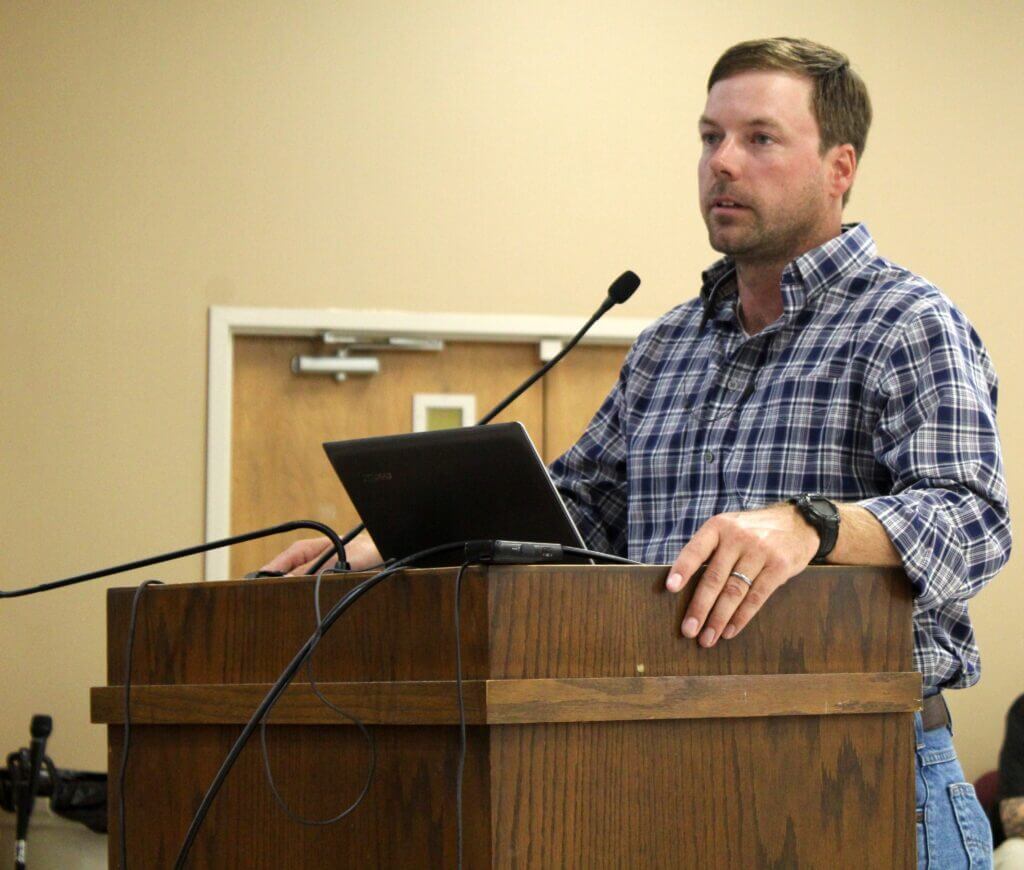 Foster said there has never been a prospective clinical trial that showed that masks stop the spread of the virus.
"Those studies quoted by the media are done inside laboratories, they are scientific theories," Foster said. "There is no significant change in the spread of the virus, even in a hospital setting with a trained medical professional. They show no significant change."
Foster pointed to CDC admissions that said states that had mask mandates and those that did not mandate masks last saw no difference in virus incidences.
"The CDC itself said in a statement that there was no statistical difference in the spread of coronavirus in the school systems in tens of thousands of schools that were compared, whether they had a mask mandate or not," Foster said.
The former legislator and gubernatorial candidate related his connections with the medical community through his father, a 30-year physician, and said some public health officials are trying to muzzle doctors whose beliefs differ from trending information.
"I can tell you from personal experience that I know of doctors that have been silenced by their corporate healthcare corporations and have been told that they are not allowed to have a public opinion outside of a political narrative," Foster said. "That is a fact and that is happening. They have been threatened indirectly with their privileges at hospitals if they have a public opinion that differs from the current CDC position."
Foster also refuted Rees' statistical quotes as coming from medical associations that have liberal political agendas.
"There is an almost zero chance of a child being harmed by this virus," Foster said. "And that hasn't even changed with the Delta variant. More have been catching it, but it's still not more dangerous than the flu."
He concluded by saying the district should continue allowing a choice about masks to be had.
"If someone wants to wear one (mask), I will fight for their right to have a mask," said Foster. "All we ask is that we continue down the path of allowing parents to make the decision for their children as what they see is fit."
BUNDYS HONORED: Dorothy and Tom Bundy were recognized by the school district for their work in the Weighted Blanket Project, giving weighted blankets to children on the autistic spectrum, a story we earlier featured on DeSoto County News. Dorothy Bundy has continued the project since its beginnings but is now retiring from the volunteer effort through the Arc Northwest Mississippi.