President's Circle Award to Keep DeSoto County Beautiful
Keep America Beautiful®, the nation's leading community improvement nonprofit organization, has presented Keep DeSoto County Beautiful with its 2020 President's Circle Award. The President's Circle Award recognizes exemplary performance by certified affiliates of Keep America Beautiful in creating clean, green, and beautiful communities.
"We're honored to receive this recognition of the hard work and dedication to Keep DeSoto County Beautiful," said Mark Gardner, President of the DeSoto County Board of Supervisors.
In qualifying for the President's Circle Award, Keep DeSoto County Beautiful has met standards of merit of Keep America Beautiful by conducting an annual Community Appearance Index; calculating the affiliate's cost/benefit ratio; and administering initiatives to end littering, improve recycling, and beautify DeSoto County's community.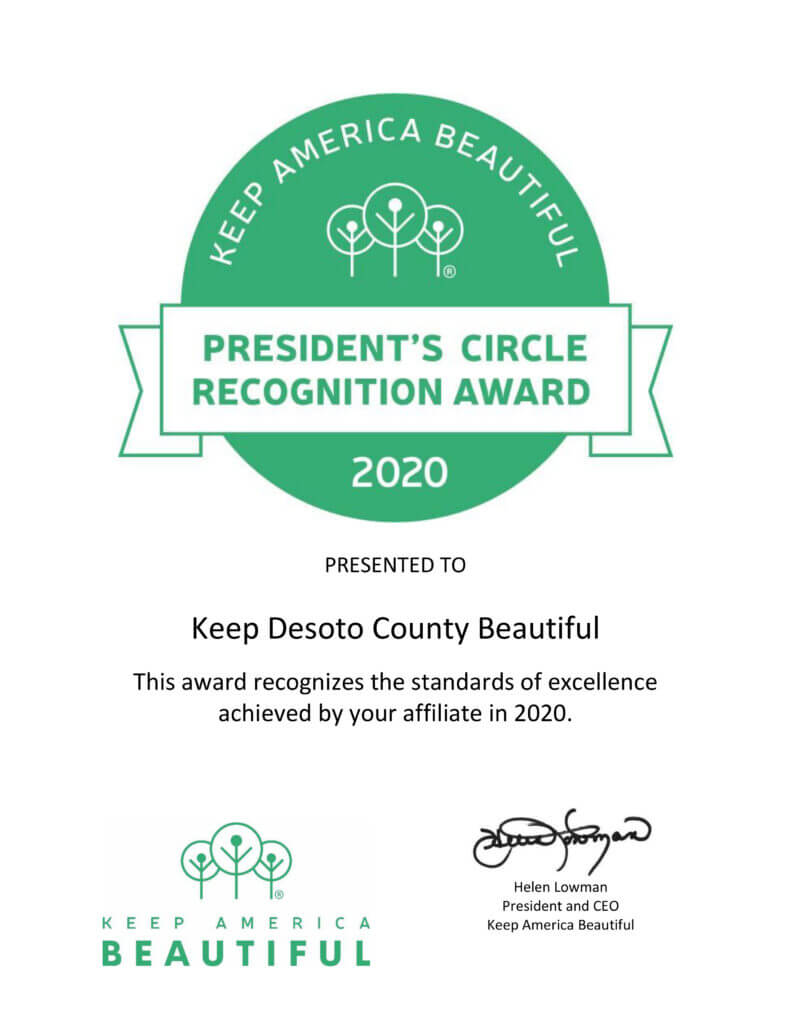 "Keeping DeSoto County Beautiful is not only about appearances," said District 4 Supervisor Lee Caldwell. "A clean community is also a safe community."
District 5 Supervisor Michael Lee added, "Litter free communities have higher property values, less crime, and a better quality of life."
"Each year, our dynamic affiliate network carries out our shared mission at the state, county, and municipal levels across the country," said Keep America Beautiful President and CEO Helen Lowman, PhD. "By engaging volunteers, building partnerships, and executing innovative programming, our affiliates demonstrate purpose and create collective impact through a national movement with local execution built around mutually reinforcing activities."
"Research shows litter encourages litter; people begin to think 'why should I care; obviously no one else does' That's why Keep DeSoto County Beautiful works hard to encourage community members to take actions every day to improve the County's appearance," said District 3 Supervisor Ray Denison.
This is the sixth year Keep DeSoto County Beautiful has received the President's Circle Award. "Even after receiving this honor for the sixth time, it never gets old," said District Supervisor 1 Supervisor Jessie Medlin. "It serves as motivation to ensure we excel next year and into the future."
DeSoto County Government news release