Power outages reported with cold weather
Entergy Mississippi has reported scattered power outages totaling 66 customers as of 10 a.m. Friday morning. Here's a screenshot of the Entergy power outage map from its website as of 10 a.m. Friday.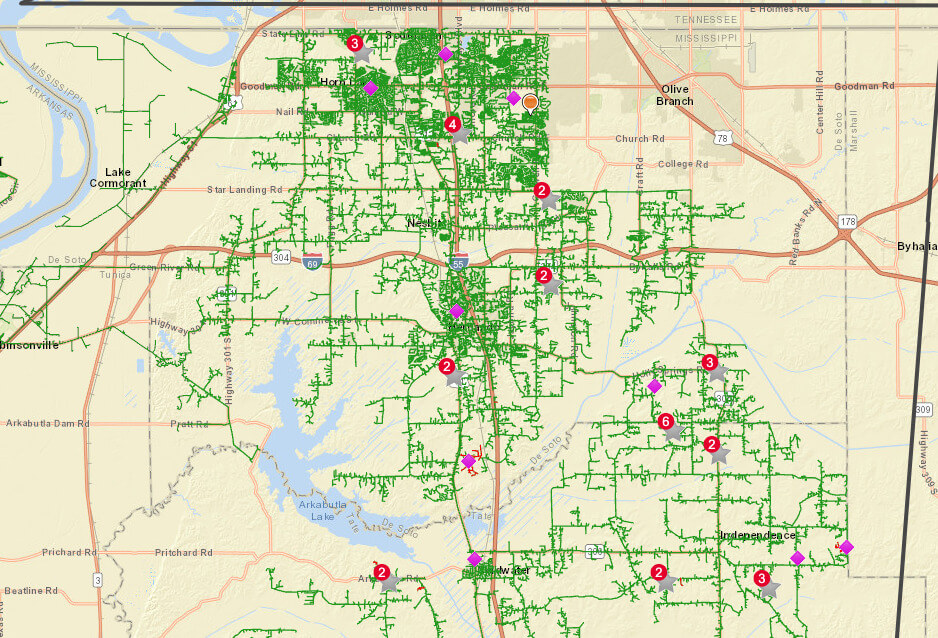 You can view the latest updated power outage information at the Entergy Mississippi website.
At 11:45 a.m., the DeSoto County number of outages had increased to 103. At 1:15 p.m, the number had fallen to 83.
Atmos customers were also experiencing low gas pressure affecting the heating of their home. Atmos sent out the following energy conservation tips:
Northcentral Electric Cooperative, as part of being on the Tennessee Valley Authority grid, announced that rolling blackouts of 30 minutes would occur in its service area, similar to what is happening to MLGW customers in Memphis. Northcentral released the following statement at 11 a.m. Friday:
Today we are experiencing a nationwide power supply shortage, as generation facilities are not fully operating. This is no different for the Tennessee Valley Authority.
To assist in emergency load curtailment, we are taking down circuits in 30 minute increments until the situation stabilizes. This is not ideal and we appreciate any assistance you can provide by cutting your energy usage.
These rolling outages are part of our Emergency Load Curtailment Plan with the Tennessee Valley Authority. If you experience a power outage, you can expect it to be restored within 45 minutes in most cases. All TVA utilities are managing similar plans today.
However, at 12 noon Friday, Northcentral Electric Cooperative announced the rolling blackouts would end in its service area. MLGW customers were told in a noon press briefing it also would not be instituting the rolling blackouts.
At 1 p.m. Northcentral reported 861 customers were affected by the Payne Lane substation outage. That outage was later reported restored around 1:30 p.m. It was a part of the emergency outages that never came back on due to a failed breaker.
It was a record-setting day for the Tennessee Valley Authority, which provides power to Northcentral Electric Cooperative.