Injured deputy continues recovery
When the Center Hill baseball Mustangs hosted Saltillo in the MHSAA 5A playoffs last week, a different voice was behind the microphone as the public address announcer for the contest.  
The voice introducing the batters coming up to the plate Friday evening came from DeSoto County Sheriff's Department Deputy Austin Eldridge as the guest PA announcer.
Most people in the Mid-South are well aware of Eldridge's name and of the circumstances surrounding him and an incident that took place in February along I-269 near Laughter Road.
Eldridge, a patrol deputy for the Sheriff's Department, had stopped the evening of Feb. 5 to assist a motorist who was stranded along the interstate with a flat tire.
As Eldridge was working on the tire, another motorist passing by struck the deputy. As a result, both legs were severely hurt and one leg had to be amputated. He spent several weeks in treatment at Regional One Medical Center in Memphis, where Eldridge was airlifted after the incident.
Katherine Harris, age 37 of Memphis, was charged with DUI involving serious injury.
In the weeks since the accident, Eldridge has been heavily involved in his recovery and therapy work because he has a definite goal in mind.
"My personal goal is to be back at work by the end of this year," Eldridge said. "That's my personal goal. Whether or not that happens, a lot of that relies on the doctor to an extent, but if I have anything to say about it, then at the end of this year I'll be in a patrol car, if I can."
Friday night behind the microphone was just another step in Eldridge's move to normalcy, since he had been involved in a broadcasting career before he started in law enforcement. Getting back into uniform and serving DeSoto County in the Sheriff's Department is what he desires to do.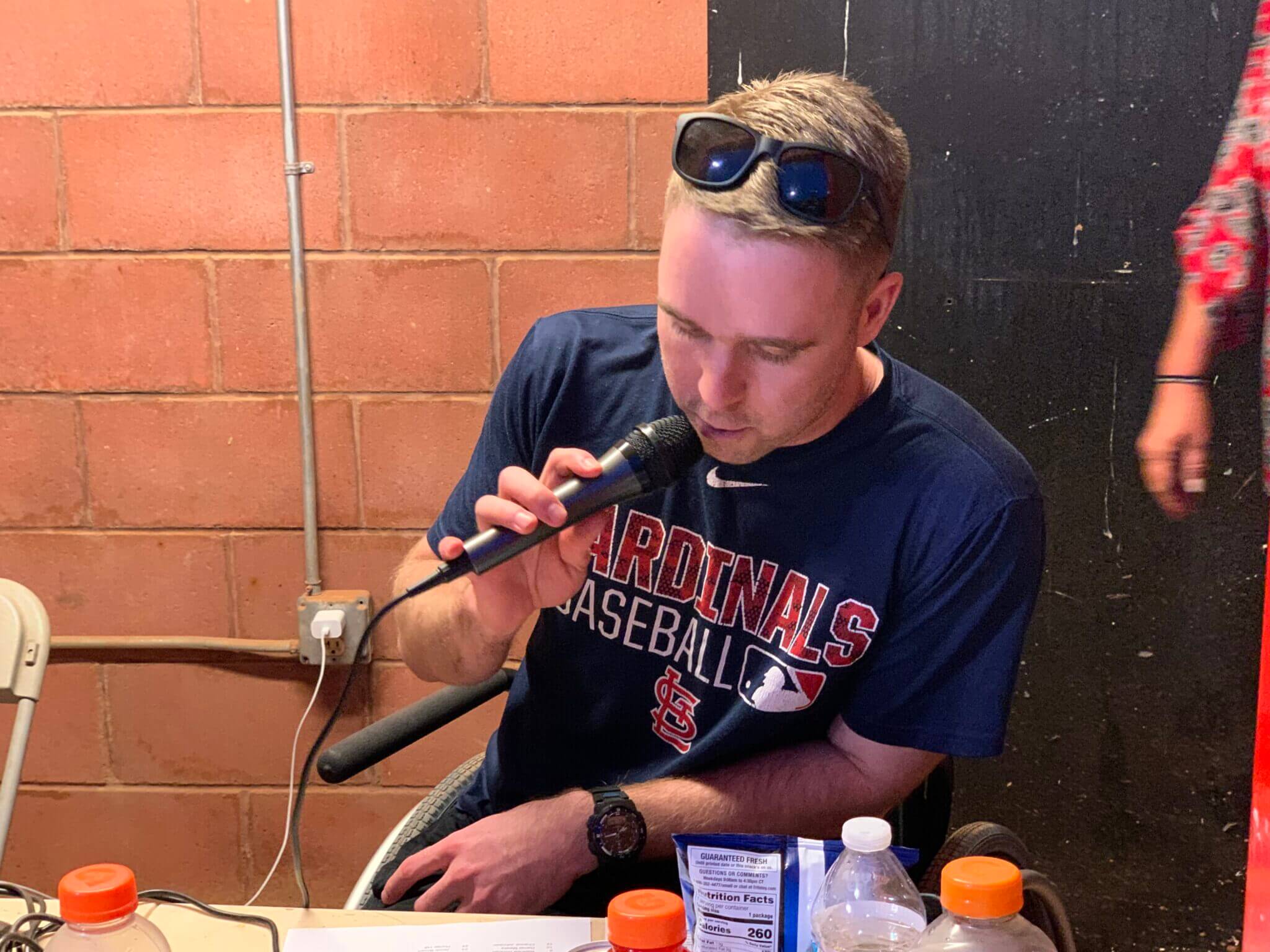 "They've all told me I have a job as long as I want one," Eldridge said. "My immediate bosses have told me that they obviously want me back on patrol if that's what I want to do, so they're all very supportive. I work for a great department."
To reach that goal, Eldridge is on a regimen that involves certain daily activities to get stronger and more mobile.
"Monday, Wednesday, and Friday, I go to rehab, so I work hard in rehab learning to walk again, putting weight on the right leg and getting it stronger," said Eldridge. "On a daily basis, I'm learning how to operate in a wheelchair and out of a wheelchair, kind of trying to get the leg stronger so I'll be back walking again sooner."
The therapy work is coming along nicely, Eldridge said.
"It's going very well, quicker than I thought it was going to go," he said. "It's been about three-and-a-half months since the accident and I am working with my prosthetic right now, so it's been working really well."
As far as the community's support is concerned, Eldridge, his wife Ashley, and parents Carl and Christine, have been "blown away" as he put it, by the supportive response county residents have offered.
"I was literally in tears in the hospital, just seeing all of the support given me and my wife and family," Eldridge explained. "I just don't know where we would be without them. There's never adequate words and not enough to say thank you for what happened at that time and I really appreciate all of it."
In response to the accident, there have been several different means of support, through a GoFundMe account, fundraisers, raffles and other activities that were put together to raise money for the Eldridge family and his recovery. Thousands of dollars have been raised by the various events that have been held.
Friday night was just another step in his return to normal, getting back next to a microphone as Center Hill's special guest public address announcer. It's helping the young deputy sheriff get through what has been a traumatic part of his life.
"I'm working as hard as I can and to a stubborn degree at times," Eldridge said. "But what is helping me get through some of this is that I'm not giving up."