Heroes' stories set to music
You have likely heard the stories already about two of DeSoto County's most notable World War II veterans. For instance, there was Olin Pickens, who spent a good share of his time overseas as a prisoner of war to the Nazi Germans. He has told his story to many groups over the years about being captured while on a "suicide" mission in North Africa, escaped but was captured again and spent a total of more than two years as a POW, including time in a slave labor camp.   
And there is K.T. Robbins, who served as part of the D-Day invasion and briefly served under Gen. George Patton.
But when Robbins, a baker for the troops, had to leave and be transferred to the Eastern Front, he also left his heart in France for a woman he met and fell in love with; who 75 years later around the anniversary of the D-Day observance in France, he was reunited again with. Jeannine Ganaye was the woman he left behind. It was a reunion chronicled by various national and international news outlets, including the Today Show, and by the France 2 network in this video feature.
While words and pictures can speak volumes, a story many times is remembered and impacts people even more when it is put to music.
That is what is happening with the stories of Pickens and Robbins through Freedom Sings USA, a Chattanooga, Tennessee-based nonprofit.
Late last week, only DeSoto County News was able to sit in and hear the stories once more as Pickens and Robbins were interviewed by a songwriter for Freedom Sings USA, Don Goodman.
Say the name Don Goodman in music circles around Nashville and they'll quickly recognize the name. Goodman has put together country music hits like Blake Shelton's "Ol' Red," and Alabama's "Angels Among Us." Other top-name artists who have recorded Goodman's music are Bobby Bare, Dobie Gray, George Jones and Lee Greenwood.
What Goodman does now is a passion he has for telling the stories of veterans, their bravery and their service, in hopes the next generation is inspired by what men and women did to preserve our freedom.
"This is the greatest job I could ever imagine having," Goodman said. "I am taking the words of heroes and turning them into songs. It just don't get no better than that."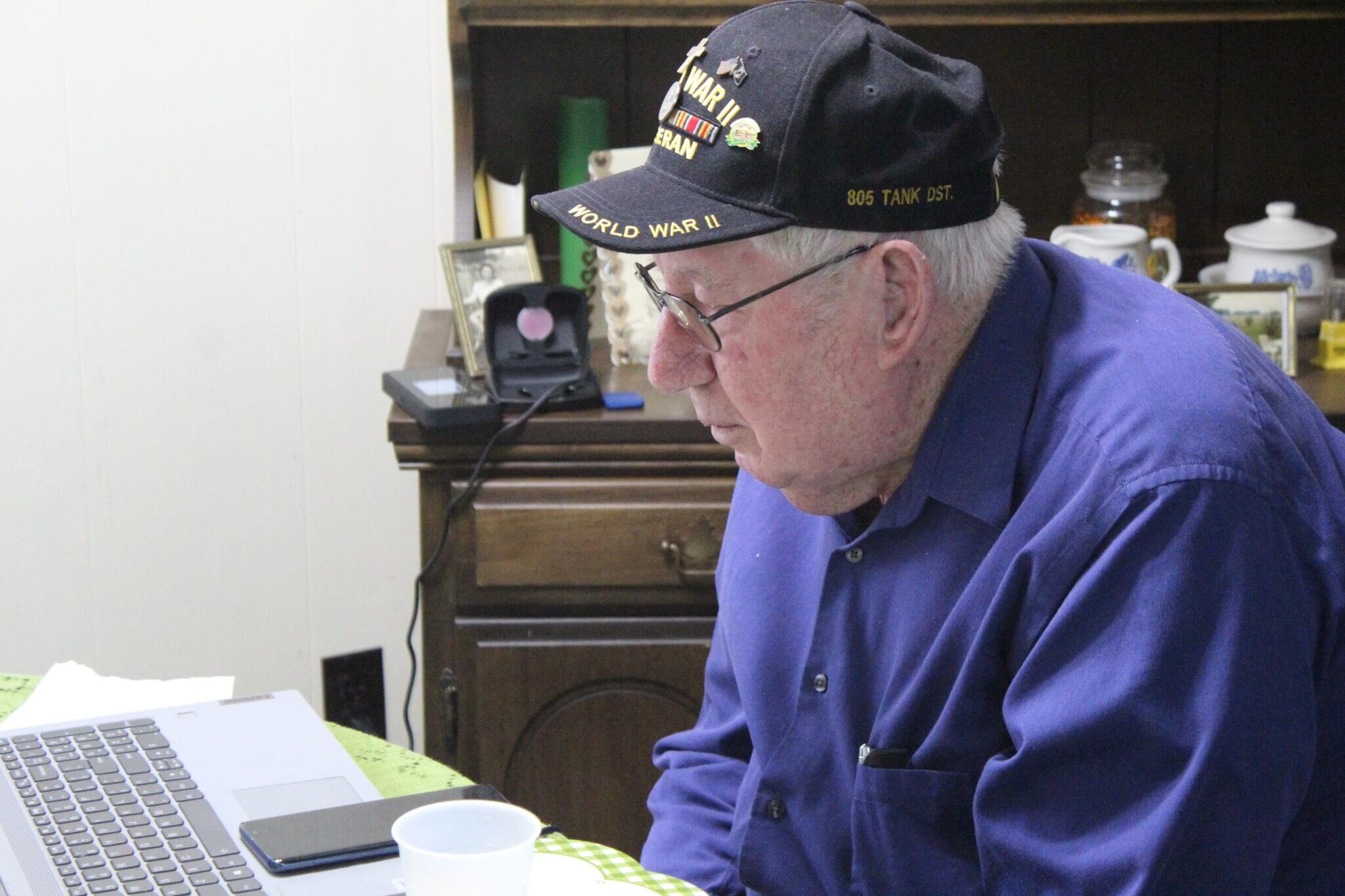 The major part of each project is sitting with the veteran and hearing them tell their story, such as Goodman did through a Zoom interview with Pickens and Robbins at Robbins' Olive Branch home late last week.
Freedom Sings USA has put together many songs and stories over its existence. Goodman said many times the reality of war stays with a serviceman over the years and that can have a harmful effect on their lives.
"We deal a lot of time with PTSD survivors and guys who have never talked about their experiences until they become demons in their mind," Goodman said. "There are 22 military-related suicides a day in this country. When we start playing music, they're not telling war stories anymore, they're writing a song and that music frees them up to just tell the story."
Goodman added the finished product is available to be passed down, so grandchildren and great-grandchildren may hear what their older generation endured for them.
The motto for Freedom Sings USA is, "When the story becomes a song," and Goodman says every bit of money raised goes into writing the songs one may hear on the Freedom Sings USA website.
As an accomplished songwriter over about a half-century, Goodman is certainly very good at what he does. After talking with Pickens for about 90 minutes, Goodman admitted he already had a first verse and chorus in mind for the song he was going to write for Pickens.
"The chorus is a central theme, you're going to sing it 2-3 times," he explained. "It has to encompass what is in the verses. The hook in this song was, 'Jesus was always there,' and every line in this song has to lead you back to those 3-4 words."
Goodman and other songwriters get together on a regular basis, putting together the music you will soon hear. Another person who will be brought into this is Steve Dean, a fellow songwriter who has co-written six number-one Billboard hits, songs like Rodney Atkins' "Watching You," "Southern Star," for Alabama, plus songs for the Oak Ridge Boys, Lee Greenwood, and others.
"These two are amazing when they put music together," said former Freedom Sings USA president Terry Moreland, who assisted in the interviews. "Steve Dean puts more of the music together."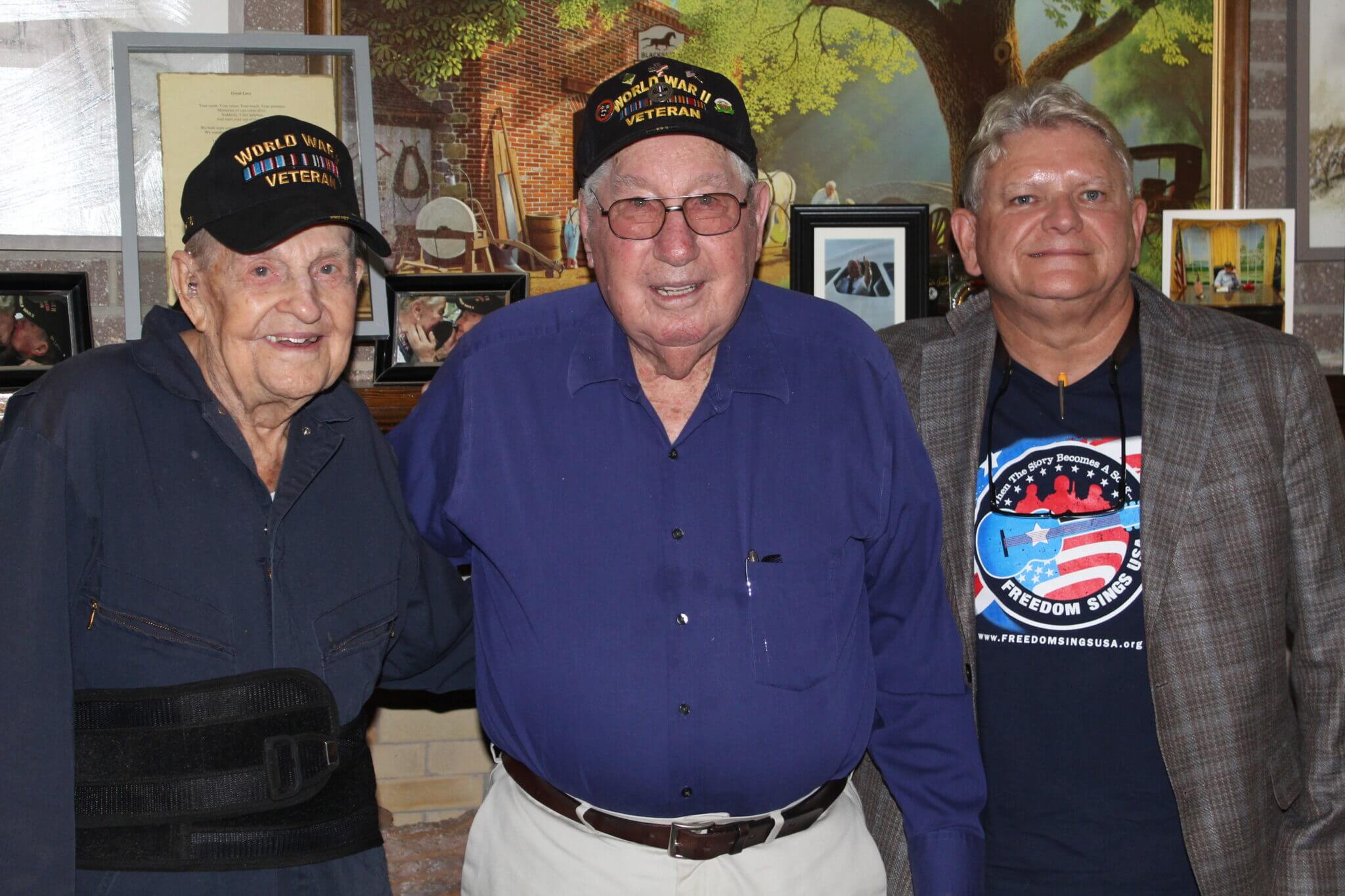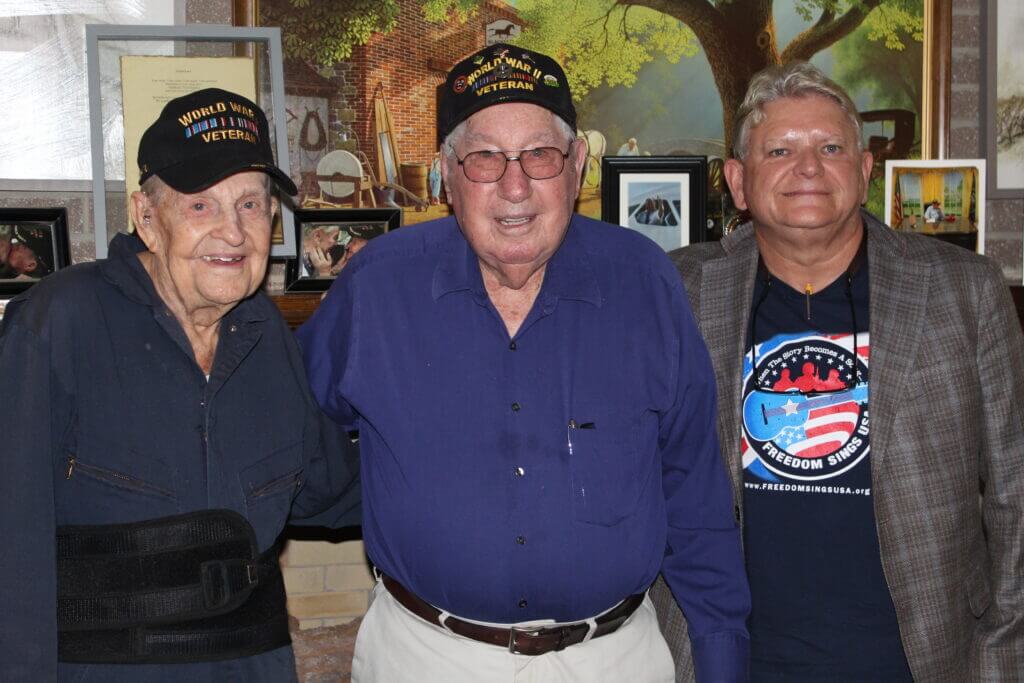 Goodman said all of the songs, when finished, will be available for download and purchase at the Freedom Sings USA website.
"We will be on internet radio, we will do shows and concerts," Goodman said. "Our goal is to get these songs heard by as many people as we possibly can. Our ultimate goal is to get these songs into the schools to be played for children and let them hear what their grandfather, these heroes, have gone through."
"We will give the veteran a free copy," added Moreland. "A CD, or whatever they need, for their phones, or whatever."
You can hear and see what Freedom Sings USA is doing, purchase and download items, and donate to their efforts at the nonprofit's website.