Thanksgiving dinner costs more to serve this year
If you haven't figured it out already, the cost of the Thanksgiving meal you may be about to serve has gone up considerably again.
The American Farm Bureau Federation (AFBF) annually releases its survey on the average cost of the Thanksgiving feast and this year it is up 20 percent over last year's survey. The average cost this year is $64.05 for a meal of 10 people. It is the 37th year for the American Farm Bureau to do the survey.
Volunteer shoppers scoured the grocery stores in mid-to-late October to check on prices.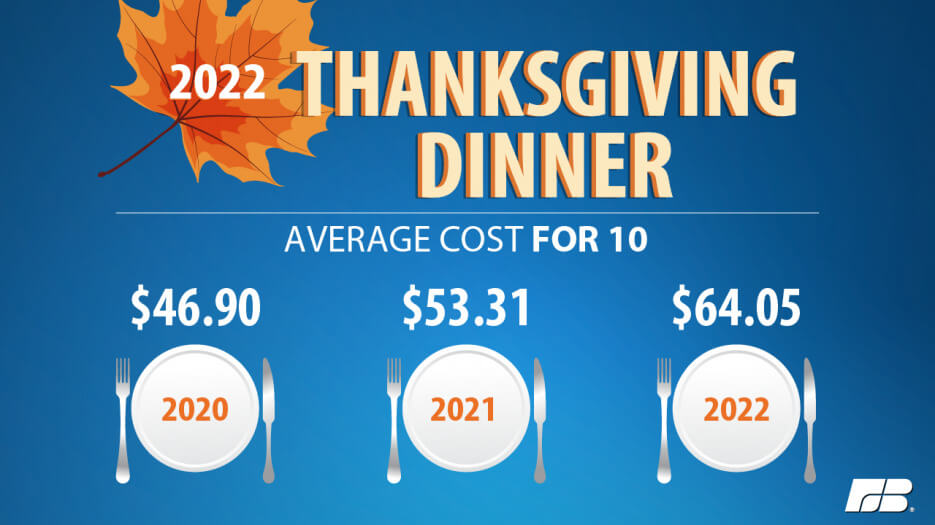 The centerpiece on most Thanksgiving tables – the turkey – costs more than last year, at $28.96 for a 16-pound bird. That's $1.81 per pound, up 21 percent from last year, due to several factors beyond general inflation before most grocery store chains began featuring whole frozen turkeys at sharply lower prices.
"General inflation slashing the purchasing power of consumers is a significant factor contributing to the increase in average cost of this year's Thanksgiving dinner," said AFBF Chief Economist Roger Cryan. "Other contributing factors to the increased cost for the meal include supply chain disruptions and the war in Ukraine. The higher retail turkey cost at the grocery store can also be attributed to a slightly smaller flock this year, increased feed costs and lighter processing weights."
Here's a list of the individual items used in the AFBF survey, their average cost this year and the rise in cost over last year's survey.
Individual Prices
16-pound turkey: $28.96 or $1.81 per pound (up 21 percent)
14-ounce bag of cubed stuffing mix: $3.88 (up 69 percent)
2 frozen pie crusts: $3.68 (up 26 percent)
Half pint of whipping cream: $2.24 (up 26 percent)
1 pound of frozen peas: $1.90 (up 23 percent)
1 dozen dinner rolls: $3.73 (up 22 percent)
Misc. ingredients to prepare the meal: $4.13 (up 20 percent)
30-ounce can of pumpkin pie mix: $4.28 (up 18 percent)
1 gallon of whole milk: $3.84 (up 16 percent)
3 pounds of sweet potatoes: $3.96 (up 11 percent)
1-pound veggie tray (carrots & celery): 88 cents (up 8 percent)
12-ounce bag of fresh cranberries: $2.57 (down 14 percent)
Regional Averages
The AFBF analysis also revealed regional differences in the cost of the meal.
The cost for the classic meal was the most affordable in the South – $58.42, followed by the Northeast – $64.02, Midwest – $64.26 and West – $71.37. The expanded meal (classic meal plus ham, green beans and Russet potatoes) was the most affordable in the South – $74.90, followed by the Midwest – $81.53, Northeast – $82.76 and West – $88.55.
More details on the survey are available on the AFBF website.