UPDATE: Tax cuts, pay hikes highlight House action
State House members support teacher pay raises and income tax elimination
NOTE: Story is updated with Hopkins comments.
Wednesday was a good day in the Mississippi state Legislature for teachers and those wanting to stop paying state income taxes in the Magnolia State.
The state House today passed its plan to raise teacher pay and also moved a bill that would eliminate the state income tax structure.
Most of the local buzz in DeSoto County was about the teacher pay measure, which passed the House on a 114-6 vote. House Bill 530 would hike the base minimum state share of a teacher's salary by $4,000-$6,000 annually.
The House-passed measure would have a higher pay raise range than the Senate's similar salary structure that would average about $4,700 a year over two years.
One of the sponsors of the bill is state Rep. Bill Kinkade (R-Byhalia), whose district includes part of eastern DeSoto County.
State Rep. Jerry Darnell (R-Hernando) posted these photos that show how the pay scale would be under the House plan and also show how Mississippi ranks against nearby states for teacher salaries.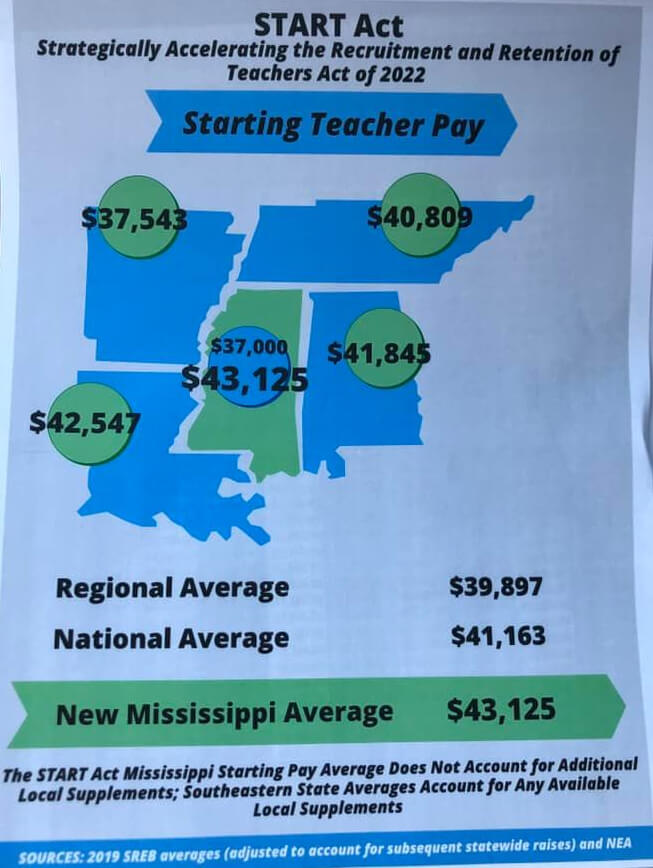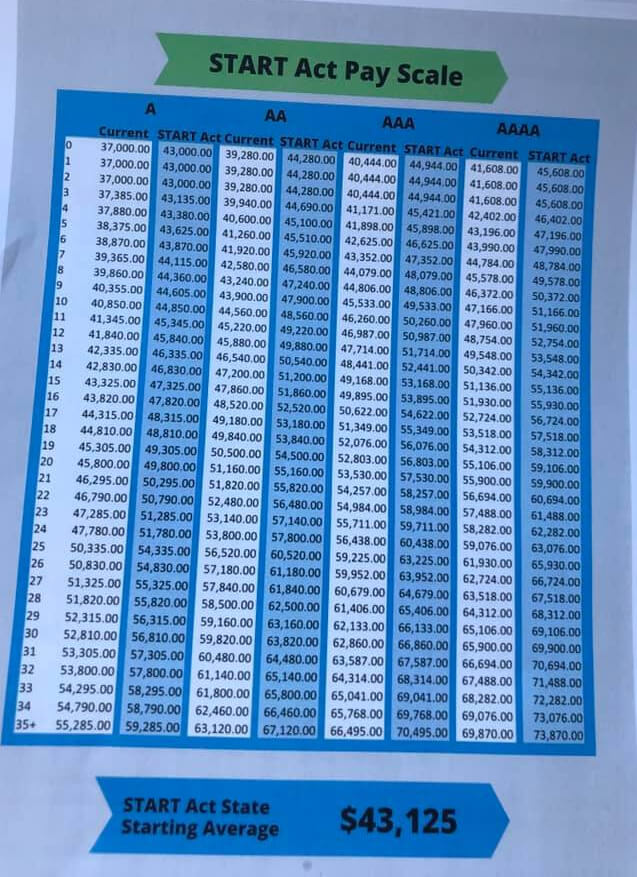 Mississippi ranks among the lowest salaries in the country. According to Darnell, the state's starting teacher pay would be raised by a $6,000 increase. There is a $2,000 increase for teacher assistants, as well.
Equally buzzing the social media channels after the vote was the list of House members who voted against the teacher pay plan. DeSoto County Schools is the largest public school district in Mississippi and of the six who voted against the House plan, three are from DeSoto County. Rep. Dana Criswell (R-Olive Branch), Rep. Steve Hopkins (R-Southaven), and Rep. Dan Eubanks (R-Walls) all cast a "No" vote on the House measure.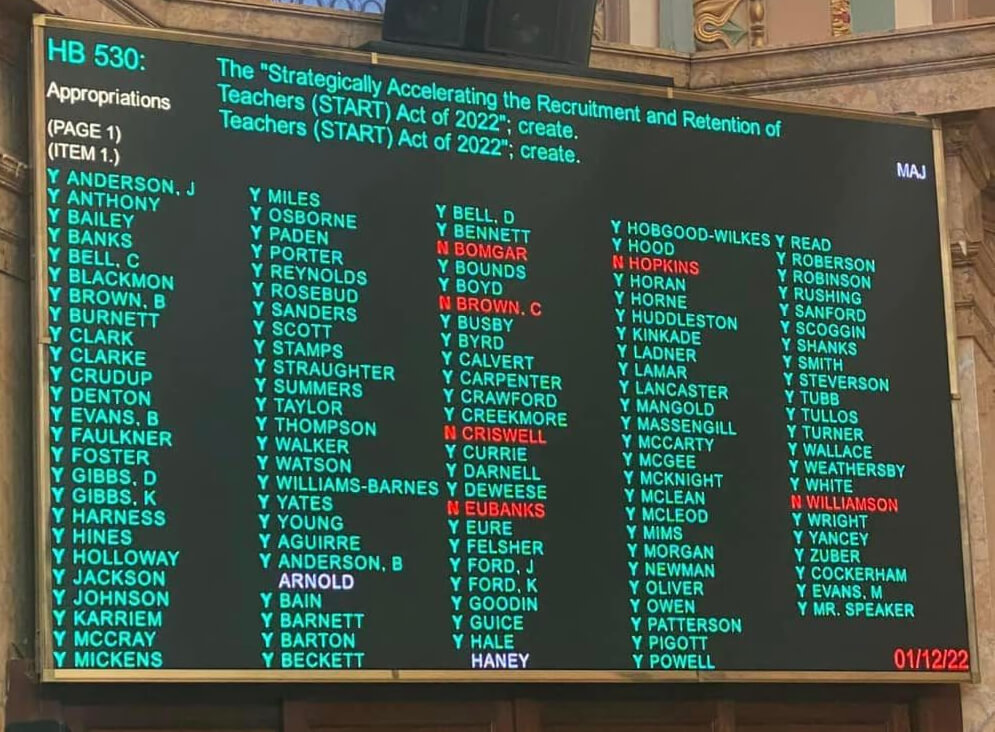 State Rep. Steve Hopkins (R-Southaven) explained his vote on his Facebook page, noting that his wife is a teacher and he has family members who are teachers or teacher's assistants.
Hopkins said eliminating state income tax and raising teacher pay were two of his objectives when he was elected. But Hopkins said the bill that was passed was not the best option when sales taxes are being raised at the same time.
"This year we find ourselves in the best situation in our State's history to be able to eliminate the state income tax without raising the sales tax, be able to cut the cost of car tags in half and cut the grocery tax in half," Hopkins wrote. "That cannot be accomplished and commit to the biggest teacher pay raise in our State's history."
The Southaven Republican said that was behind his vote on the teacher pay schedule.
"For the first time since being elected I will be voting No on a Teacher pay raise but only to keep fighting for all Mississippians to be able to keep more of their own money as we move these bills through the process," Hopkins said. "I want an income tax elimination, grocery tax cut and car tag cut that gives all Mississippians thousands of dollars of extra income. I could be selfish and do what's best for my household and vote for a $4,000 raise or I could vote no and stand strong for all Mississippians. These votes aren't easy, quite the opposite."
Mississippi teachers with a bachelor's degree start at $37,000 for the current school year, according to the state Department of Education.
Reeves earlier supported a $1,300 pay raise during the budget year that begins July 1, followed by step increases of $1,000 annually over the following two years.
The Senate must now consider its plan and the two Houses must reconcile its differences before being sent to Gov. Tate Reeves for consideration.
Another measure that passed the House on Wednesday would start the process of eliminating the state income tax.
House Bill 531 passed by a 96-12 margin. Kinkade again was one of the sponsors of the bill and all members of the DeSoto County delegation supported the bill.
Along with moving to eliminate the personal income tax, the tax on groceries would be reduced to four percent and fees for car tags would be decreased by 35 percent.
The reduction on grocery taxes would be phased in over six years, starting in July.
Other sales taxes would move from seven percent to 8.5 percent, however, including the general sales tax, sales tax on alcohol, and taxes on products delivered electronically.
Tennessee, Florida, and Texas are nearby states that don't have state income taxes and House leaders believe the move would make Mississippi more competitive in attracting businesses to the state.
How the Senate will receive this measure was not immediately clear, as Lt. Gov. Delbert Hosemann has said he backs a cut in taxes but has not specifically provided a proposal to state Senators.