Dodson Black speaks with abortion supporters in Oxford
Photo: Democratic congressional candidate Dianne Dodson Black is shown with a supporter of reproductive rights for women during an Oxford rally. (Courtesy photo)
Democratic candidate for Congress Dianne Dodson Black of Olive Branch has voiced her opposition to the recent U.S. Supreme Court decision that reversed the 1973 Roe v. Wade ruling concerning abortion.
The Supreme Court late last month voted 6-3 in support of the State of Mississippi in the case of Dobbs v. Jackson Women's Health Organization and at the same time on a separate 5-4 vote reversed Roe v. Wade.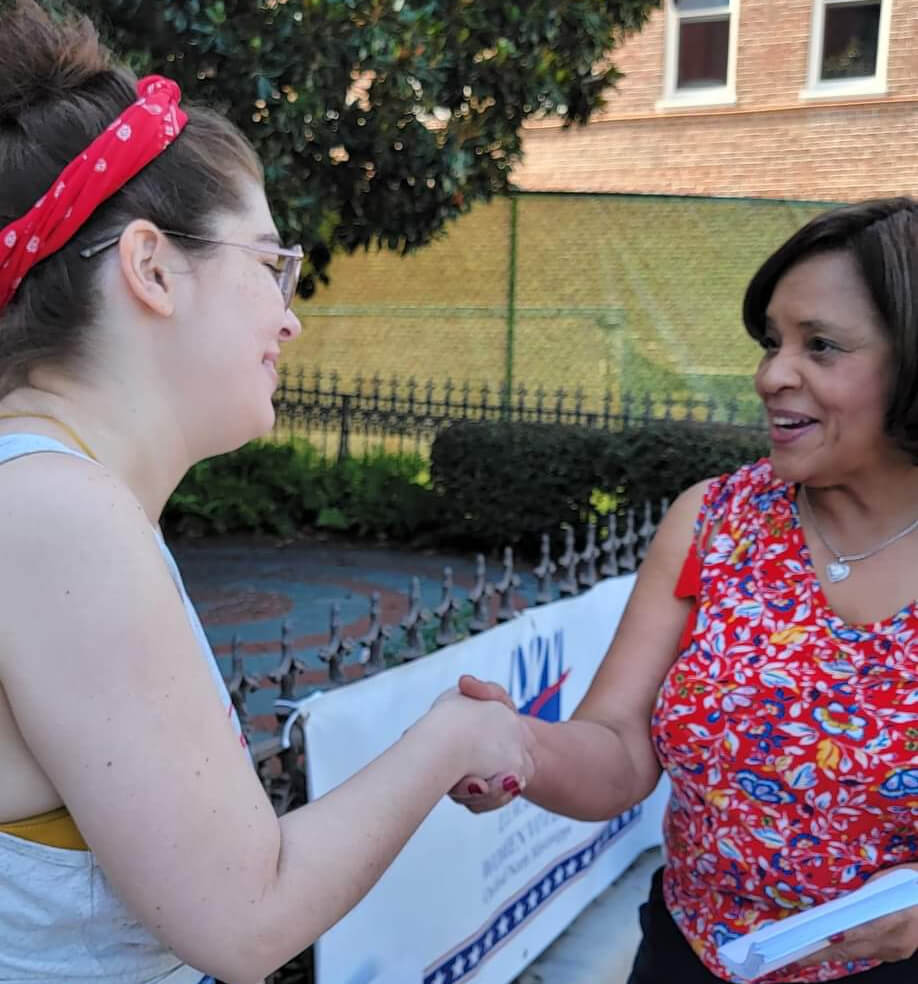 Trigger laws that were set to go in effect if the Supreme Court ruled in Mississippi's favor also survived a last-minute court challenge from the Jackson abortion clinic which has now closed.
Black was named the Democratic candidate in the June primary election and is now set to challenge incumbent Republican Cong. Trent Kelly in the Nov. 8 general election.
At a Rally for Reproductive Freedom in Oxford on Saturday, July 2, Dodson Black called the Supreme Court ruling "awful," saying it "took women back 50 years."
"If elected to Congress I will vote yes for every piece of legislation that comes though that's in favor of a woman having her right to her reproductive health, Dodson Black said. ""We need to elect Democrats who will vote for the common good, who will think of all Mississippians, all Americans. I'm here to listen to you and to hear the issues that mean the most to you."
Dodson Black challenged Kelly's voting record opposing President Joe Biden's domestic agenda, including the Women's Health Protection Act of 2021, which passed the House but was pushed back in February by the Senate. It would have expanded the abortion rights provided for in Roe v. Wade.
The Democratic candidate also attacked comments attributed to Mississippi House Speaker Phillip Gunn, who in late June told reporters it was his "personal belief" that even a 12-year-old female victim of incest should carry the baby to full term.
"I believe that life begins at conception and every life is valuable. Those are my personal beliefs," Gunn said, according to an article in The Hill.
"The nerve of Speaker Gunn to say a woman would have to have her baby through incest," Dodson Black told the audience in Oxford. "Everyone, especially women, need the right to privacy and reproductive freedom."
The Olive Branch small businesswoman is the first African American woman to run for Congress in the First District, which includes DeSoto County. Dodson Black said she is focusing her campaign on voting rights, economic development, climate change and healthcare.