UPDATE: Tax cut passes legislature
UPDATE: Legislators, working on Sunday, passed the conference report that will result in the largest tax cut in Mississippi history. HB 531 passed the House of Representatives on a 93-23 vote with all DeSoto County house members voting in favor of the conference report.
In the state Senate, the vote was 39-10 in favor, and again, all three DeSoto County state Senators supported the report.
It is expected to be signed into law by Gov. Tate Reeves, although he had pushed for a complete elimination of the income tax in Mississippi.
***Following is our report from Saturday that announced the conference report agreement and details more of what the bill includes.***
Legislative conferees in Jackson Saturday reached agreement on a plan that could provide Mississippi with the largest tax cut in the history of the state.
Under the plan, the state could see a cut of more than $500 million over the next four years, if approved and signed by Gov. Tate Reeves.
The current four percent bracket that now applies to the first $5,000 in taxed income would be eliminated.
The plan would reduce the rate that applies to all income over $10,000 from five percent down to four percent in years two-through-four.
The agreement now goes to each house of the Legislature, which must vote on the plan without amendments.
"If passed and signed into law, the agreement reached between House and Senate leadership would represent the largest tax cut in Mississippi history," said Empower Mississippi President Russ Latino in a news release. "It's a good, responsible, conservative policy. Eliminating the current four percent bracket will provide immediate relief to working families. Creating a simple, lower flat tax will make us more competitive across the region and put money back into the pockets of the people who earned it. We're hopeful the legislature will seize upon this historic agreement."
Empower Mississippi reports that, since the beginning of 2021, more than a dozen states have enacted tax reform. Louisiana recently reduced its top marginal income tax rate from six percent to 4.25 percent.
Gov. Tate Reeves, reacting to the news on Twitter, said the conference agreement is a good first step.
House Speaker Phillip Gunn also called the agreement "a good first step."
Lt. Gov. Delbert Hosemann offered the following comments on the agreement.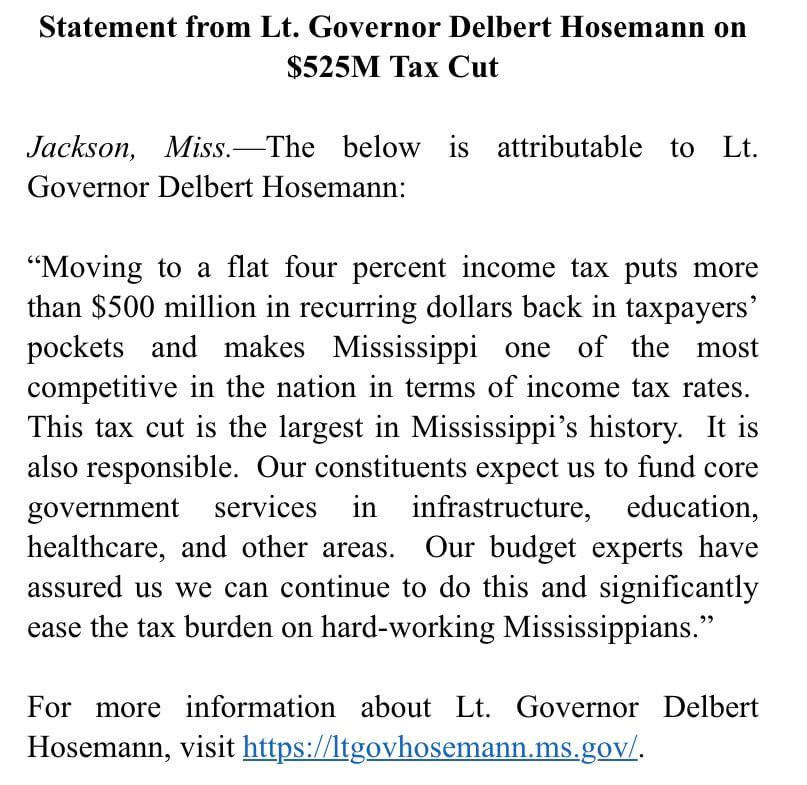 A vote on the conference report must come quickly, because the deadline for adoption of the plan this session is on Monday, March 28.