Olive Branch claims third straight state championship
Photo: The Olive Branch girls' basketball team with the banner showing the Lady Quistors as MHSAA 6A state champions. (Bob Bakken/DeSoto County Sports)
Likely the worst news for most of the Mississippi 6A girls' basketball world, and the best news for followers of the Olive Branch Lady Quistors girls basketball team, is that Rhema Pegues is back for another year.
All she did Saturday night at Mississippi Coliseum in Jackson was dominate the Germantown (Madison) Lady Mavericks with a game-high 28 points to lead the Lady Quistors to the school's third-straight state championship. and second in Class 6A by a final score of 66-62.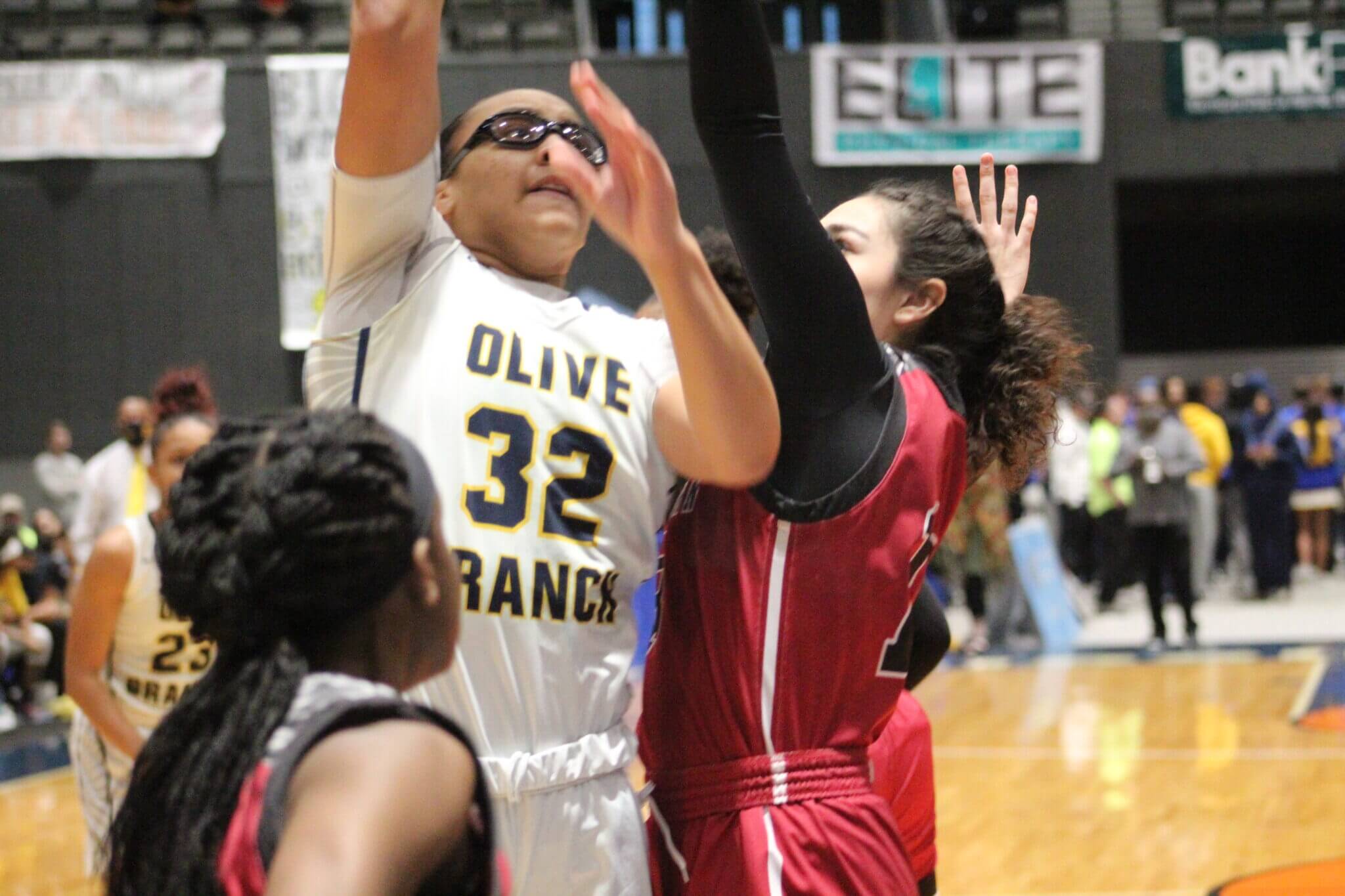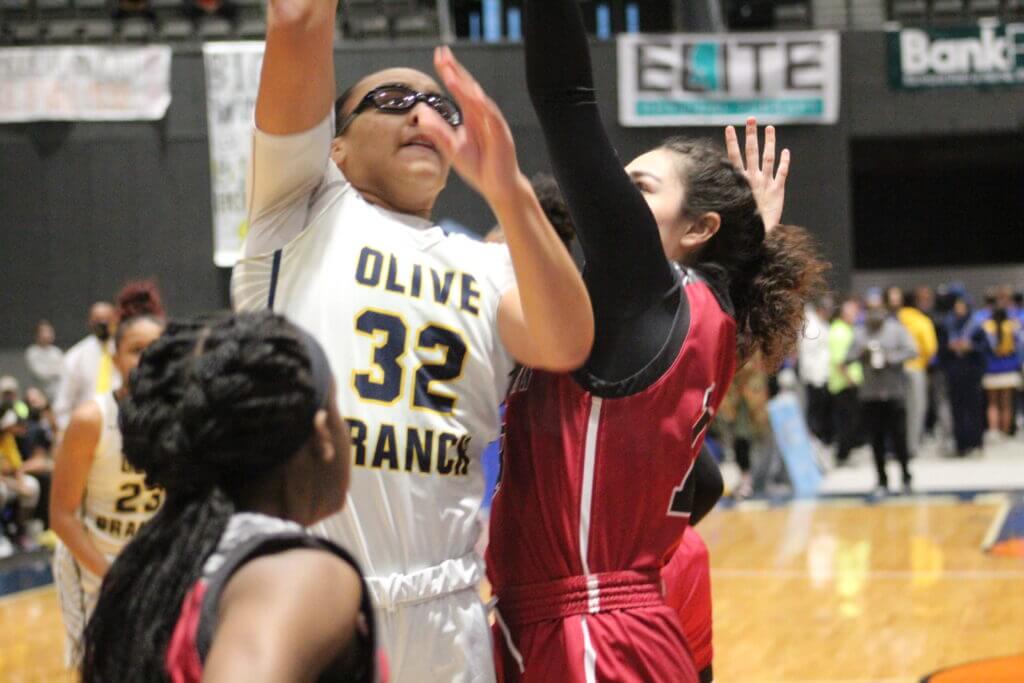 Pegues hit seven of 16 from the floor, including two of three from three-point range against the Lady Mavericks. Just as important, Pegues added 12 of 14 from the free throw line in pacing Olive Branch to the victory.
Olive Branch brings another MHSAA 6A Gold Ball state championship trophy back to DeSoto County with the victory. The Lady Quistors and coach Jason Thompson have now won two 6A state championships and a title in Class 5A during the past three seasons.
"Those kids laid in on the line and they brought it at the end, made shots, made plays, made free throws, did enough stuff to continue to give us a chance to stay ahead," Thompson said. "As long as we were ahead, I felt like we were going to pull it off."
Thompson said Pegues' play Saturday was huge for the Lady Quistors.
"She lives in the gym, she loves this game and she really commits and sacrifices everything, every day to try to get together," Thompson said.
But Pegues had help, as three teammates also scored in double figures, led by Trinity Pleas with 15. Addison Howell finished with 11and Amya Black added another 10 points before she fouled out in the second half.
And fouls were a problem. Pegues was tagged for four and Howell, along with Brynea Eason played with three.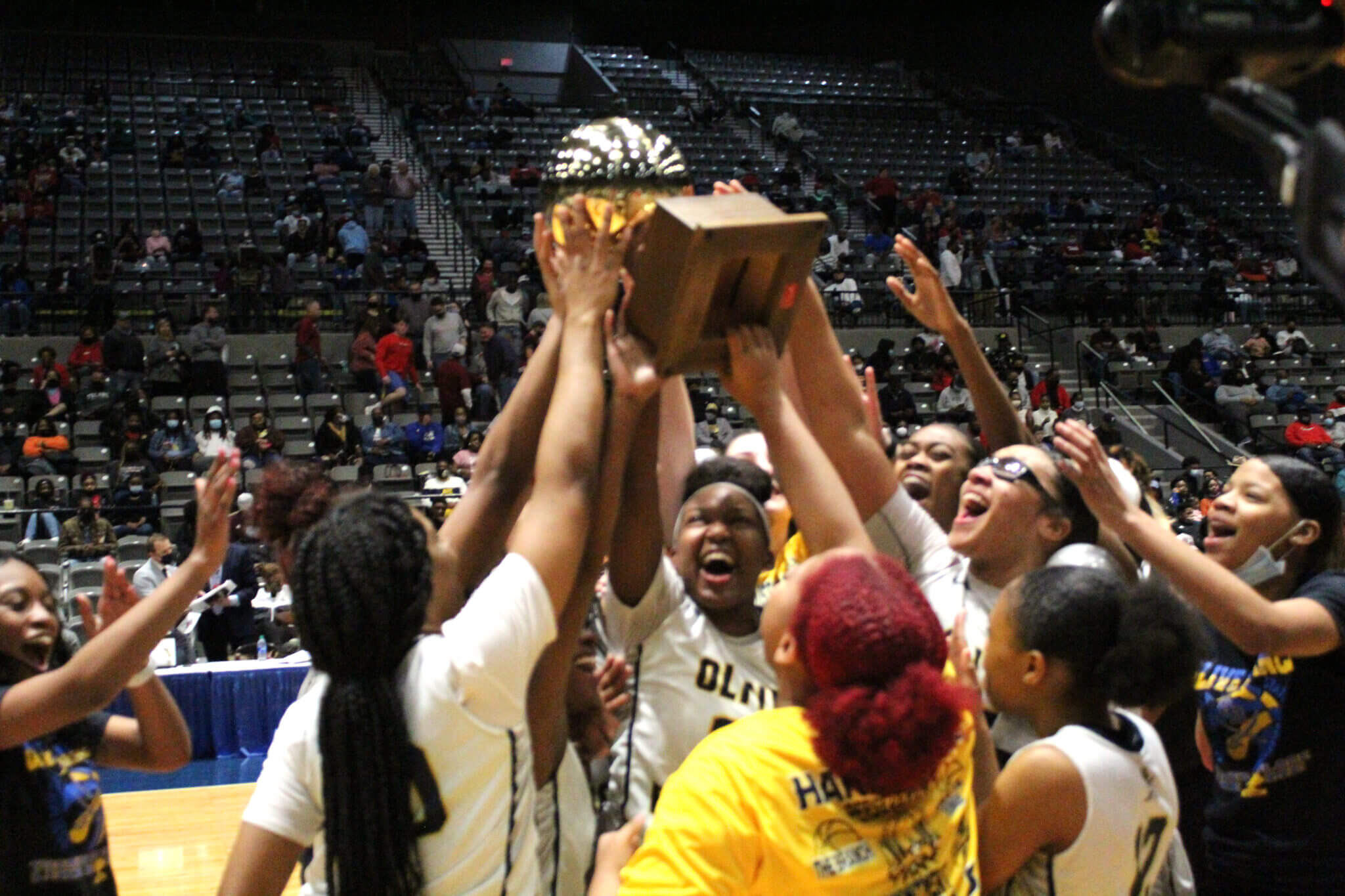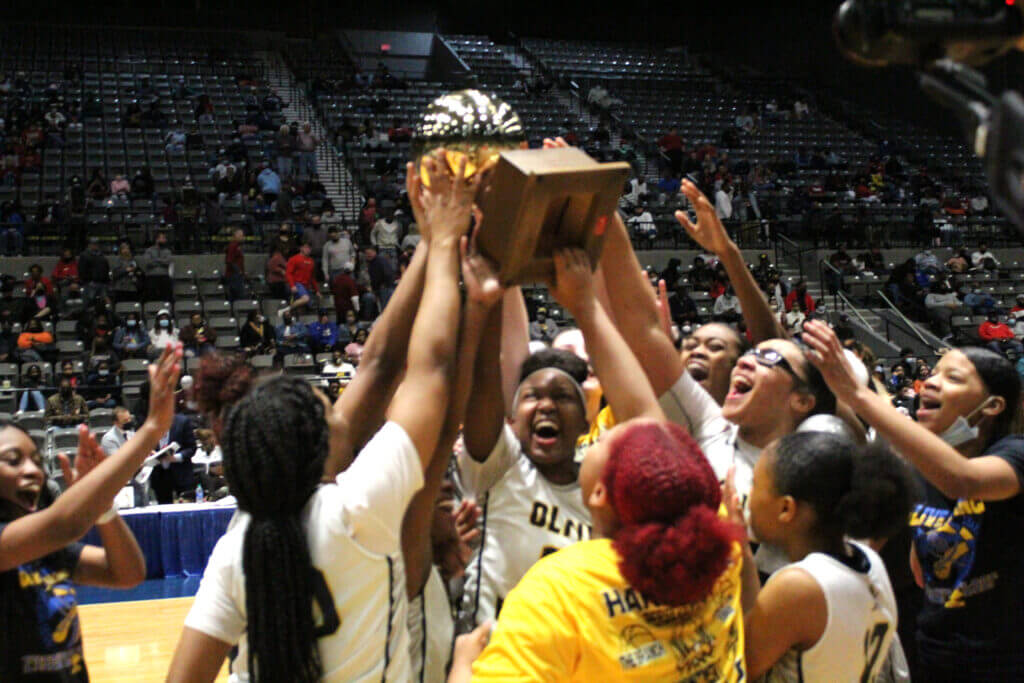 Fouls also plagued the Lady Mavs, losing the services of Raven Sanders and Marian Jenkins before the game ended.
Alana Rouser led Germantown in scoring with 18 points and Madison Booker added 17. Reagan Jordan scored 11 as the other Lady Mav in double figures.
Olive Branch roared out from the start to a 6-0 lead but Germantown came back to get within one at 12-11 as the quarter ended.
A closely played second quarter put Olive Branch ahead at 25-20 at halftime. The Lady Quistors had a 19-13 lead during the quarter.
Olive Branch took a 12-point margin at 51-39 early in the fourth quarter but Germantown was able to chip away and get the deficit to 62-61 late in the game before the Lady Quistors put it away.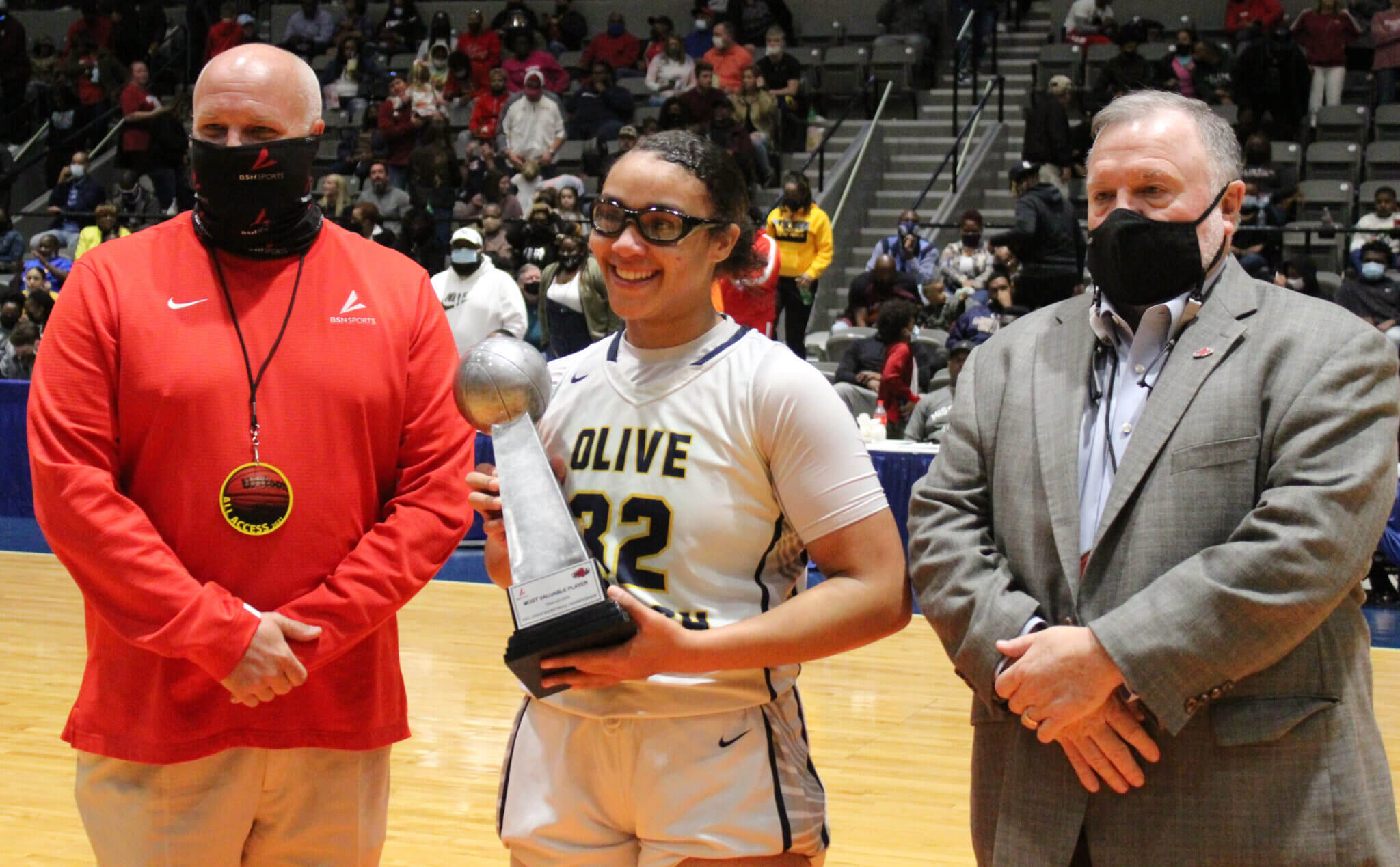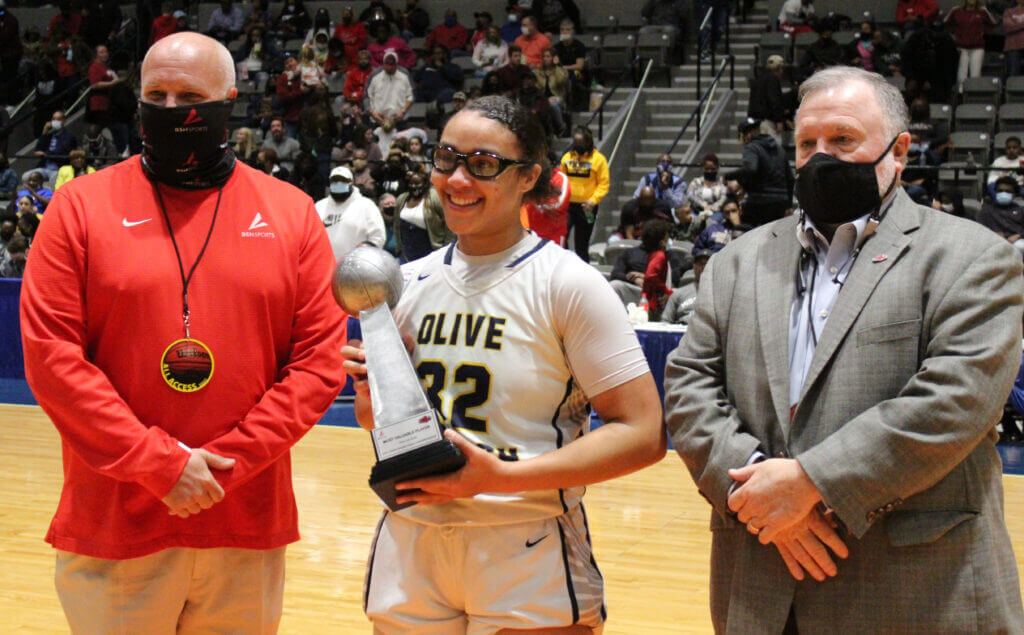 It was a big night for Pegues, as in addition to now being another state champion, she was named the Olive Branch Scholar Athlete before the contest and the game's Most Valuable Player when it was all said and done.
Look for Pegues to return in the gym without a break now and get ready for another title defense next year.
"I train every day," Pegues said. "My father is a professional trainer, so right after this I think I'll get an hour or two break, and then get right back at it."
More good news for Lady Quistors fans and bad news for the rest of Mississippi 6A girls' basketball.