Lady Gators move back to 5A North Half volleyball
Photo: Adajah Morgan of Lake Cormorant (1) tries to power a shot through the New Hope defense during Thursday's second-round playoff contest. (Bob Bakken/DeSoto County Sports)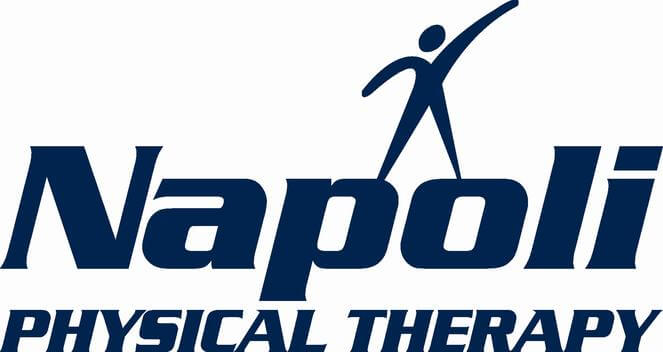 THE VITAL STATISTICS 
Thursday, Oct. 14
MHSAA 6A volleyball playoffs (first round)
Madison Central 3, DeSoto Central 1
MHSAA 5A volleyball playoffs (first round)
Lake Cormorant 3, New Hope (Columbus) 2 (25-18, 25-22, 25-27, 24-26, 15-13)
Tuesday, Oct. 19
MHSAA 5A North Half finals
Lake Cormorant at Lafayette (Oxford)
Prep football scores – Thursday, Oct. 14
Horn Lake 37, Center Hill 10
South Panola 42, Lewisburg 3
JUCO football score – Thursday, Oct. 14
Northwest 38, Mississippi Gulf Coast 14
LADY GATORS MOVE BACK TO NORTH HALF
Last season, the Lake Cormorant volleyball team won a five-set thriller at New Hope (Columbus) to win the North Half title on the Lady Gators' way to the MHSAA 5A state championship.
This year, Lake Cormorant again tangled with the Lady Trojans with an appearance in the North Half finals as the reward to the winner. And again, it was a five-set thriller that determined the result and it was Lake Cormorant that again prevailed.
Set scores for the match were 25-18, 25-22, 25-27, 24-26, 15-13 for the Lady Gators.
"I wish we didn't let it get so close there, but it feels really good that they held on and got that win," said Lady Gators coach Christina Morgan after a tense marathon of a match.
Lafayette will host Lake Cormorant Tuesday evening, Oct. 19 for the right to play in the MHSAA 5A state championship match.
Lake Cormorant controlled the first two sets against New Hope, taking the first set 25-18 and the second set 25-22.
The Lady Gators had an early 8-3 lead in the initial set but New Hope came back to forge a 16-15 lead. But a drop shot tied the set at 16-16 and Lake Cormorant went on to win it 25-18.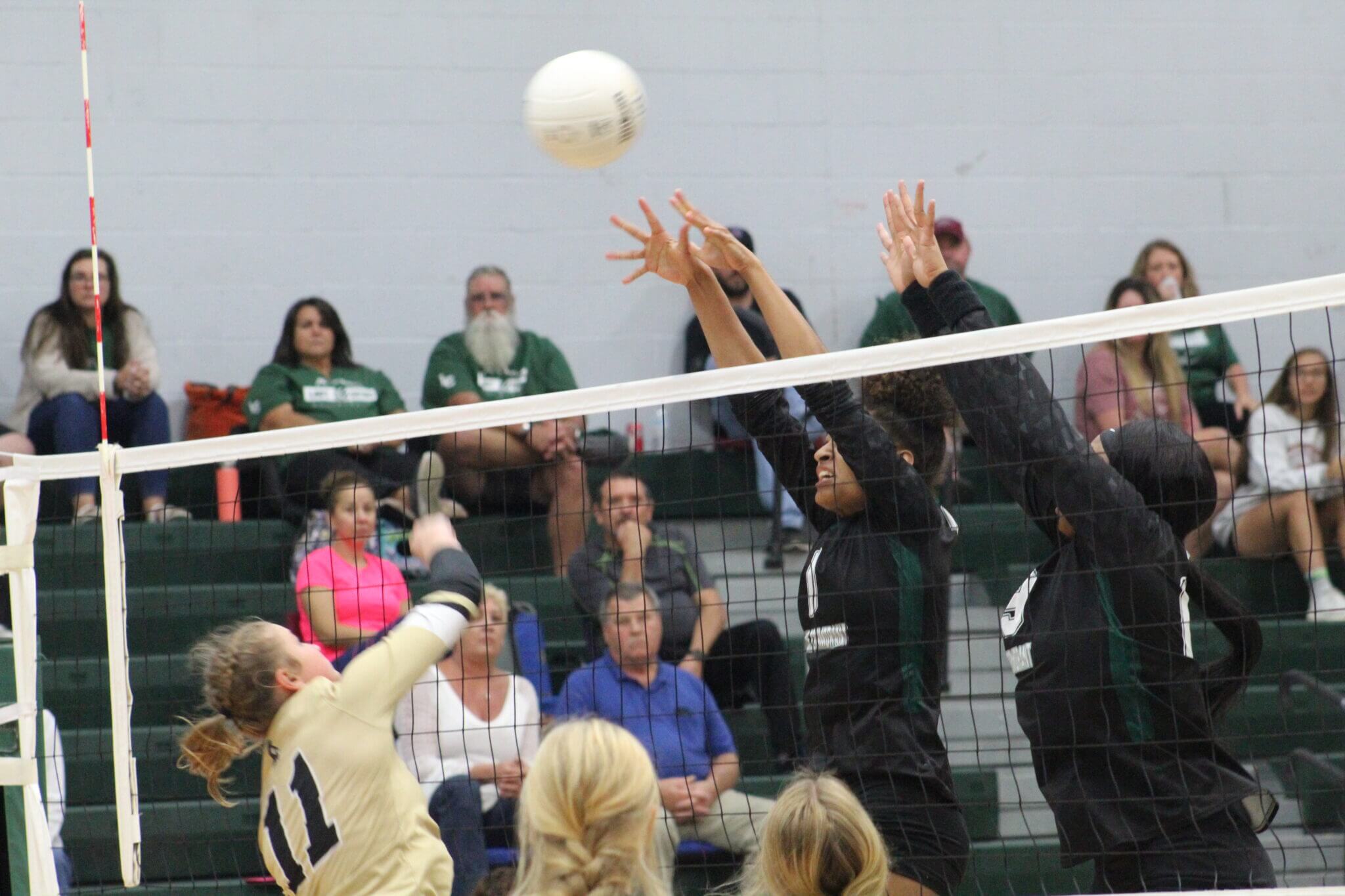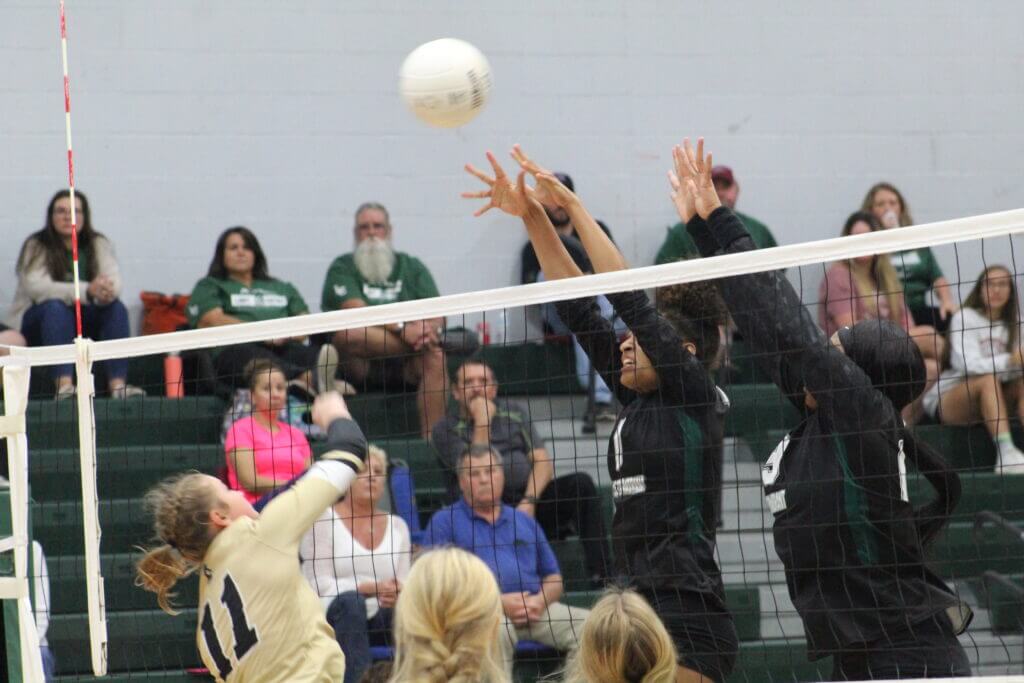 Paige Griffin's kill made it 18-16 Lake Cormorant and Jillian Malone's kill increased the margin to 22-18. Malone's shot off a New Hope player finished the set 25-18.
The second set was all Lake Cormorant but it wasn't easy. Adajah Morgan's ace serve gave the Lady Gators a 19-13 and after a volley out of bounds and another that hit the net, the lead grew to 21-13. That's when New Hope started a comeback that cut the Lady Gator lead to 21-16. A Griffin kill made it 22-16, but the Lady Trojans got within 24-21 and forced a Lake Cormorant timeout. The set ended with a slicing drop shot from Lundyn Wilson fell down over the net for a 25-22 victory.
It looked like Lake Cormorant was on its way to a match win in the third set, taking a 21-15 lead when a mix-up among New Hope players allowed a volley to reach the floor. But that started a six-point service run for the Lady Trojans to tie the set 21-21. From there it went back and forth until the Lady Trojans led 25-24 and Morgan called a timeout to rally her troops. It wasn't enough as New Hope claimed the third set 27-25.
New Hope would have to rally again to take the fourth set, because Lake Cormorant once again jumped out to an early advantage at 11-3 when Ivori Walls' block found the floor for a Lady Gator point.
But a Griffin shot went long as the Lake Cormorant lead shrank to 12-5 and three points later it was 12-8 and Morgan called a timeout. Later in the set, a long volley tied the set at 15-15 and the Lady Trojans then took a 17-16 lead.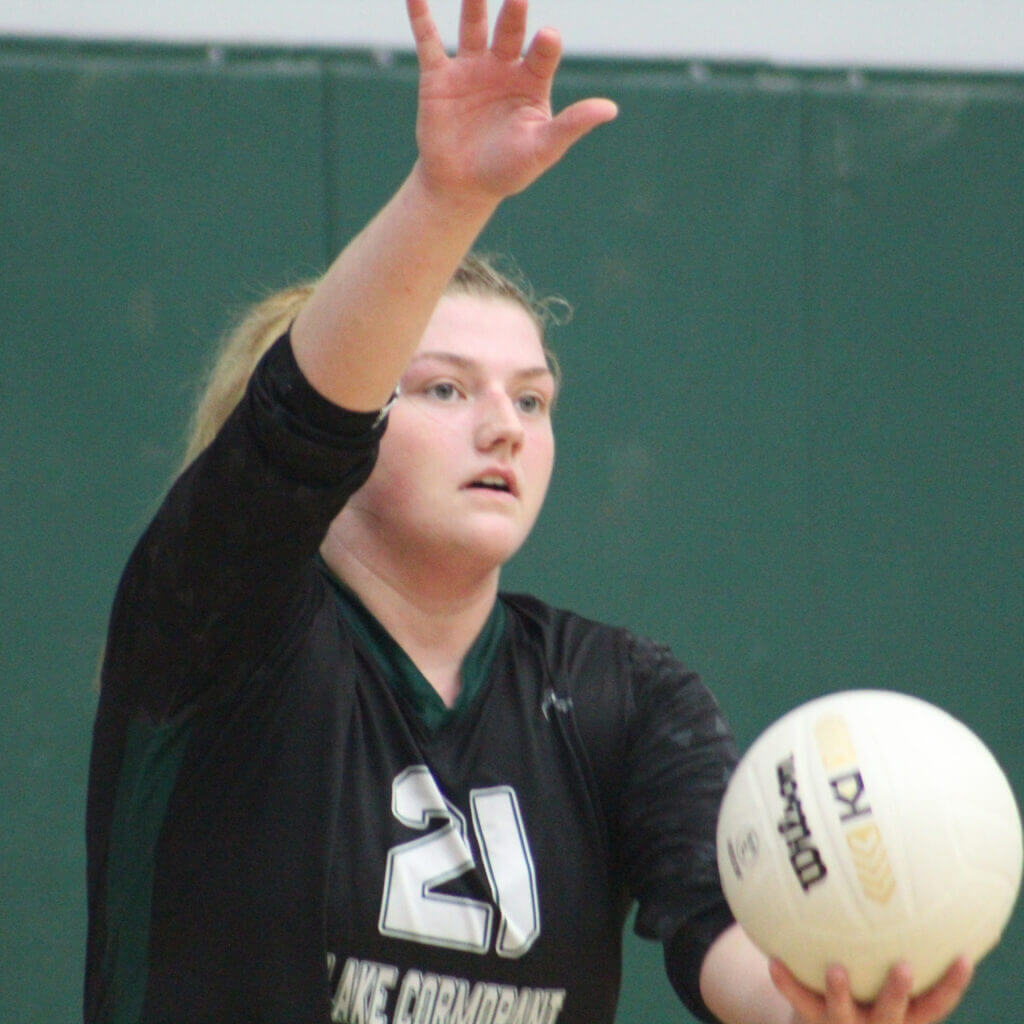 A Griffin volley that actually hit the head of a New Hope player before falling out of bounds gave Lake Cormorant a 21-20 lead but the teams battled until the Lady Trojans prevailed 26-24 and the match was tied 2-2.
"We got a little too relaxed and New Hope stopped making some of their early mistakes," Morgan said about the Lady Trojans' comeback, adding that New Hope is a very tough team to play against.
"Defensively, New Hope is an awesome team," Morgan said. "It's hard to get a spot and find it to put the ball down against them."
The final set went to the Lady Gators but not before they had to recover from an early 3-0 hole. But with Hannah Woodriel at the service line, it quickly became 10-3 before New Hope could regain service on a side-out.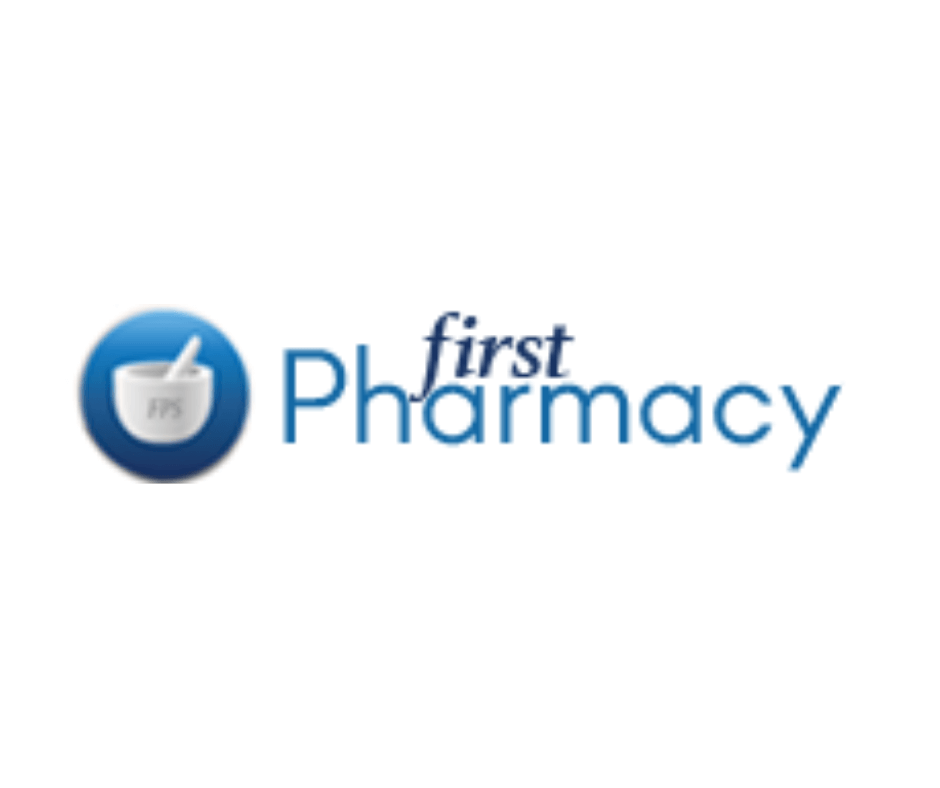 "I think it was very important to come out strong like that in the beginning of that fifth set," Morgan said. "She (Woodriel) is one of my seniors and it was like her saying, 'I'm not going home tonight.'"
Lake Cormorant finished off the set and the match but not without allowing nine more New Hope points before finishing with a 15-13 set win and a 3-2 match victory.
"I thought the first couple of sets we really did a good job putting the ball down," Morgan said. "In the third and the fourth, we were still doing well but New Hope started making fewer mistakes than they made in those first couple of sets."
Statistically for the match, the front line of Griffin, Wilson and Malone dominated. Griffin ended the night with 19 kills, Wilson had 11 and Malone added eight. Griffin, Wilson and Woodriel each served three aces. Jania Rose was busy with 35 digs, followed by Griffin with 31 and Jasmine Chacon had 18 digs and 21 assists.
In Lafayette, Lake Cormorant will look for its first victory against the Lady Commodores this season. Lafayette won a five-setter on Sept. 9 and took the Region 1-5A crown with a 3-0 win at Lake Cormorant on Oct. 6.
WORTH NOTING
DeSoto Central's volleyball season ended Thursday with a 3-1 loss to Madison Central in a second-round MHSAA 6A match in Southaven. The Lady Jags of DeSoto Central were attempting to repeat a state championship they won last season. Madison Central travels to Oxford Tuesday in the 6A North Half final match.
Three DeSoto County football teams played their games Thursday to avoid the expected rainfall on Friday. Lewisburg lost to South Panola 42-3 and Horn Lake topped Center Hill 37-10..
Friday's schedule among DeSoto County prep football teams includes West Point at Lake Cormorant, Hernando at DeSoto Central, Olive Branch at Southaven, and Northpoint Christian at Evangelical Christian, Tenn. All of the weekly scores and schedules for DeSoto County football teams are found here.