Hernando outage affects traffic, schools
Approximately 2,000 Entergy customers in Hernando were without power Thursday morning, but the power outage also caused by a vehicle hitting utility equipment did more than just cut electricity off to residences.
Three Hernando schools were without power as classes were beginning for the day at Hernando High School, Hernando Middle School, and Hernando Elementary School. The school district sent the following email to parents shortly after 8 a.m:
"Good morning. There has been a power outage in Hernando, and we have lost power at Hernando Elementary School, Hernando Middle School, and Hernando High School. There has been no loss of power at Hernando Hills Elementary School and Oak Grove Central Elementary School. No adjustments have been made to the school day, because we do not know how long the schools will be without power. We will be in touch with city officials, and we will keep you updated."
About 9:45 a.m., another email was sent to parents:
"The power is back on at all Hernando schools. We anticipate having a regular school day the rest of the day with a normal lunch schedule. If anything changes, we will let you know. Thank you."
Meanwhile, the DeSoto County Sheriff's Department sent this alert regarding traffic lights in the city: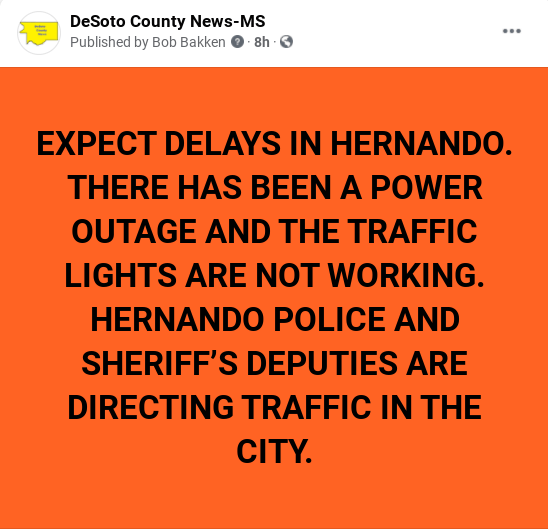 At 5 p.m. Thursday afternoon, there were five customers still without power, according to the Entergy outage map information.