Friday roundup: Northpoint stomps Colts in sweep
Photo: Mitchell Wright of Northpoint Christian School towers over Alex Threadgill of Bayou Academy in Friday's contest at Southaven. (Bob Bakken/DeSoto County Sports)
THE VITAL NUMBERS FRIDAY SCOREBOARD
Prep boys basketball
Southaven 75, Center Hill 66
Northpoint Christian 64, Bayou Academy 29
Lewisburg 53, Hernando 49
Lake Cormorant 58, DeSoto Central 43
Prep girls basketball
Southaven 56, Center Hill 53
Northpoint Christian 54, Bayou Academy 22
Hernando 57, Lewisburg 41
DeSoto Central 52, Lake Cormorant 34
TONIGHT'S FEATURED GAMES
Northpoint Christian boys 64, Bayou Academy 29
Fans at Manley Court on the Northpoint Christian School campus were able to see their boys' basketball team wrap up the home regular season with a convincing 64-29 victory over a Bayou Academy squad that came into Southaven with an impressive 20-5 record.
Northpoint scoring leaders in the win were Christian Gilliland with 18 points, Mitchell Wright had 15, and Darius Naylor ended up with 12, including a pair of third-quarter three-pointers.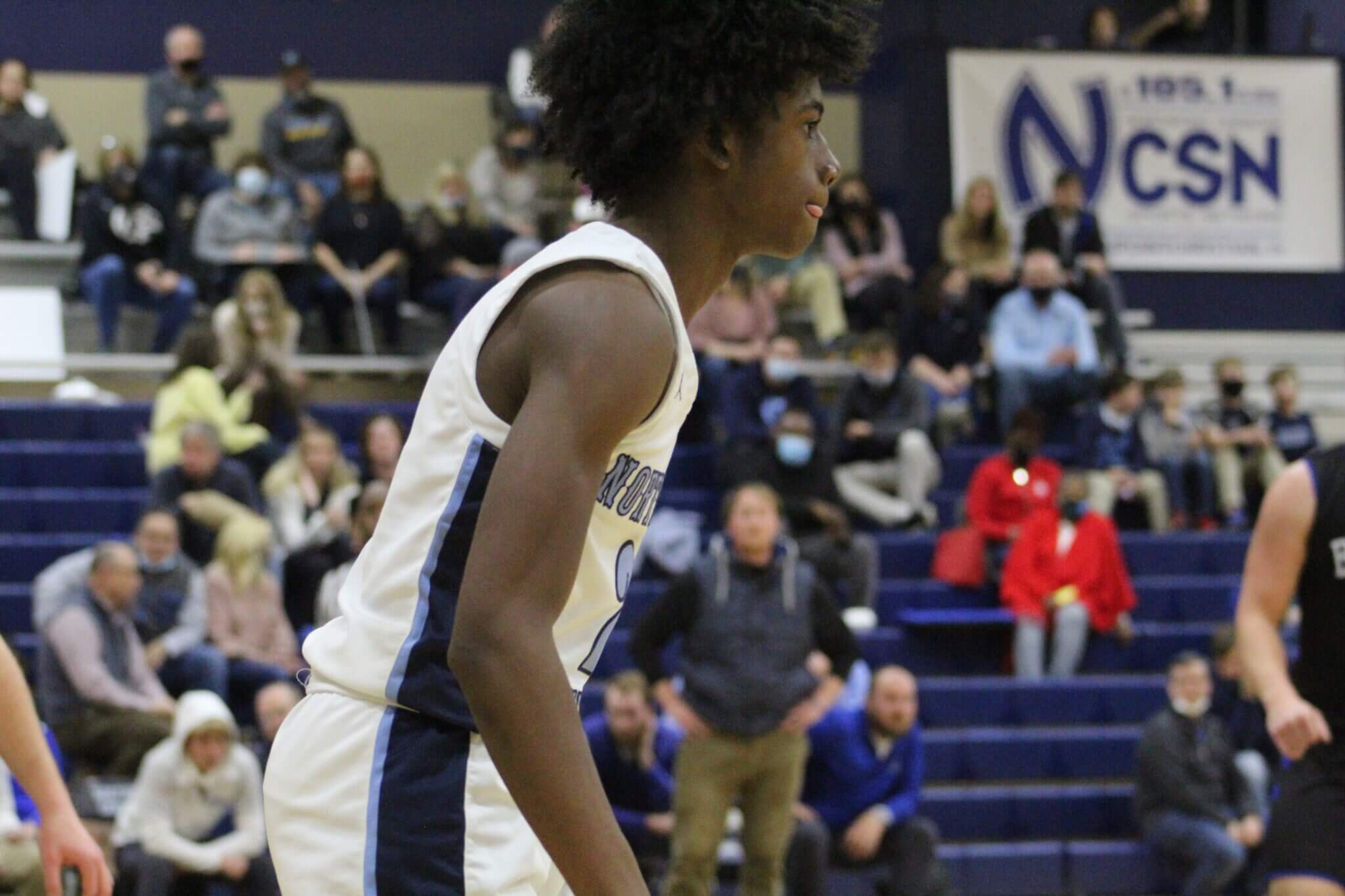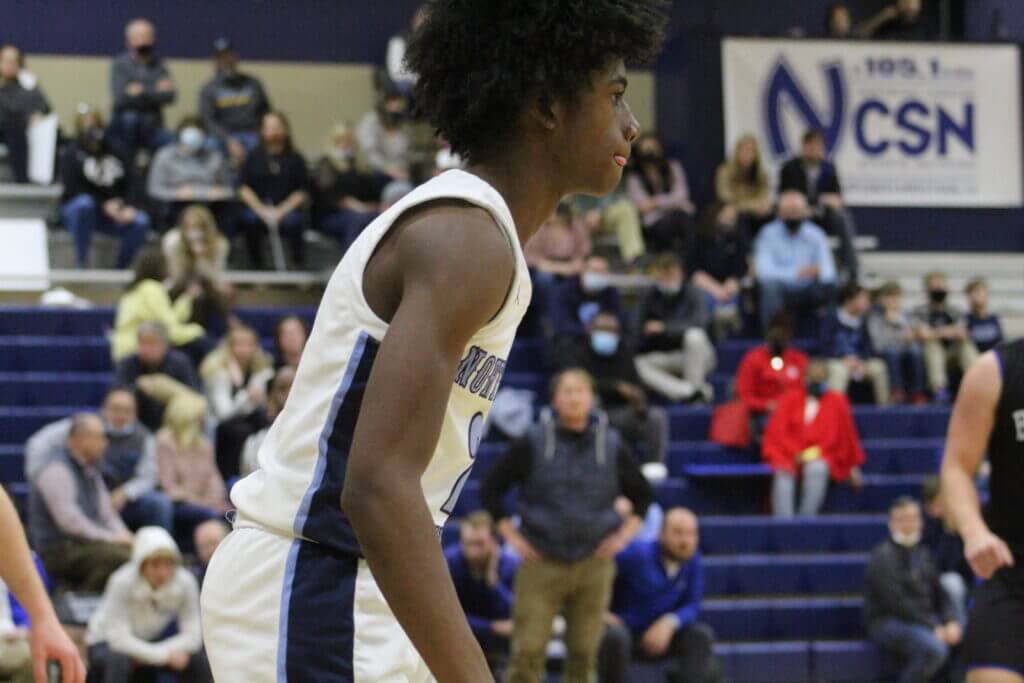 Northpoint roared out to a 19-0 lead after one quarter and Bayou Academy finally got its first points on the scoreboard 11 seconds into the second quarter.
Gilliland had the hot hand for the Trojans in the first half, scoring 12 of his 18 points before halftime.
The Colts did recover in the second frame and cut the margin to 26-14 for the Trojans at halftime, as Northpoint was held to just seven points in the second eight-minute period.
The Trojans gathered themselves coming out of the locker room after halftime and forged a 41-21 advantage going into the final quarter of play. Northpoint tallied 15 in the quarter and held the Colts to just seven points.
Northpoint put the game away in the final quarter, outscoring Bayou Academy 23-8 for the final outcome, part of a 38-point second half for the Trojans.
Jack Cartwright paced the Colts with 11 points in the loss. Cartwright knocked down a pair of treys in the second quarter as part of his point production.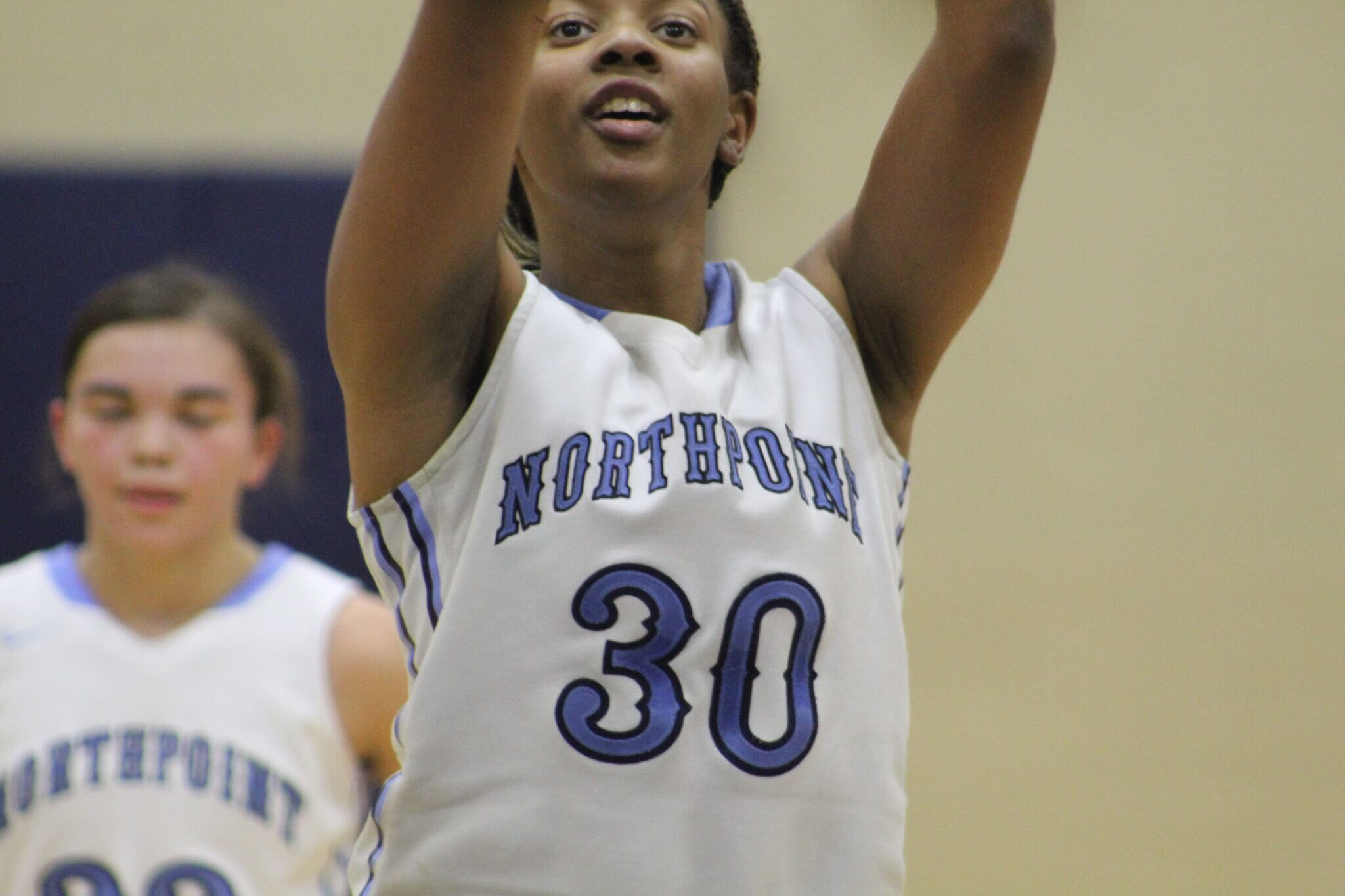 Northpoint Christian girls 54, Bayou Academy 22
You'd likely have to go back to late December to find the last night a Northpoint Christian School girls' basketball game result had an "L" next to it.
The Lady Trojans have been rolling and it continued with Friday's non-conference 54-22 victory over Bayou Academy.
Northpoint held a 13-4 advantage after one quarter with Leah Jones and Brylee Faith Cherry each scoring six points.
The Cherry-Jones combination continued in the second quarter with Jones' nine points in the quarter and Cherry's eight markers helping the Lady Trojans to a 28-point period and a 41-11 halftime lead. Bethany Wright stepped in to add six points of her own in the second-quarter point eruption.
A low-scoring third quarter put the Lady Trojans ahead 51-16 heading into the final quarter, which was played with a running clock.
Jones was the top scorer for Northpoint Christian with 21 points, Cherry scored 14, and Bethany Wright finished with eight. Tate Rogers was Bayou Academy's leading scorer with 11, including a pair of three-pointers as part of a nine-point second half. Katy Clark added seven, all in the first half.
Both Northpoint Christian School teams have afternoon contests at St. Benedict at Auburndale Saturday, and a couple more regular-season road contests coming in the week ahead. Depending on seeding, Northpoint could be starting TSSAA Division II-A tournament as early as the following Saturday.
FRIDAY NOTABLES
Among the girls named to the Mississippi Coaches All-State volleyball teams were Ellie Jones and Micah Swift of Lewisburg along with Megan Harris, Gracie Tacker, and Amonie Silas from DeSoto Central in 6A. In Class 4A-5A, Chloe Steen and Olivia Hines of Center Hill, and from Lake Cormorant, Alaijiah Rose, Jasmine Chacon, and Annah Marshall were named. 
Ryan Smith of Hernando Friday signed to play men's soccer next season at Northwest Mississippi Community College, as reported earlier Friday.  
In the Hernando girls 57-41 victory over Lewisburg, Emme Muizers and Zyqira Smith each scored 11 points and Mckinzie Armstrong added nine.  
Olive Branch finished second and Lewisburg was fourth in the MHSAA Class III state boys' bowling meet in Brandon.  Olive Branch rolled a 3,004 team score to Hancock's 2.996, but Hancock won the title with a 3-2 result in the Baker match. Nolan Boucher of Olive Branch was sixth individually with a 627 series. As a team, Lewisburg rolled a 2,775 score and DeSoto Central finished eighth at 2,244.
In the Center Hill girls' 56-53 loss to Southaven, Jairya Rankins led the Lady Mustangs with 19 points and Candice Buford added 10. Buford later Friday night was named Center Hill Winterfest queen.
Center Hill boys' 12-game winning streak was snapped in the regular season finale loss to Southaven 75-66. Kaeden Laws led Center Hill with 19 points and Zandon Haralson added 17 for the Mustangs.  
Lewisburg boys were paced by Max Zizman with 16 points and Eli Lamb with 15 in the Patriots' 53-49 basketball victory over Hernando. Logan Coker also passed the career 1,000 point level during the game. Coker becomes the third Patriot in school history to reach the mark.