Photo: Hernando forward Abbey Harrison drives on a defender against Horn Lake. Harrison's 30 points put her past 1,000 career points, despite the Lady Eagles defeating the Lady Tigers 78-64. (Bob Bakken/DeSoto County Sports)
Both Horn Lake High School basketball teams posted big scoring quarters and had to hold off rallies by Hernando in posting Region 3-6A district victories Friday night at Horn Lake.
The Horn Lake boys outscored the visiting Tigers 75-60 after the Lady Eagles posted a 78-64 win.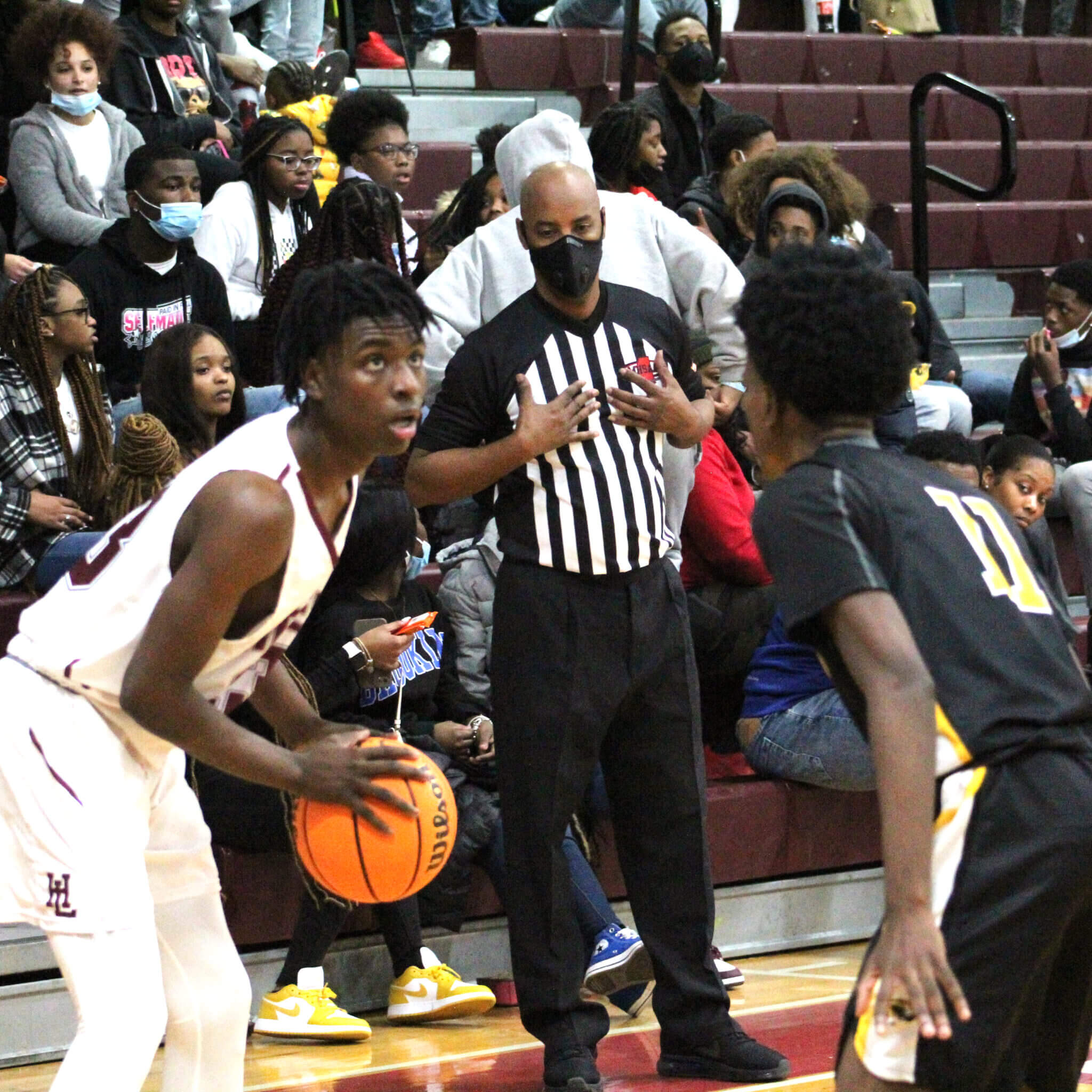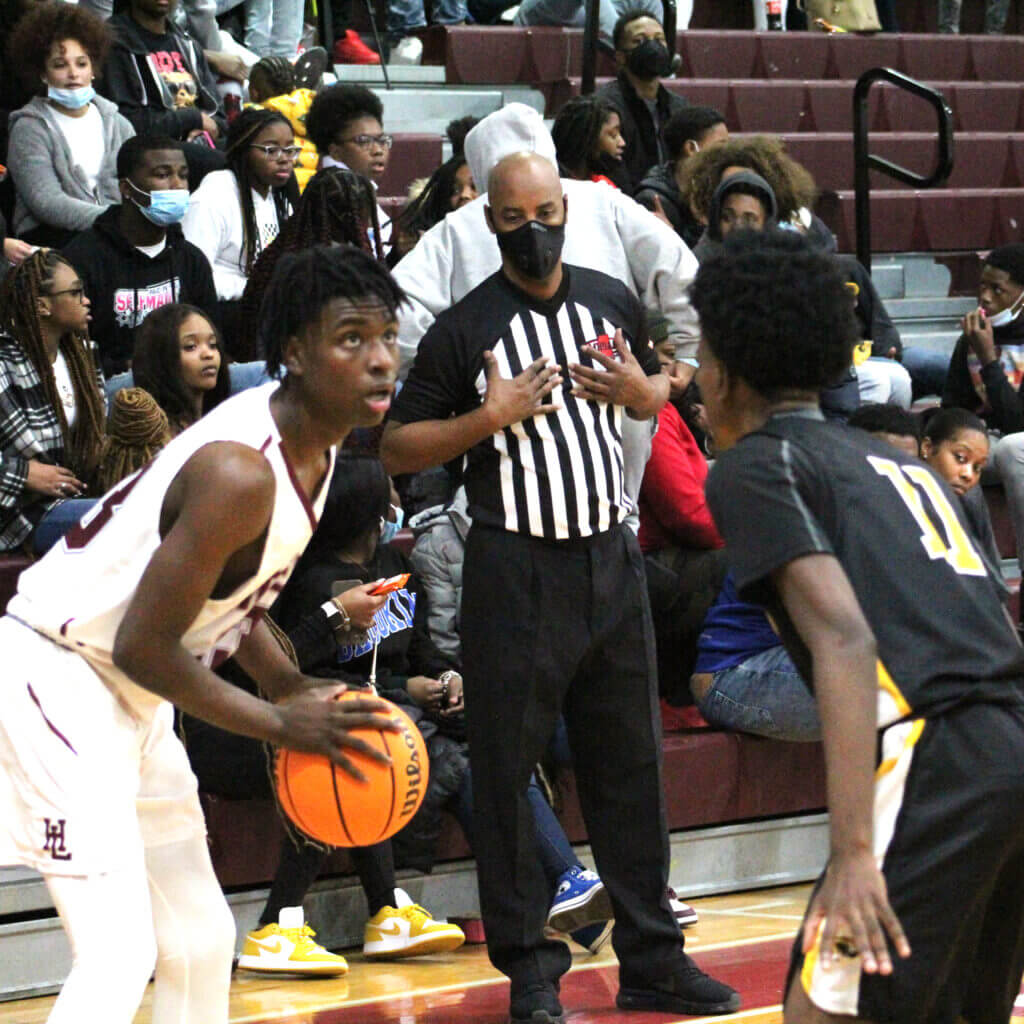 HORN LAKE BOYS 75, HERNANDO 60
For the Eagles, it was the first quarter that put them in control with a 22-8 lead over the Tigers at quarter's end.
"We wanted to start out fast tonight," Horn Lake coach William Bentley said. "We thought if we got an early lead on those guys we could really put pressure on them and make it that much harder for them to come back."
The lead was needed, because Hernando quickly answered in the second quarter to cut the deficit to eight at 30-22 Horn Lake at halftime.
"They didn't quit," Bentley said about Hernando's second quarter rally. "When they got down like that they kept fighting back. We were able to keep them at arm's length and never let them get too close there."
Both teams found the shooting range in the third quarter, with Horn Lake outscoring the Tigers by a 22-21 margin for a 52-43 lead into the final frame, although Hernando had gotten the game with 36-33 at one point in the third.
The Eagles put the game away in the fourth quarter with a 23-point final eight minutes.
Dimp Pernell scored 22 of his game-high 27 points in the second half, including 12 in the final quarter.
"He's a really talented young man, coming off an ACL injury from last year," Bentley said. "He didn't get back in the gym for workouts until August of last year."
Twin brother Ky Pernell added 18 for the Eagles, with 12 of those points in the first half.
Ryan Taylor lit it up for Hernando in the loss, finishing with 26 points, 18 of which were in the second half. Taylor scored 14 points in the third quarter alone.
Supporting Taylor was Carl Malone, who ended up with 20 points for the Tigers, 14 of which were in the second half.
HORN LAKE GIRLS 78, HERNANDO 64
You pretty much knew right away points were going to put up on the scoreboard in this one, with Hernando taking a 20-10 lead at the end of the first quarter.
But then, the Lady Eagles put the clamps down on defense while continuing to score in the offensive end to take a big lead of 44-26 at halftime.
Horn Lake scored the first 22 points of a second quarter that saw the Lady Tigers not score a basket until there was just over three minutes left in the first half, a basket that was made by standout forward Abbey Harrison.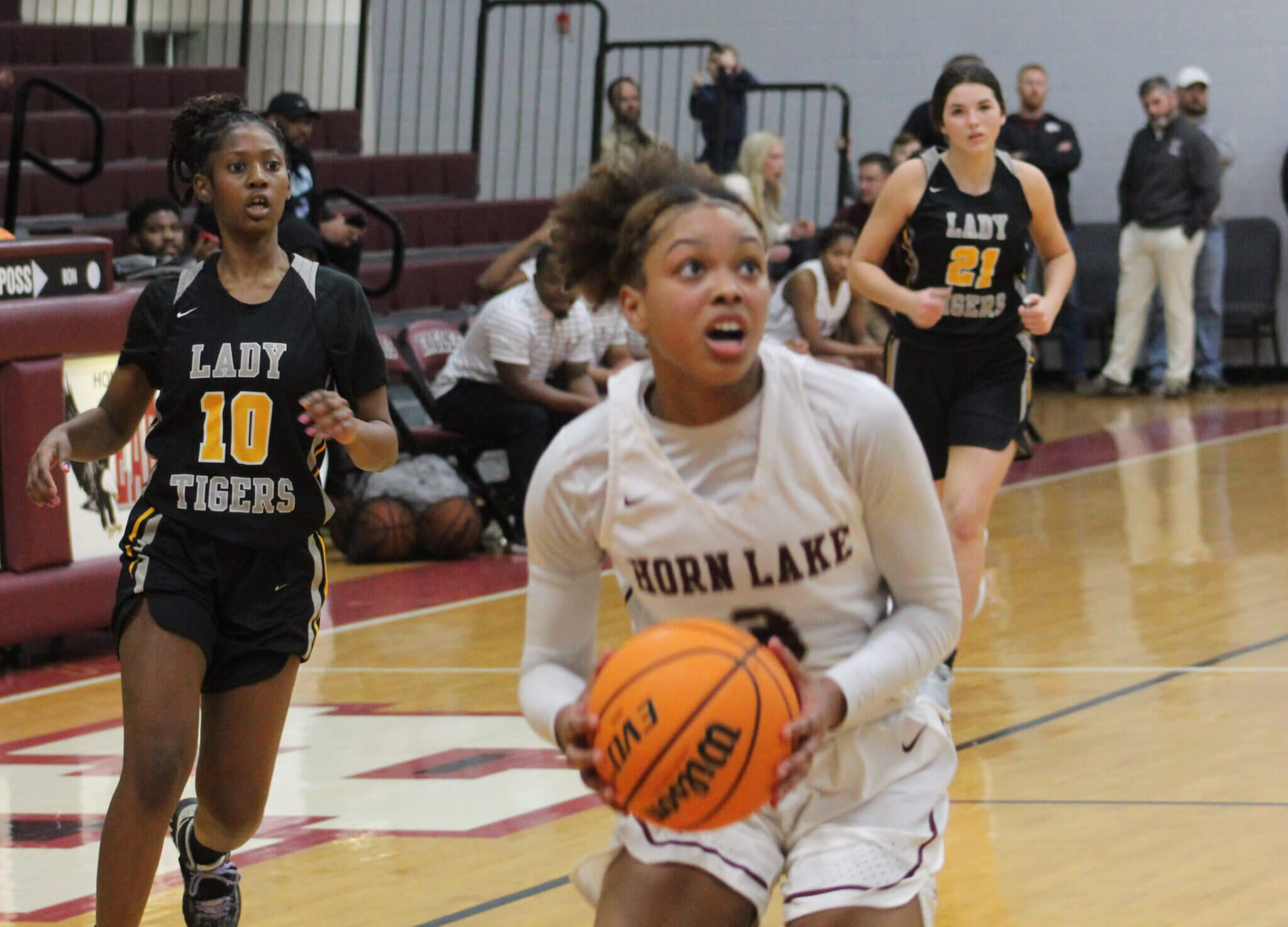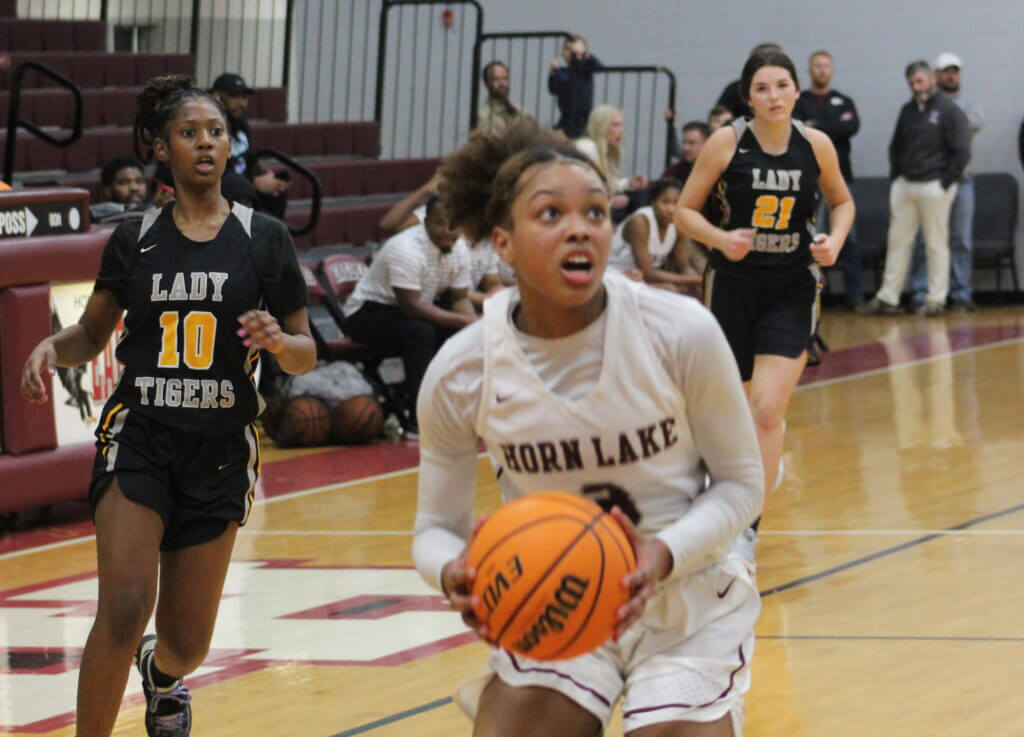 At halftime, Horn Lake had held Hernando to only six points and scored 34 of its own for a 44-26 madvantage at the break.  
"We've been starting out really slow," said Horn Lake coach Darryl Partee Sr. "That second quarter we finally settled down and came together."
That margin became 69-45 after three quarters, but the cushion would be needed at the end when Hernando went on a furious rally and actually had cut the lead down to single digits before the Lady Eagles put the game away at the end.
Harrison led all scorers with 30 points for Hernando, points that included one three-pointer and a perfect 9-for-9 at the free throw line. The 30 points put the senior forward into the 1,000 Point Club. She scored 17 points in the second-half comeback attempt.
Damiya Cummings was next with 13 points and the Lady Tigers got a late spark from eighth-grader Fran Kelly, a transfer who just became eligible and played her first game in a Hernando uniform Friday night. Kelly ended up with seven second-half points, five coming in the late rally.
For Horn Lake, Talayeh Lipford led the way with 25 points, including five three-pointers.
"I think she's one of the best in the state," Partee said. "She doesn't get a lot of recognition but this year she's been able to play a good brand of basketball."
Indiya Bowen was next with 21 points, with 16 scored in the second quarter alone as she keyed the large first half lead. Tori Johnson added 10 more for the Lady Eagles in the win.
"This was a huge district win," Partee said. "This is a huge thing for us to beat Hernando."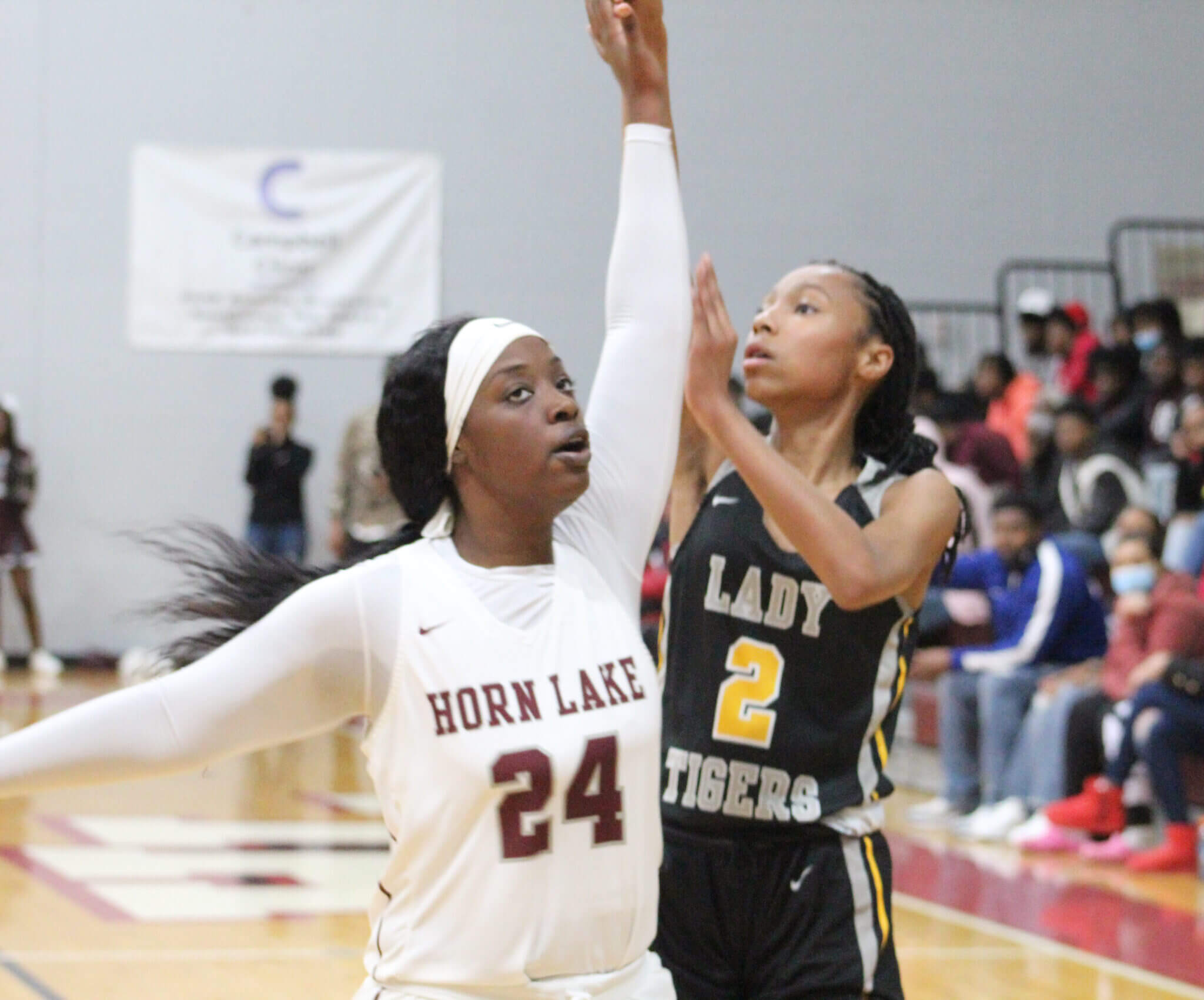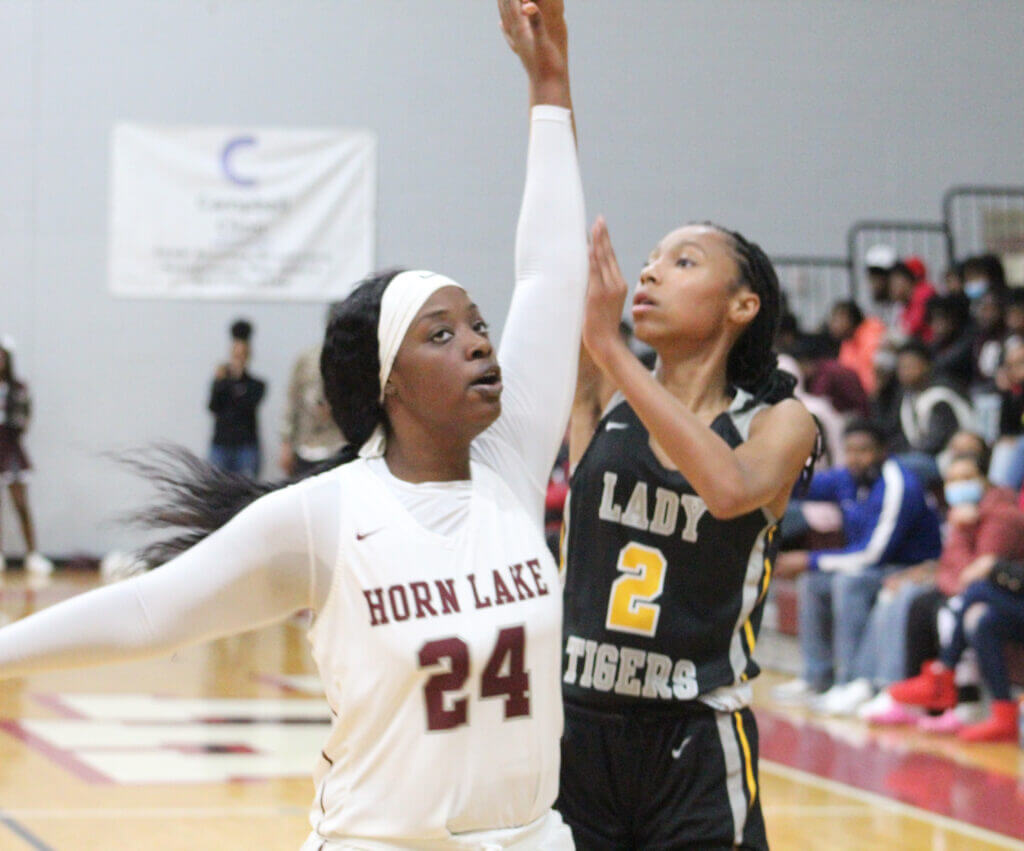 THE VITAL STATISTICS
Boys basketball
DeSoto Central 58, Lewisburg 40
Horn Lake 75, Hernando 60
Olive Branch 74, Center Hill 62
Cleveland Central 49, Lake Cormorant 47
Southaven 75, South Panola 33
Girls' basketball
DeSoto Central 37, Lewisburg 36
Horn Lake 78, Hernando 64
Olive Branch 68, Center Hill 54
Cleveland Central 55, Lake Cormorant 14
Northpoint Christian 48, St. Mary's Episcopal (Memphis) 23
South Panola 66, Southaven 52
Prep boys' soccer
Lake Cormorant 3, Lafayette (Oxford) 1
Prep girls' soccer
Lafayette (Oxford) 5, Lake Cormorant 0
Men's NISL Soccer
Memphis Americans 10, Columbus Rapids 0 (Memphis stays unbeaten for the season at 3-0.)
Women's NISL Soccer
Columbus Rapids 5, Memphis Americans 4 (shootout) (First loss of the season for Memphis, now 2-1.)
WORTH NOTING…
Dorian Whitley led DeSoto Central with 17 points and De'onte Green added 14 in the Jaguars' victory over Lewisburg.
Jaidyn Rankins scored 17 points to lead Center Hill against Olive Branch. Jhamal Ross scored 15 and Deshun Dunn added 12 and Madison Bush had 11.
Janiya Jones' layup with 6.8 seconds remaining gave DeSoto Central a one-point girls' basketball victory over Lewisburg 37-36.
Jairya Rankins hit for 16 points for Center Hill against Olive Branch. Kayleigh Prentiss finished with 15 and
Karrington Edwards led Northpoint Christian in scoring with 11 points against St. Mary's Episcopal. Bethany Wright and Brylee Faith Cherry each added 10 for the Lady Trojans.