Woods keeps dishing up great dishes with "All Things Food"
Photo: John Woods is shown outside his kitchen studio at Spitfire Acres, where Woods films his "All Things Food With John Woods" YouTube videos. (Bob Bakken/desotocountynews.com)
So if you're having trouble coming up with last-minute ideas for your holiday meal, or any meal for that matter, you might want to take a moment to do some searching on the Internet. In particular, check out All Things Food with John Woods on YouTube and Facebook. You'll be tapping into one of the best culinary minds and talents available anywhere.
John Woods is the long-time, well-known chef and caterer who, until his retirement, owned and operated First Choice Catering in Horn Lake. He is one of the most recognizable names in the cooking world, whose story we featured when he first started the YouTube channel in 2022.
The studio for "All Things Food" was in the back of First Choice Catering, but Woods said there was a brief hiatus when something happened inside the building.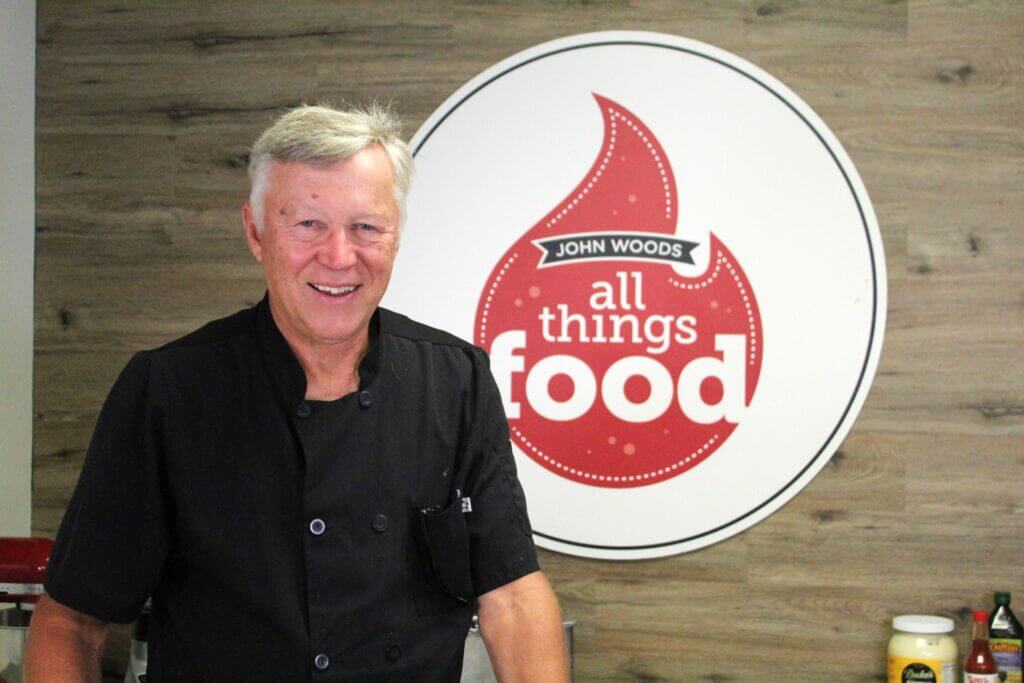 "It was a makeshift studio over there and we did well over there, but we had a big flood there in December when all of the pipes broke and flooded everything," Woods said. "When Barbara heard about it, she said, 'move on over here.' I've been here ever since and it's been great."
Barbara is Barbara Murray, owner of Spitfire Acres in Southaven. Woods has made the kitchen area there his studio for the videos he films and posts on his social media channels.
It's been an exceedingly popular and growing venture in retirement for Woods, who has cooked for public officials, the Smithsonian Institution, events in Canada and elsewhere around the world. Where his viewers are coming from are just as wide-ranging.
"People are viewing from all over the world," Woods said. "I get a lot of viewers from Canada and even a lot of people from Arab countries view my videos for some reason."
In fact, the number of subscribers to his YouTube channels eclipsed five figures recently.
"It's been just over one year since I filmed that first video on catfish," Woods said. "On March 21, we hit 10,000-plus subscribers. We have over 15 million views on our channel this year and it's been a good experience for me."
The 10,000 level for subscribers was a pleasant surprise for Woods, as he was told he should expect it to take more than three years to reach that level of attention.  
It was catfish that actually got Woods started in cooking, so it seems appropriate his first YouTube video featured the Southern delicacy.
"I had a friend whose daughter was a videographer and an excellent editor," he said."We met and filmed our first video in my little studio. It was on catfish."
Woods knows that success in cooking is more than catfish, however. Steak, for instance.
"A lot of people are still looking for steak because we're still a beef-eating society," Woods explained. "I did a video on seared steak and the last I saw it had over 1.2 million views for one video. It's a simple video, actually one of the first ones I did, maybe the 10th video we put out."
Woods believes food is power, is the common denominator that binds people together, and that anyone can be a good cook. Today, Woods spends time in the kitchen, but also at the computer, which may not be a pleasant experience but is still an important part of what he does now.
"I hate sitting down with social media, it's kind of like a two-edged sword," Woods said. "But if you don't do social media you're not able to grow your channel, so I've been real faithful about posting on several of my Facebook pages every day and that has gotten me a lot of followers."
While retired from the catering business, Woods is calling "All Things Food" his business venture in which he makes money from the number of views and followers he has.
"I treat this as a business venture now but I'm still enjoying it," said Woods. "Everything I do comes out of my own pocket. Thankfully we've started making money with this on YouTube in December. All of the money that comes in I turn back into the channel, to get better equipment or whatever I need."
Woods also believes the venture helps to keep his mind active, saying, "all this technical stuff, computers, is all brand new and I'm having to learn all of this."
The mind is active, the culinary skills remain exceptional, and John Woods remains irreproachable for his knowledge of food, what tastes good and what people look for in the kitchen and dinner table.
"I think food is the common denominator that binds all of us together," Woods said. "I've literally cooked around the world and cooked for nationalities. I can't even begin to tell what the experience has been like because I've seen how food puts us all at one table on a common ground."