Woman caught after parking lot chase
DeSoto County Sheriff's Department deputies Friday morning captured a woman inside a stolen vehicle they saw in the drive-through lane of a Southaven Chick-fil-A restaurant.
Officials said deputies in the area of the Chick-fil-A off Goodman Road and Southcrest Parkway noticed the stolen vehicle in the drive-through shortly before 10 a.m. Friday.
Additional deputies were called for backup, including the department's motorcycle and K-9 units. Southaven Police officers also came to assist.
The driver of the stolen vehicle saw the growing law enforcement presence after going through the drive-through lane and tried to escape, driving erratically through the adjacent parking lot in front of the Office Depot.
In the course of the ensuing chase, the driver of another vehicle swerved to avoid hitting the suspect's vehicle and ended up striking a Sheriff's Department patrol car involved in the chase.
The suspect continued on Southcrest Parkway toward Goodman Road, but another deputy crashed into the stolen vehicle, stopping the chase to avoid further damage or injury.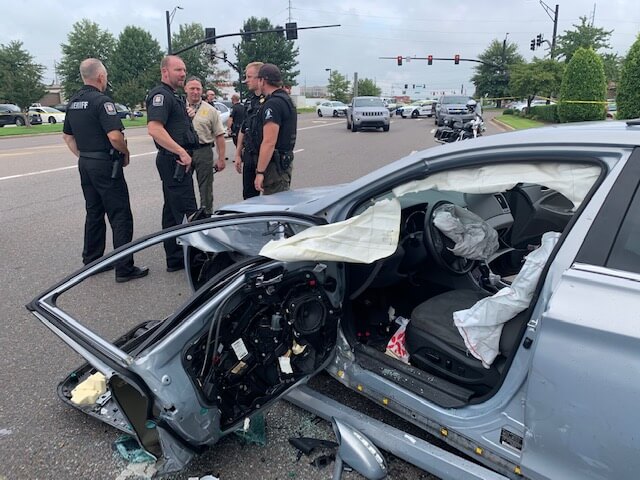 The suspect and deputy were taken to the hospital to be checked out but both were said to be OK.
The suspect has been identified as Kimberly Nicole Mukes, whose rap sheet includes past offenses for speeding, contempt of court, suspended or revoked drivers license, plus simple domestic assault and aggravated assault charges.
When Mukes was released from the hospital, she was taken to the DeSoto County Adult Detention Center in Hernando, where she is being held. Charges against Mukes include felony fleeing, felony receiving stolen property, disorderly conduct/failure to comply, a violation of a child restraint law and reckless driving. Mukes is being held without bond.