Sen. Bob Dole passes away, flags to half-staff
Photo: The American flag flies over the DeSoto County Veterans Park in Southaven. Flags will be at half-staff this week in respect to the late Kansas U.S, Sen. Bob Dole. (Bob Bakken/DeSoto County News)
Kansas Republican Sen. Robert "Bob" Dole has passed away. The American statesman, long-serving Senator and party leader who ran for president on three occasions, died Sunday, Dec. 6 at the age of 98.
The Elizabeth Dole Foundation announced his passing in a Twitter post.
Dole earlier this year made the announcement that he had Stage 4 lung cancer, but also suffered from wounds he sustained during World War II that left his right hand limp and unable to use the arm to shake hands.
Born in 1923 in Russell, Kansas, Dole went to Kansas University and played basketball under the legendary coach Phog Allen.
After serving in the Kansas Legislature, Dole was first elected to the U.S House of Representatives in 1960, elected to the U.S. Senate in 1968 and was re-elcted four times. Dole served as Senate Republican Leader four times and the Kansas Republican made three attempts as a candidate for President. He was Gerald Ford's Vice Presidential candidate in 1976.
President Joe Biden on Sunday made the proclamation that American flags be flown as half-staff in Dole's honor.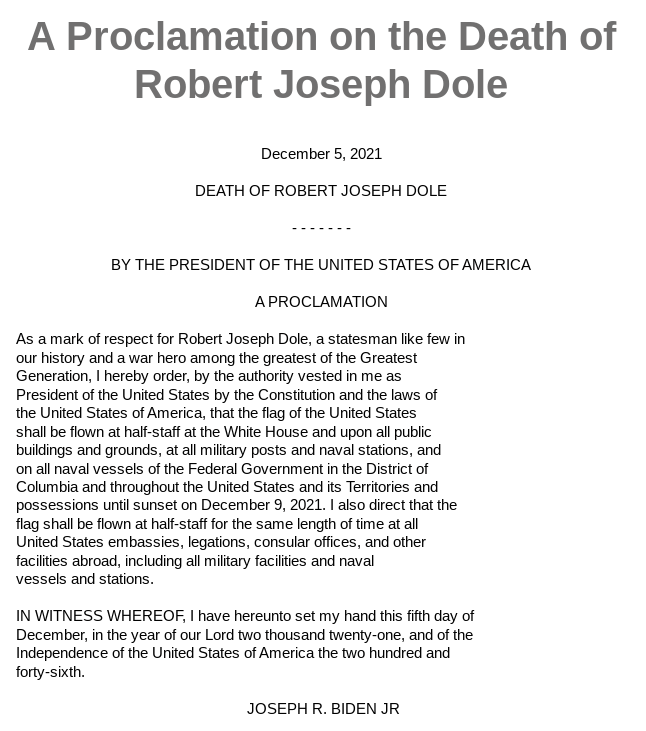 Mississippi U. S. Sen. Roger Wicker's office released this statement on the passing of Sen. Bob Dole:
"Bob Dole embodied what it meant to be a soldier, a legislator, and a statesman," Wicker said. "He exemplified the greatest generation's sense of duty and self-sacrifice, always displaying his trademark humor and optimism. I join millions of my fellow Americans in honoring the memory of this remarkable public servant. Gayle and I send our best to Elizabeth and the family."
Mississippi U. S. Sen. Cindy Hyde-Smith issued this statement on her Twitter account: