District Attorney John Champion passes away
Reports have come out Sunday that 17th Circuit Court District Attorney John Champion has passed away Sunday morning. He was age 61.
Champion has been District Attorney since November 2001. The 1992 University of Mississippi Law School graduate was hired as an Assistant District Attorney in 1993 by former District Attorney Bobby Williams. He continued in that position until his appointment in 2001.
As District Attorney, Champion oversaw all cases throughout the five counties of the 17th Circuit Court District and also monitored the assistant District Attorneys in their caseloads.
State Sen. Michael McLendon (R-Hernando) posted the following Sunday on his Facebook page.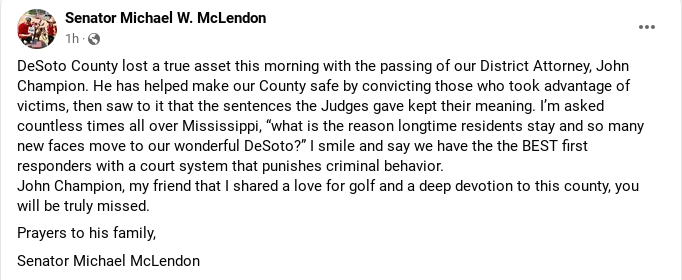 In a text to DeSoto County News Sunday evening, Sen. McLendon went on to say, "He truly felt compassion for each of the victims, saw their pain along with the family members affected. He and his assistants worked tirelessly to see justice prevail. You don't win all the cases and it hurts and after years of being a DA in our district he always knew one victim's case is just as important as the last trial and the next."
The DeSoto County Board of Supervisors issued a statement Sunday evening concerning the passing of John Champion.
"The DeSoto County Board of Supervisors is saddened by the passing of John Champion. The Board is appreciative of John's service as District Attorney for DeSoto County and the rest of the 17th Circuit Court District. Supervisors offer their condolences to his family, friends, and colleagues."

DeSoto County Government
Gov. Tate Reeves will now appoint a successor. Champion's 17th Circuit Court District included DeSoto, Panola, Tallahatchie, Tate and Yalobusha counties.  
Waller Funeral Home of Oxford is in charge of arrangements for John Champion. Visitation will be Thursday, Sept. 8 from 3-7 p.m. at the funeral home. The funeral services will be Friday, Sept. 9, at 11 a.m. at Oxford-University United Methodist Church in Oxford.