Record amount raised in Buy A Tree, Change A Life
Photo: The check presentation of $250,000, revealing the amount raised during the Buy A Tree, Change A Life sale of Christmas trees in December. (Courtesy photo)
This year's effort to raise money through the "Buy A Tree, Change A Life" Christmas tree sales at Southaven's Silo Square has exceeded all expectations.
It was announced Tuesday afternoon that this year's tree sales had raised a total of $250,000, according to Lexie Hill of Silo Square.
The figure is significant for a first year of the program in DeSoto County and also for the 10-year history of the nonprofit that helps children, both globally and locally.
Hill said Silo Square's tree sales rank as the most for one location in the history of "Buy A Tree, Change A Life."
"Each site raises money individually and then at the end of the year there is a total dollar amount which last year was over $1 million," Hill said. "For an individual site this was the most ever raised."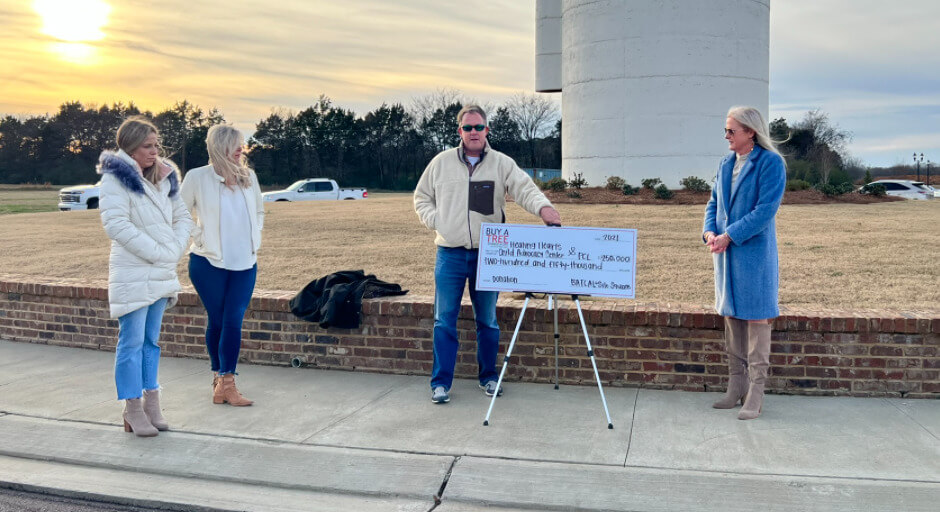 Half of the money raised at Silo Square, or $125,000, will go to Healing Hearts Child Advocacy Center, the program which works with local child abuse victims and foster children in DeSoto and Tate counties." The remaining 50 percent of the total will go to support People for Care and Learning, also known as PCL.
According to its website, PCL International "is a 501(c)(3) that combines training opportunities to create a holistic, systematic approach to break the cycle of poverty. We focus and operate in five main project areas: Build a City, Sustainable Farming, Common Grounds, Learning Centers, and Children's Homes."
Sally Williams, Executive Director of Healing Hearts, said the organization was amazed by the final results announced on Tuesday.
"The community completely embraced this event and the need it served," Williams said. "This event provided a way for people to work together for the common good, transforming shared beliefs and hopes into action. Supporting this event and Healing Hearts CAC helped bring awareness to child abuse, changed lives, and created a stronger community!"
Williams continued by thanking Silo Square, the Buy A Tree, Change A Life program, and others who bought trees and/or helped in making the program successful.