Olive Branch voluntary annexation request to move ahead
A voluntary request for annexation into Olive Branch has been heard and approved by the city's Board of Aldermen. 
Tuesday night's board meeting heard the request for two parcels of land to be added into the Olive Branch land area. One parcel is in the area of Laughter Road and I-269, while the other is north of the first one, east of Pleasant Hill Road. The areas up for annexation are labeled on the map. Both areas are owned by the same family, according to information provided by the city.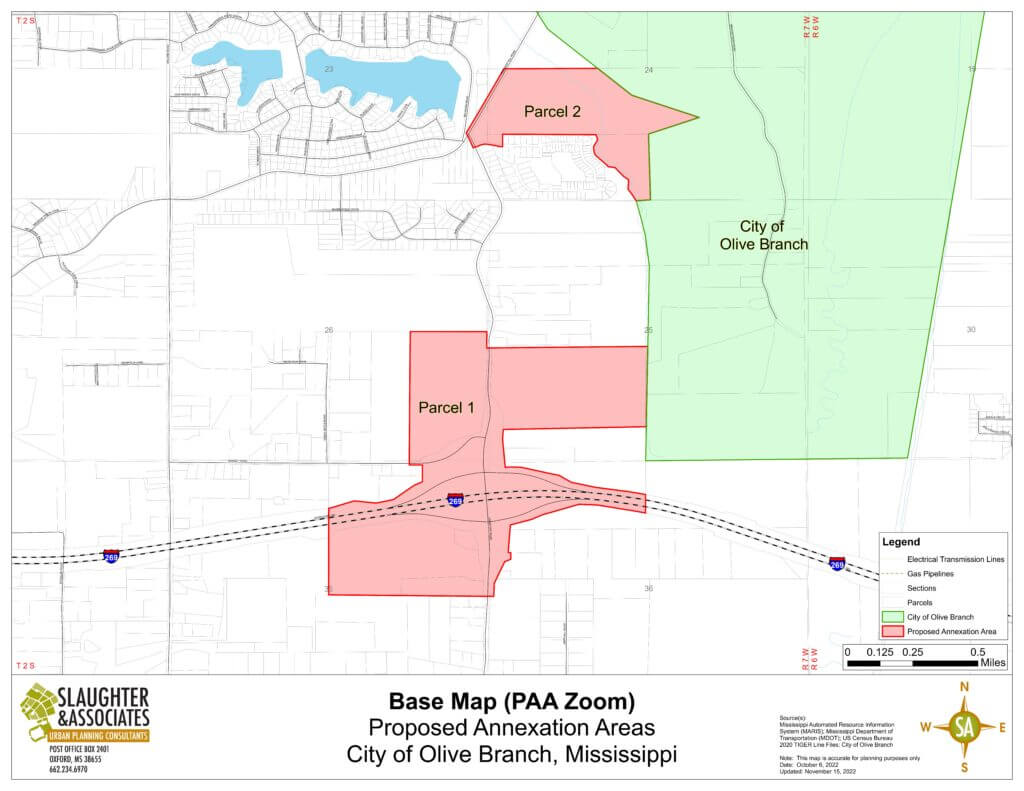 A total of 454 acres of undeveloped land are affected by the annexation. Board members voted in favor of the annexation, which now goes to Chancery Court for consideration.
The city went through a contested annexation that was not voluntary in 2021, when about 18.2 square miles of land was added after a court challenge in Chancery Court. Some residents balked when the city initially tried to annex about 50 square miles, leading to Judge Percy Lynchard Jr. ruling that only 18 square miles could be annexed.
Olive Branch aldermen Tuesday also added some limits of future convenience store/gas station combinations. Mayor Ken Adams and City Planning Director Jason Gambone receommended the changes due to traffic congestion and safety concerns.
Aldermen approved a limit of no more than two of these convenience store/gas station combinations at any four-corner intersection, or where a street "T's"  into another street on a hard corner.  
The board vote also places limits on truck stops, which will be now evaluated as a conditional use item to determine if they are warranted, and will be only permitted in zoning areas C-2 (commercial) or industrial zones M-1, M-2, and M-3.
The city will also require truck stops to be on at least two acres and be located within a half-mile of a truck route.   
Gas Stations only (no convenience store) will only be allowed in C-3 commercial areas only.