Judge's ruling reduces Olive Branch annexation area
The City of Olive Branch can go ahead with its annexation plans, just not to the level it had originally wanted to do so.
That is what Chancery Court Judge Percy Lynchard Jr. has ruled in his opinion issued Monday, April 5.
Lynchard's ruling came after a court trial that involved the City of Olive Branch, City of Hernando, and DeSoto County. The county was involved for residents in the unincorporated areas of Lewisburg, Bridgetown, Pleasant Hill, Cedar View, and Center Hill that were facing annexation by Olive Branch. About 50 square miles were sought to be added to DeSoto County's second-largest city. Lynchard's opinion allows about 18 square miles to be included.
Attorneys presented their cases during the trial that began March 29 and ended late last week. Lynchard released his opinion Monday afternoon.
After hearing the evidence, Lynchard decided the city "is reasonable with respect to the issue of annexation in general," he wrote. He stated that proposed areas of anticipated annexation are clearly in the city's path of growth, there is a need to expand the city limits, and the city has the financial resources to pay for the annexation, among other reasons.
However, Lynchard did say that there are areas of concern he has about the plan, saying there was a need for planning in the area to be annexed, the need for municipal services, and the economic impact on the various rural fire districts.
"Clearly when doing so, the City's request for annexation approval is reasonable in Concept," Lynchard wrote. "However, the annexation is just as clearly unreasonable in its expanse."
In conclusion, Lynchard ruled that Olive Branch can continue to annex the following areas he listed in his opinion:
All of the Center Hill area east of the current city limits that was in the original proposal
These areas Lynchard listed in his opinion:
a. Beginning at the intersection of the current municipal boundary and the western right of way of State Highway 305, along said western right of way south to the northern right of way of that certain electrical transmission line crossing said highway; then along the northern right of way boundary of said electrical transmission line until such time as it connects with the city limits of the City of Southaven along Malone Road;
b. That certain portion of Section 19 and 30, Township 2 South and Range 6 West lying west of Camp Creek;
c. The East half of Section 25, Township 2 South, Range 6 West;
d. That portion of Section 24, Township 2 South, Range 6 West lying and being situated in the Olive Branch Municipal Fire District.
Note: With respect to items b, c and d above, it is the intent of the Court to include all of the Olive Branch Municipal Fire District.
Lynchard also made mention of the state of the annexation process in Mississippi. The chancellor said it appeared "grossly inequitable" that any municipality could, in Lynchard's words, "impose its jurisdiction, taxes and ordinances on a population at its will without any input short of litigation."
Lynchard's view is that citizens' only recourse is litigation, such as was done in this case. Lynchard urged the Legislature to examine current laws and pass legislation that is more equitable to citizens. He added the statement was not to be critical of the City of Olive Branch, which he said was doing what it did as allowed by current law.
"It is not the participants, but the law I criticize," Lynchard wrote.
DeSoto County News reached out to the City of Olive Branch and a representative for the group Fight4DeSoto, which has been especially active in its opposition to annexation. We also received a news release from DeSoto County Supervisors for their view of Monday's decision.
Olive Branch Mayor Scott Phillips said in a text response, "We have received the judge's ruling. At this time we are reviewing it and the map, also."
In the news release, District 5 Supervisor Michael Lee said, "We are glad the court listened to many constituents who were against being annexed by Olive Branch. I was proud to take a stand to represent people in unincorporated DeSoto County, especially residents of Lewisburg and Bridgetown."
As stated in the news release from the county, about 10.5 square miles of the annexed area is in Supervisor Jessie Medlin's district.
"I think people deserve to have a say when it comes to annexation," said Medlin. "I agree with the court's opinion that the Mississippi Legislature needs take action to pass laws that are fairer to citizens when a city exercises its rights to expand."
Medlin represents the City of Olive Branch and unincorporated areas of DeSoto County adjacent to the city that were part of the court's ruling.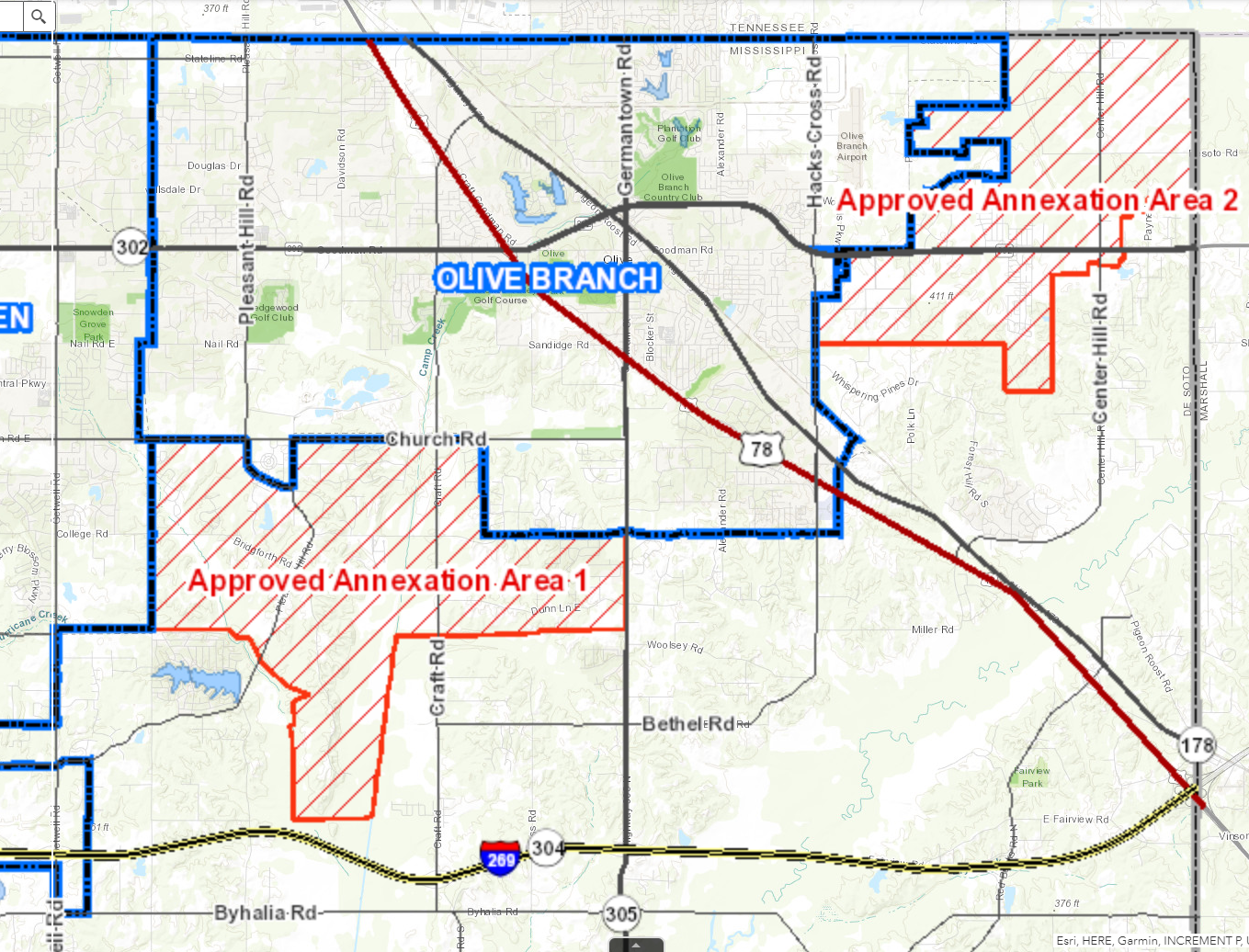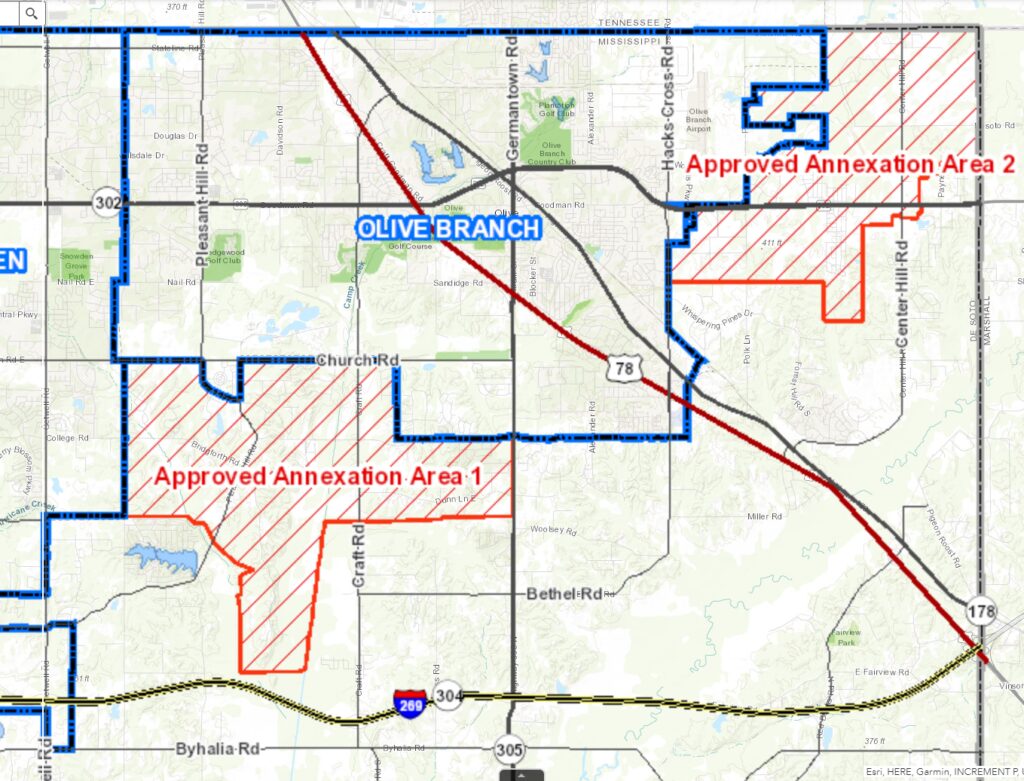 Lynchard included a map of the area he felt could be added by the city as part of his opinion which you can view here.