Olive Branch man charged in fraud scheme involving millions of dollars
Photo: Williams Sonoma Inc. location on Polk Lane in Olive Branch. (Bob Bakken/desotocountynews.com)
A former executive with Williams Sonoma Inc. from Olive Branch is part of a multi-million dollar fraud scheme indictment released Wednesday from the U.S. District Attorney's Office for the Northern District of California.
A news release from the attorney's office said a federal grand jury in San Francisco had indicted Eric Marsiglia and three others on charges of conspiracy, wire fraud, money laundering, and related charges. The charges involve kickbacks and the diversion of dollars of rebates belonging to Williams Sonoma Inc. The indictments were released on Wednesday, April 19 after being filed by the grand jury on April 11.
Marsiglia was arrested on Wednesday, April 19 and appeared in federal court in Mississippi.
According to the indictment, Marsiglia is accused of being involved in two fraudulent schemes while employed with Williams Sonoma.
"The first scheme was a conspiracy to divert rebates from commercial real estate brokers that should have gone to WSI; the rebates were diverted to accounts that Marsiglia controlled," the indictment read. "The second scheme involved the payment of kickbacks in exchange for Marsiglia directing business to companies controlled by co-defendant Michael Podhurst, 63, of Union, New Jersey."
"Today's arrests target a years-long fraud centered on defendant Marsiglia, who abused the trust placed in him by a prominent San Francisco public company," said U.S. Attorney Ismail Ramsey. "The indictment alleges how each defendant, in separate ways, sought to capitalize on Marsiglia's valued position within the company—but all with the singular goal of lining their own pockets with millions of dollars at the expense of his employer."
Williams Sonoma, Inc. (WSI) is a home-goods retailer that operates brands Williams Sonoma, Pottery Barn, West Elm, and others. The company has a distribution center location on Polk Lane in Olive Branch.
Marsiglia was WSI's Vice President of Engineering, Projects, Planning, Facilities, and Real Estate, and, as such, was responsible for identifying commercial real estate opportunities for the company.
Following is the complete list of charges: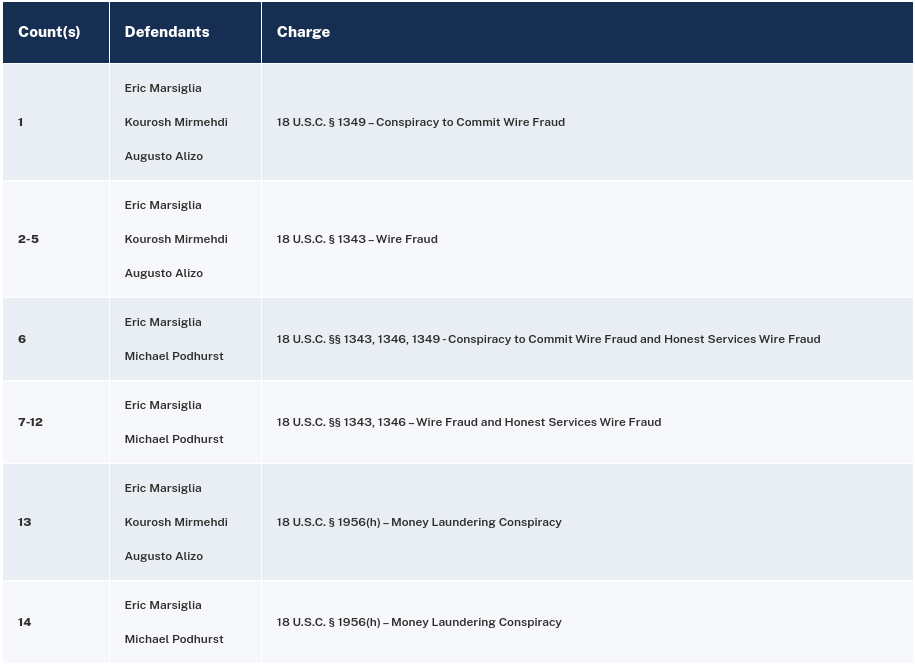 A court date for Marsiglia in California has not been yet determined.
Click here for the complete release from the U.S. Attorney's Office in Northern California.