Museum presents historic photograph to county courthouse  
Photo: (From left) Circuit Court Judge Gerald Chatham and DeSoto County Museum Curator Robert Long hold the DeSoto County Bar photograph from 1955 that will be held inside the DeSoto County Courthouse in Hernando. Pictured are (from left) Boyce Lee Garner, Clarke Holmes, Jr., Gerald W. Chatham, John Barbee, W.E. Wilroy, and Joel Walker. In back is Circuit Judge Curtis Swango. (Bob Bakken/desotocountynews.com)
When 14-year-old Emmett Till, an African American teenager from Chicago visiting relatives in Mississippi, was murdered in the mid-1950s, the men charged with his death were prosecuted by DeSoto County attorney Gerald W. Chatham.
Till was killed by two white men who accused him of flirting with and touching or whistling to a white woman inside her family's grocery store. The teenager was tortured and lynched, then his body was thrown into the Tallahatchie River.
The accused men were acquitted in a trial in Sumner that Chatham served as prosecutor, a position that led to death threats against him. Chatham eventually died from a heart attack a year later thanks to the stress Chatham had to endure.
Chatham's son is now DeSoto County Circuit Court Judge Gerald Chatham, who came to Monday's DeSoto County Board of Supervisors meeting with County Museum Curator Robert Long to present a photograph from 1955. The photograph shows Judge Chatham's father and other members of the DeSoto County Bar.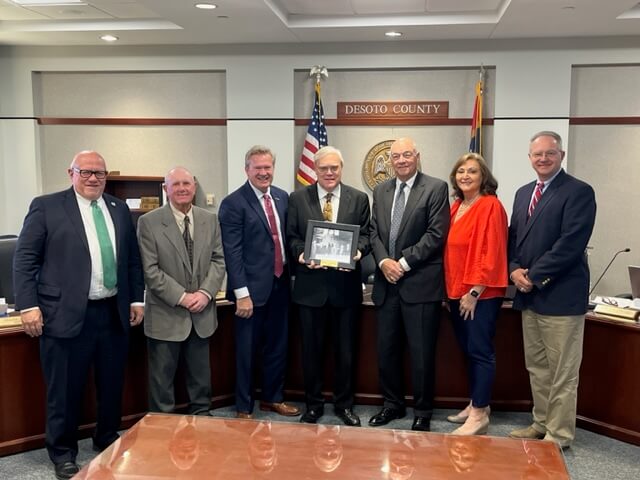 "My family is very humbled by this recognition," Judge Chatham said. "My dad was certainly my hero and he's the reason I became a lawyer as a young man growing up. With all of that going around me I was not shielded from it but I didn't really understand it at the time. I always wanted to be a lawyer like my dad."
Long said the photograph is representative of the role county legal minds had in their work to seek justice for all segments of society, regardless of race or social status.
"Although prosecutor Chatham was unable to attain a conviction, he won the hearts and minds of people the world over by vigorously prosecuting the killers," Long said. "He is a real-life Atticus Finch figure worthy of our respect and admiration and a personal hero of mine. He makes me proud to be a Mississippian."
Long said the photograph of the DeSoto Bar from 1955 will hang in an appropriate place on the walls of the Courthouse in Hernando and a reception to do that will be held in the near future.
The two white killers of Till, although acquitted in the trial, would later confess to Look Magazine that they did kidnap and murder Till, throwing his beaten body in the Tallahatchie River, with a cotton gin fan weighted around his torso.