Lighting the way to hope for cancer fighters
Photo: Lighted lanterns shine beacons of hope during the first Light Up The Lake at Southaven's Central Park. (Bob Bakken/DeSoto County News)
The evening of Saturday, March 27, as dark clouds and threatening storms were all around, a drive through Southaven's Central Park began telling stories of joy, sorrow, and through it all, of hope in the midst of cancer.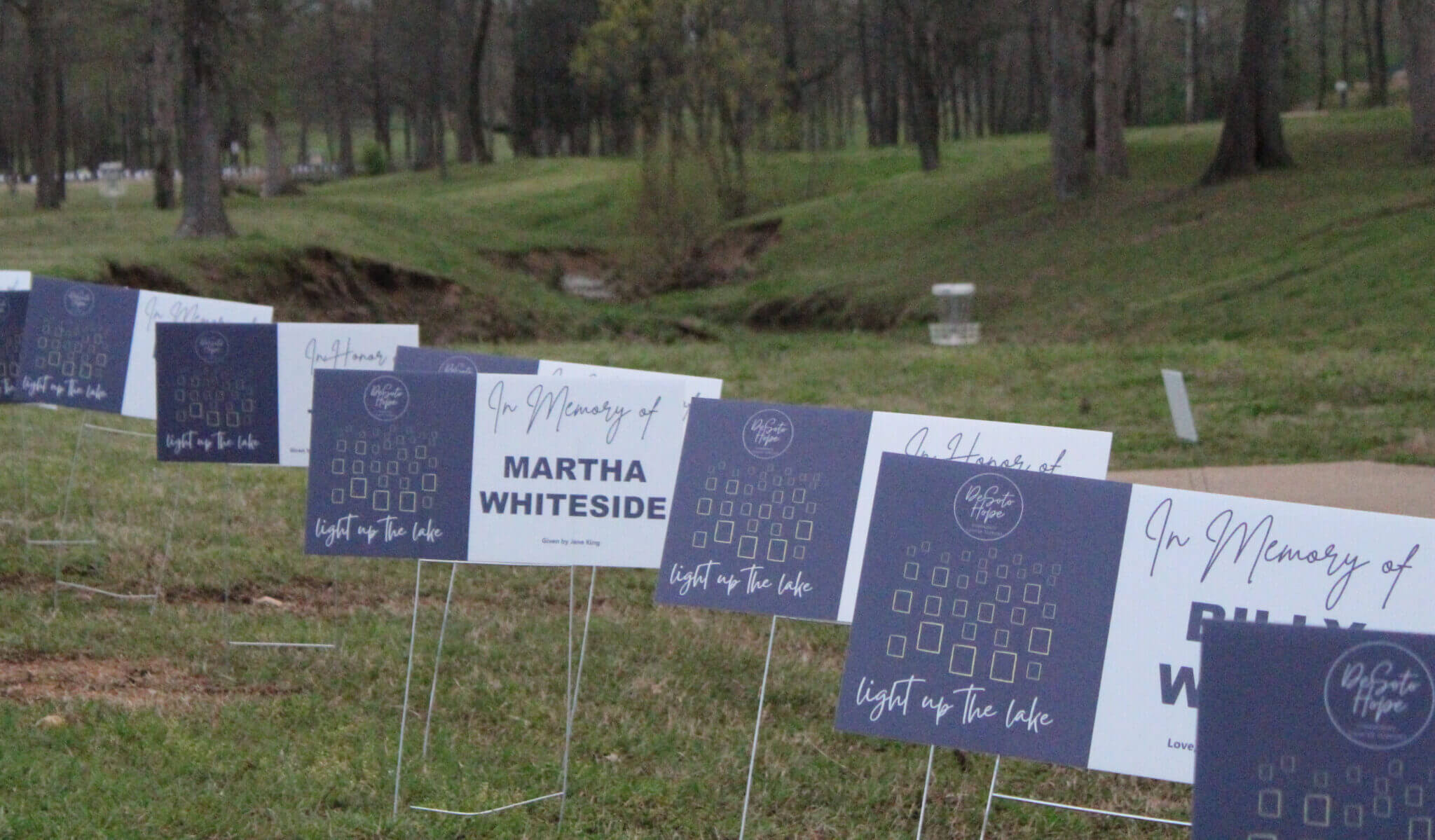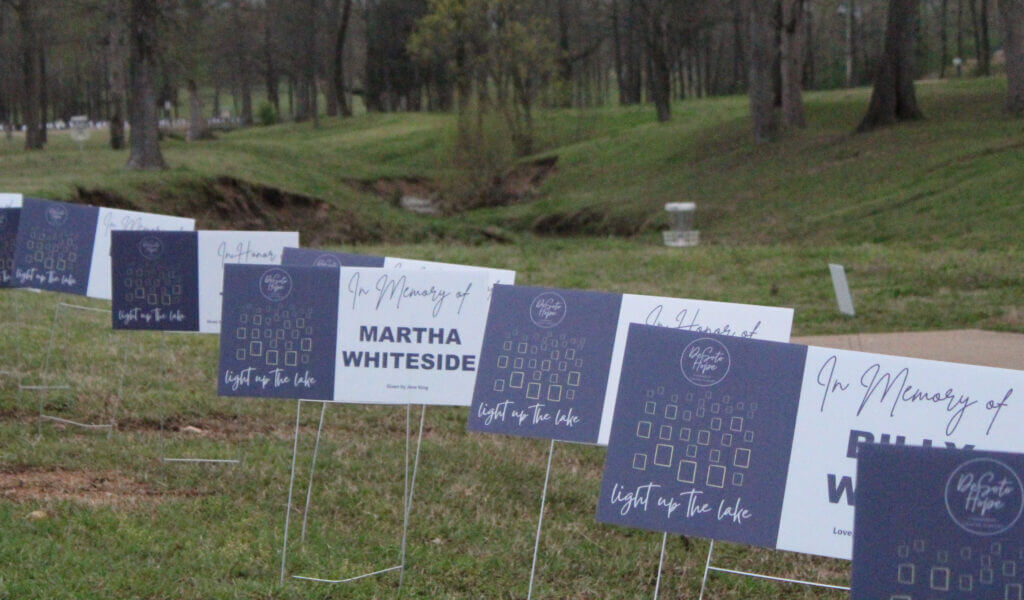 More than 700 signs lined the roadway, leading from the eastern park entrance on Tchulahoma Road through the park toward the western entrance on Swinnea. The signs were telling stories, stories of those who have fought the cancer fight and won, and those remembered for fighting the cancer fight, but winning a greater and eternal reward.
As the drivers went through, they were encouraged to tune to a radio frequency for an encouraging message as they looked for names of loved ones or others they remember as having dealt with the scourge of cancer.
Then, as they were about to leave the park, they encountered lights that sparkled through the darkness of the evening and surrounded the front part of the park's lake. They were lights of hope for the people the signs represented.
The evening was called "Light Up The Lake" and was organized for the cancer support and awareness effort named DeSoto Hope by founders Ashleigh Parker and Tracy Gallagher.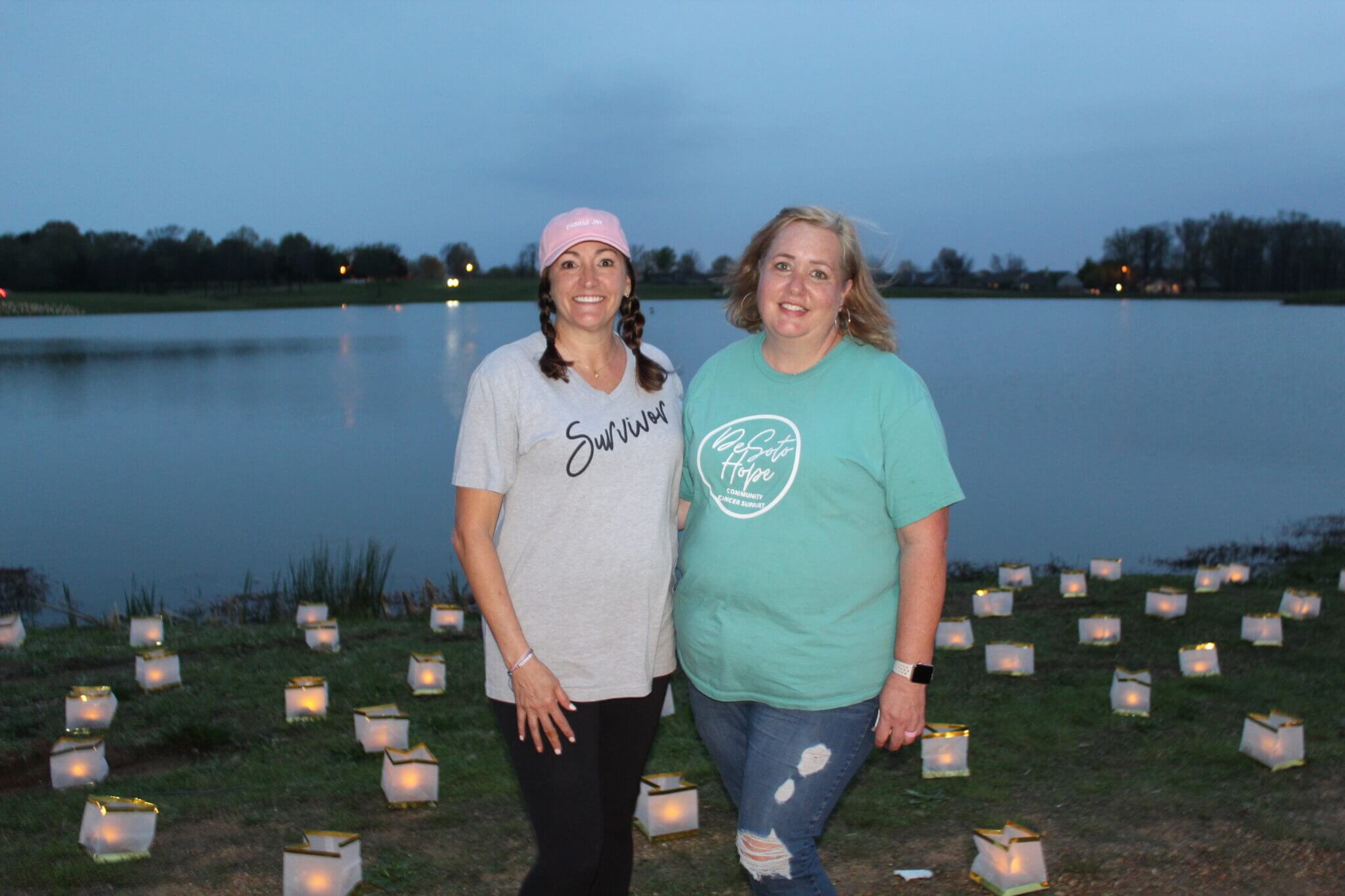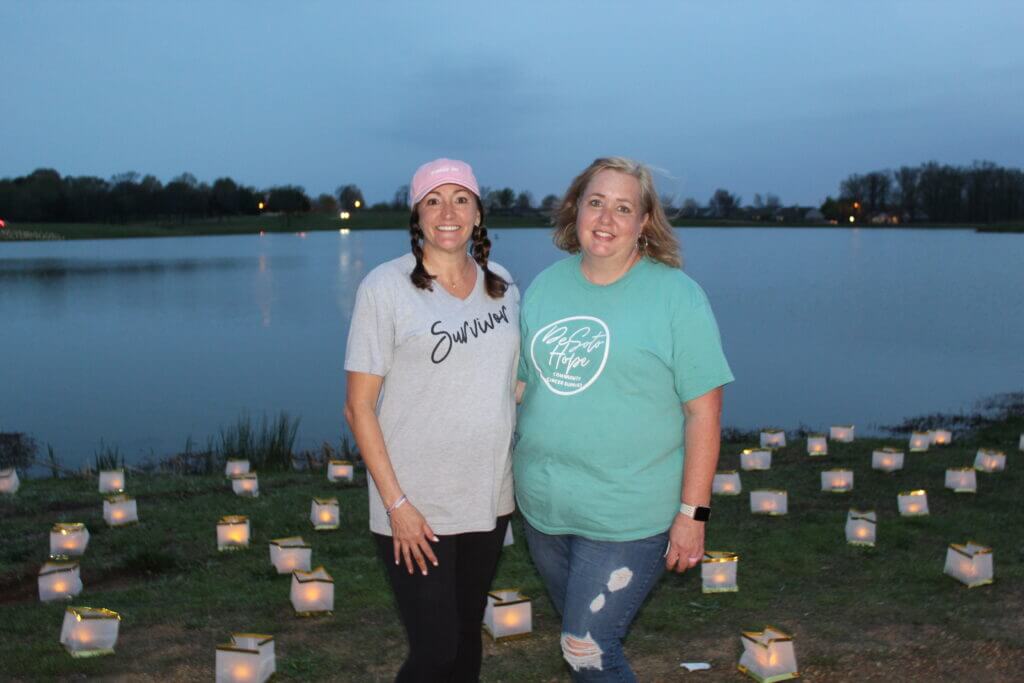 Parker and Gallagher know about cancer all too well because they are both cancer survivors.
Parker, wife of state Sen. Dr. David Parker, was diagnosed with Stage 4 Colorectal Cancer nearly two years ago. She was declared in remission in October of last year.
Gallagher, wife of Southaven Alderman Joel Gallagher, has dealt with breast cancer.
Both have undergone chemotherapy and several surgeries as they battled their cancer.
Light Up The Lake was meant to shine a light on how much the C-word, cancer, has touched the lives of so many, in so many ways.
"Everyone's been touched by cancer," Parker said. "We've all known somebody who had it or knew somebody in their family with it. We just want to bring awareness to the fact that there can be joy in that. You can find joy in your days. There's always something to be joyful about," adding that several times on Parker's worst day she found her joy in helping others.
Each lantern represented a cancer fighter from the community and were purchased by loved ones.
"We have been blown away," Gallagher said of the large number of lanterns and signs. "We thought maybe there'd be about 200 and our biggest goal was about 500. This is just the beginning and we are just starting this."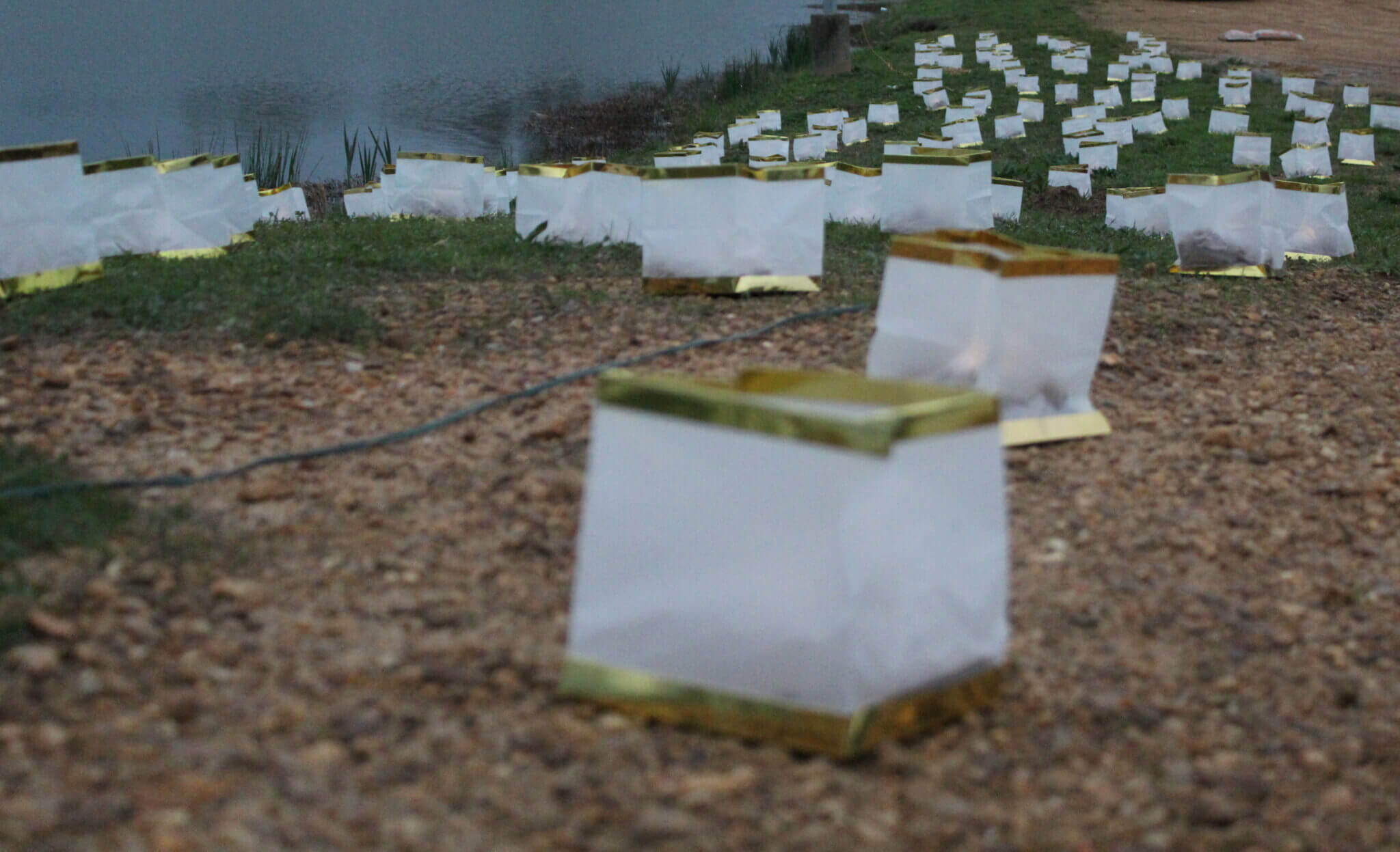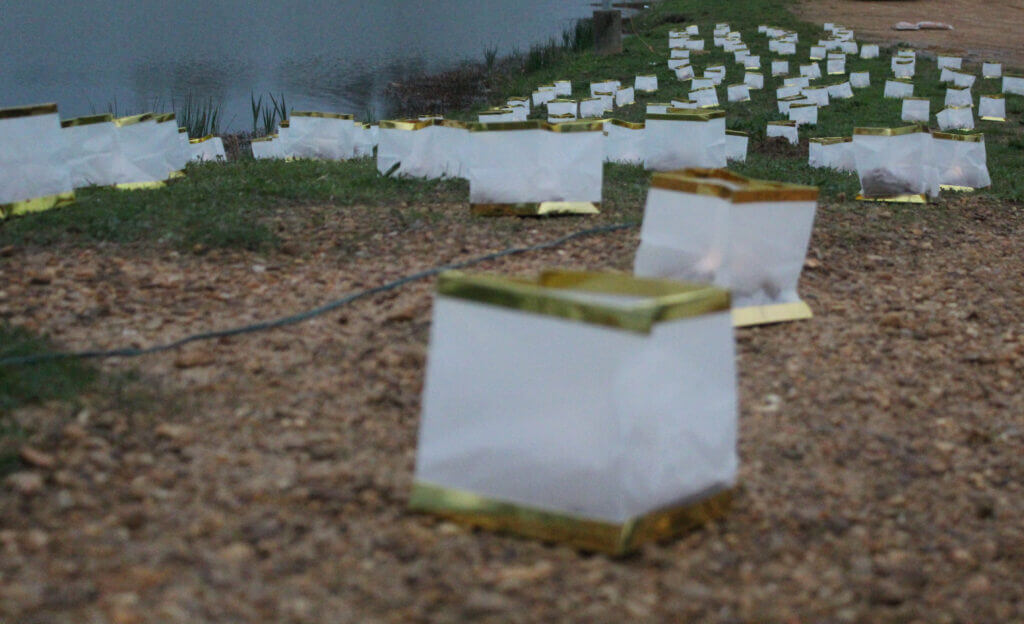 The money raised from the sale of the lanterns and signs goes to DeSoto Hope's main project, which is providing what they call Hope Baskets that are given to cancer patients in DeSoto County.
"We get names from the different cancer clinics here in DeSoto County and when those names come through, we deliver either to their doorstep or to their cancer treatment facility that they're going to here in DeSoto County," Parker explained. "We do Hope Baskets filled with all of the things that try to make treatment more bearable and tolerable."
More importantly, the Hope Baskets are meant to remind the patients that they are not alone in the fight. It was the knowledge that their battle was not being fought by themselves both Parker and Gallagher said was needed and craved by them.
"Tracy was my sounding board a lot of times for bad news days and things like that, to be able to call her," Parker said. "Our cancers were completely different, just treatment and tough decisions and how your body won't be the same any more. To be able to have somebody to bounce those ideas and complaints, prayers and everything with."
"When we were first diagnosed, I was looking for a support group in DeSoto County and there is not one," Gallagher explained. "That's uncalled for, that should not happen. Our county is big enough and we need a cancer support group here. When Ashleigh was diagnosed and she went through treatment a little bit I knew she was the one for me to ask."
Gallagher said that support is so important because no one can fully understand the fight with cancer except another cancer fighter. They say DeSoto Hope wants to be that someone to come alongside those battling the disease.
"We don't want anybody to feel alone," said Gallagher. "We want to be a light for other people and to make connections for other people to find other cancer patients to answer questions and just to stand by them."
And the battle is real, as Saturday's Light Up The Lake and recent statistics from the American Cancer Society (ACS) indicates.
The ACS estimates on its website that Mississippi would have 18,750 new cases of cancer this year and 6,580 Mississippians would become victims of cancer. 
Of that number, 2,870 new cases would be lung cancer and 2,550 new cases would be breast cancer. Lung cancer is expected to take the most victims in the state this year at 1,740 with colorectal cancer next at an estimated 650 victims in 2021.
Expect Light Up The Lake to be an annual reminder of how cancer attacks and coldly touches all of our lives in one way, shape or form.
Visit DeSoto Hope online at https://www.desotohope.org/. You will find a link to a document that may be filled out to request a Hope Chemo Basket for a cancer patient.