Fallen Heroes Memorial Service held
The American flag hangs between two fire trucks in front of the DeSoto County Courthouse on Friday, May 5 for the DeSoto County Fallen Heroes Memorial Service. (Bob Bakken/desotocountynews.com)
A program to remember the DeSoto County law enforcement officers who have died in the line of duty was held Friday morning, May 5, at the DeSoto County Courthouse in Hernando.  
Twelve officers were remembered. They were members of the DeSoto County Sheriff's Department, Hernando Police Department, Southaven Police Department, and Mississippi Highway Patrol, dating back to 1898.
The 12 officers remembered on Friday are as followed:
DeSoto County Sheriff's Department
Deputy Henry R. Campbell
Deputy William C. Cooper
Deputy Carter Jones
Sheriff William P. Harris
Constable Robert Dodson
Deputy Larry Cox
Deputy Larkin Pettit
Lt. Gregory Floyd Medlin
Deputy Paul Andre LeBlanc, Jr.
City of Hernando Police Department
City of Southaven Police Department
Mississippi Highway Patrol
Trooper Bobby L. Wells, Jr.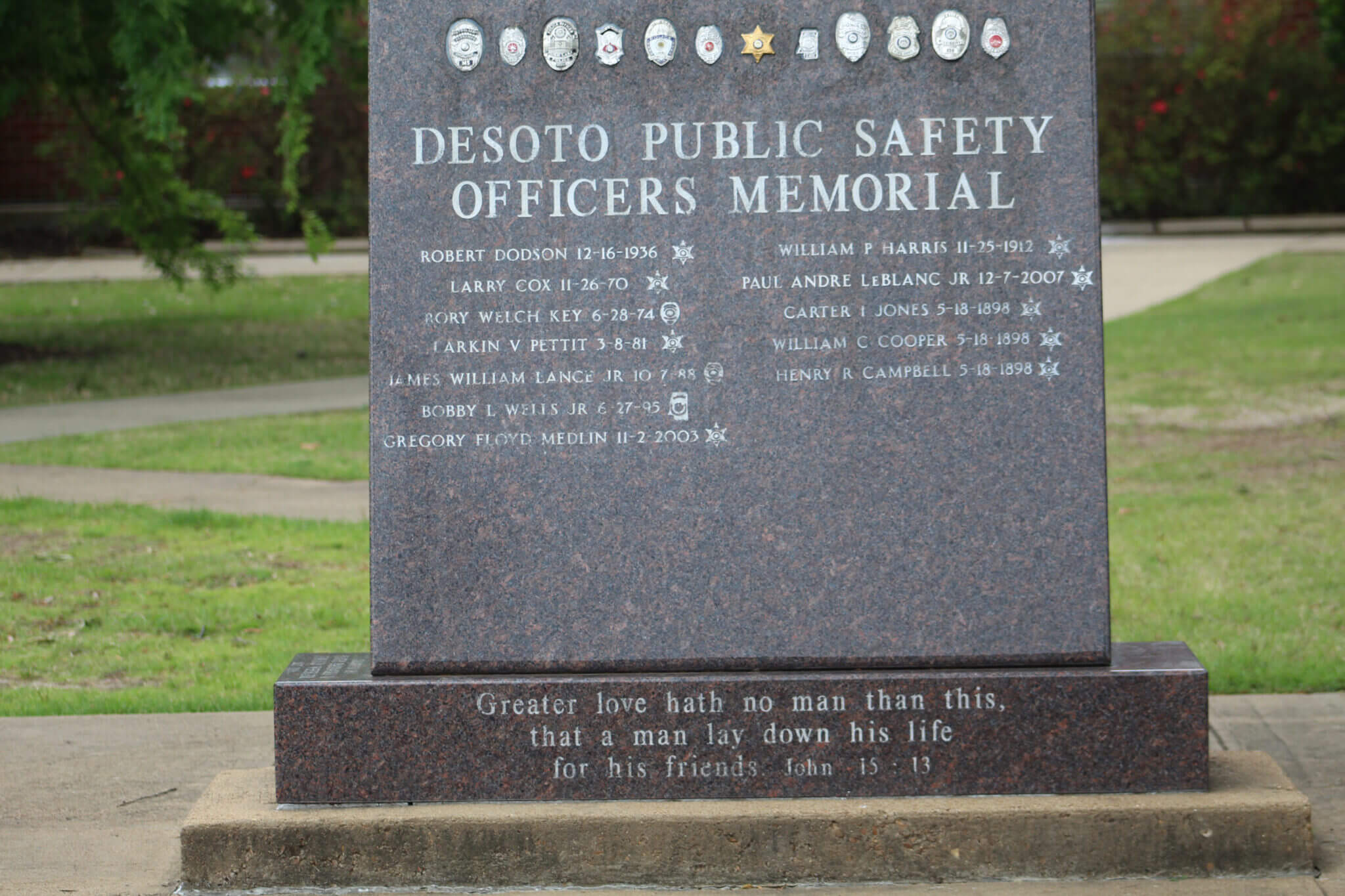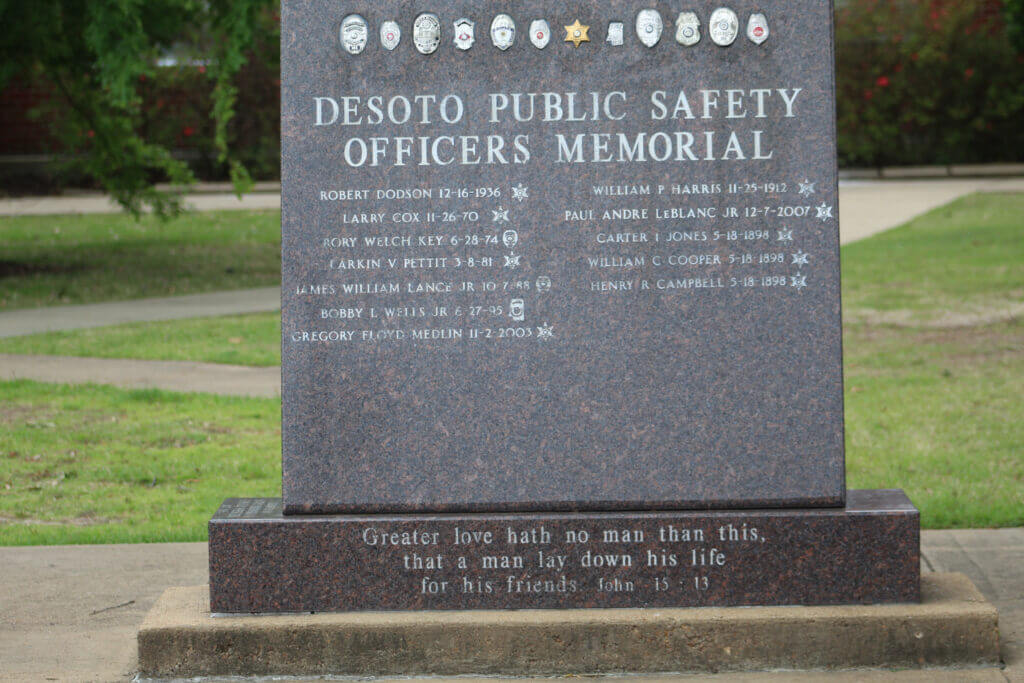 Family members of the officers in attendance were given a gift and flowers as a bell rang one time for each officer when their names were read.  
Scholarships were also announced in the name of each of nine fallen officers to local students who plan to pursue a career in public safety.
The Fallen Heroes Scholarship recipients named are as follows:
Clayton McKee – Larry Cox Fallen Hero
Amy Adame – Robert Dodson Fallen Hero
Elizabeth Green – William P. Harris Fallen Hero
Jacob Mackie – Rory Welch Key Fallen Hero
Alyssa Porter – James W. Lance, Jr. Fallen Hero
Patrick Printup – Paul Andre LeBlanc, Jr. Fallen Hero
McKinley Jackson – Gregory Medlin Fallen Hero
Ashyton Fallis – Larkin V. Pettit Fallen Hero
Michael Hardaway – Bobby L. Wells, Jr. Fallen Hero
The special guest speaker for the program was retired Commissioner for the Mississippi Department of Public Safety (DPS) Marshall Fisher, who made a point to say that all first responders should be honored for their commitment, duty, and sacrifice.
Fisher was working near the Pentagon when the attack on the building took place on Sept. 11, 2001. He said 72 officers and 343 firefighters died in the line of duty on the date, when the Pentagon in Washington, D.C. and the World Trade Center complex towers were attacked.
"I believe in my heart that if all of those guys and gals were here, we could talk to them and ask if they were going up those stairs to rescue people and there would be someone at the bottom saying that they were not coming back if they went up, I don't there is a man or woman among them that would have kept going," Fisher said. "That's what you do. It's just your duty."
Fisher said it is important to remember those who died in service to their communities on a daily basis.
"They need to know we are grateful," Fisher said. "Mississippians are grateful and Americans are grateful."
Fisher was director of DPS from his appointment by former Gov. Phil Bryant in 2018 until last year, when he resigned just prior to the inauguration of current Gov. Tate Reeves. Before that, Bryant appointed Fisher to lead the Department of Corrections. He has also served as director of the Mississippi Bureau of Narcotics, and has also been the Mississippi agent-in-charge for the U.S. Drug Enforcement Administration.