Edelbrock celebrates corporate move with a BOOM!
Photo: Some of the products made at the Edelbrock Group location in Olive Branch, now the corporate headquarters for the company. (Bob Bakken/DeSoto County News)
Edelbrock Group celebrated the completion of its corporate headquarters move to Olive Branch Friday with not just a ribbon cutting, but with a BOOM! Actually there two booms from the dragster driven by six-time IHRA World Champion and current NHRA Top Fuel drive Clay Millican, when Millican fired up the vehicle to dedicate the building in front of dignitaries, company officials, and some of the 300 employees who work at the Hacks Cross Road facility.  
It was one year ago the Edelbrock Group announced it would move its headquarters to Olive Branch from California, as we reported on DeSoto County News.  Edelbrock is a well-known name in the automotive aftermarket engine component racing and performance business, part of the group formed two years when Edelbrock LLC and COMP Performance Group (CPG) merged together. The headquarters for both companies to an existing CPG facility was part of a multi-million-dollar corporate investment plan. 
Between the two, there is about 130 years experience in the automotive aftermarket parts business. The merged company has about 1,000 employees.
The project's first phase completed last year was a substantial undertaking that included transitioning many positions, machinery, and manufacturing from Edelbrock's California headquarters to Olive Branch.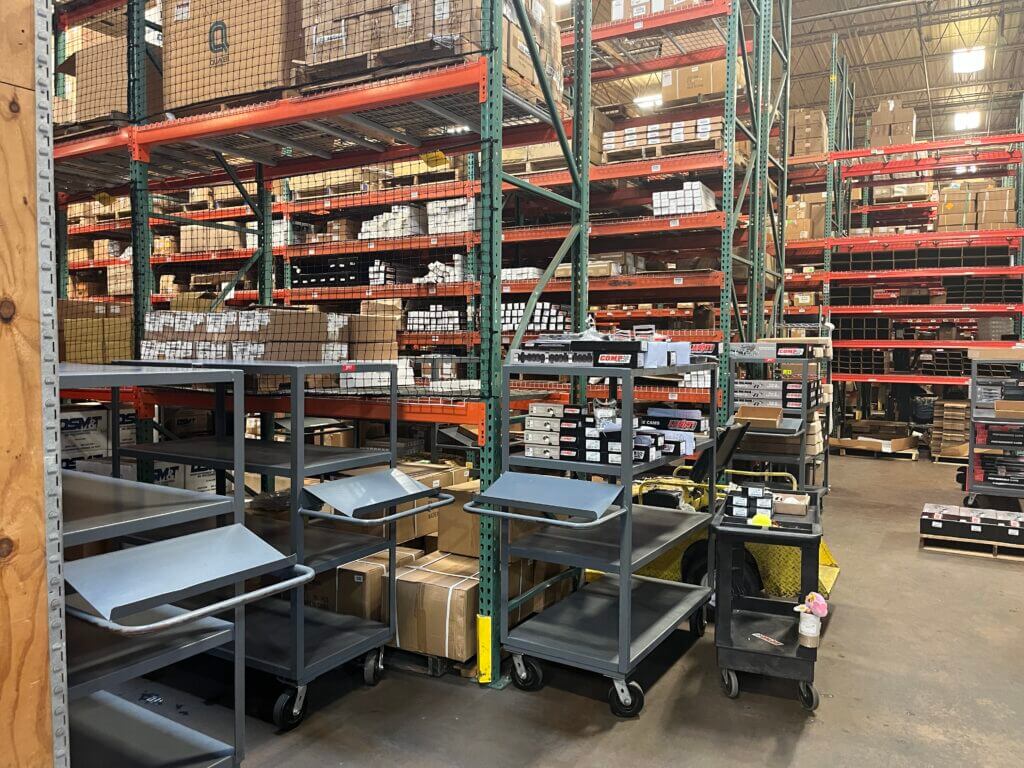 The second phase began in October 2021 and was recently completed last month. It included the build-out of offices and a complete remodel of the second floor, making way for the relocation of the Marketing, Product Management, Sales, and Customer Service divisions from offices in Memphis.
Under the Edelbrock Group corporate umbrella are brand names Edelbrock Performance, COMP Cams, TCI Automotive, Fuel Air Spark Technology (FAST) and Russell Performance.
Company CEO Tim Jones offered thanks to those who helped make the move possible. Jones was joined by local dignitaries, including DeSoto County Supervisor Ray Denison and Olive Branch Mayor Ken Adams, who stressed Edelbrock is located in a great place.
"In Olive Branch, part of our mission statement includes, 'It's a great place to live, work, worship and play," Adams said. "It's companies like Edelbrock that contribute greatly to this mission and the way of life we are able to enjoy here in Olive Branch."
Also on hand was Bill Cork with the Mississippi Development Authority.
"We're happy to be part of the Edelbrock family here in Mississippi," Cork said. "We're going to be good family members and we're going to be here to take care of you at the state level, helping to provide training, workforce development, helping to provide recruiting and new talent and teammates that are coming on board. We promise we will be here for the long haul."
With the speeches finished, the important ribbon cutting to officially open the building took place.
Total corporate revenue for Edelbrock Group is $235 million with seven manufacturing facilities and 457,000 square feet of manufacturing space at its locations across the country.
The celebration continues on Sunday with a Grand Opening Cruise-In Celebration outside the new headquarters on Sunday, June 12 from 2-4:30, with food trucks, goodie bags, a raffle, and family friendly entertainment. This GO Cruise-In is timed to precede the first stop on the Hot Rod Power Tour that is being held at Tiger Lane at the Memphis Fairgrounds on Monday, June 13.