Drake assumes House of Grace leadership
House of Grace Executive Director Sarita Drake comes to her new position very well qualified. Drake started in the job overseeing the ministry that aids women escaping from domestic violence with the first of June. It is a program that Lorine Cady founded in May of 1998 to be a residential shelter and to provide services and support to battered women.
Drake, who Cady wanted to succeed her when Cady retired last month, comes well qualified because she escaped her own troubled relationship, and with her daughters lived at the House of Grace. She knows what the House of Grace means for the women who go there for help.
Six years ago, Drake and her daughters left a home of domestic violence and moved into the House of Grace.
As you hear her story of her life living with an abusive husband, it is typical of many stories women may share. The physical and mental anguish of a relationship takes a severe toll, but the first reaction is not to leave. In fact, Drake stepped away from a nursing career because she believed she needed to be at home.
"If I didn't stay home, things would get worse," Drake said. "I had to stay home and keep track of things."
The mistreatment got to a point, however, that Drake finally decided she needed to leave. Drake made a connection with Melissa Dabar, an attorney who is also on the House of Grace Board of Directors, and also Cady, who both advised Drake it was time to leave after hearing her story.
"Somebody said, 'Call Miss Cady,'" Drake said. "Miss Cady said, 'Get all of your important papers and bring them with you.' We left the next day from our home and we moved in.'"
Dabar added, "If your daughter came to you and said, 'Mom, I'm being hurt, I'm scared, things are volatile. If your daughter came to you with all of the things you are going through, what would you tell her?" Drake replied, "I'd go get her, I'd tell the police, I'd tell her to get a divorce and she'd never see him again." To which Dabar said, "That's what you need to do."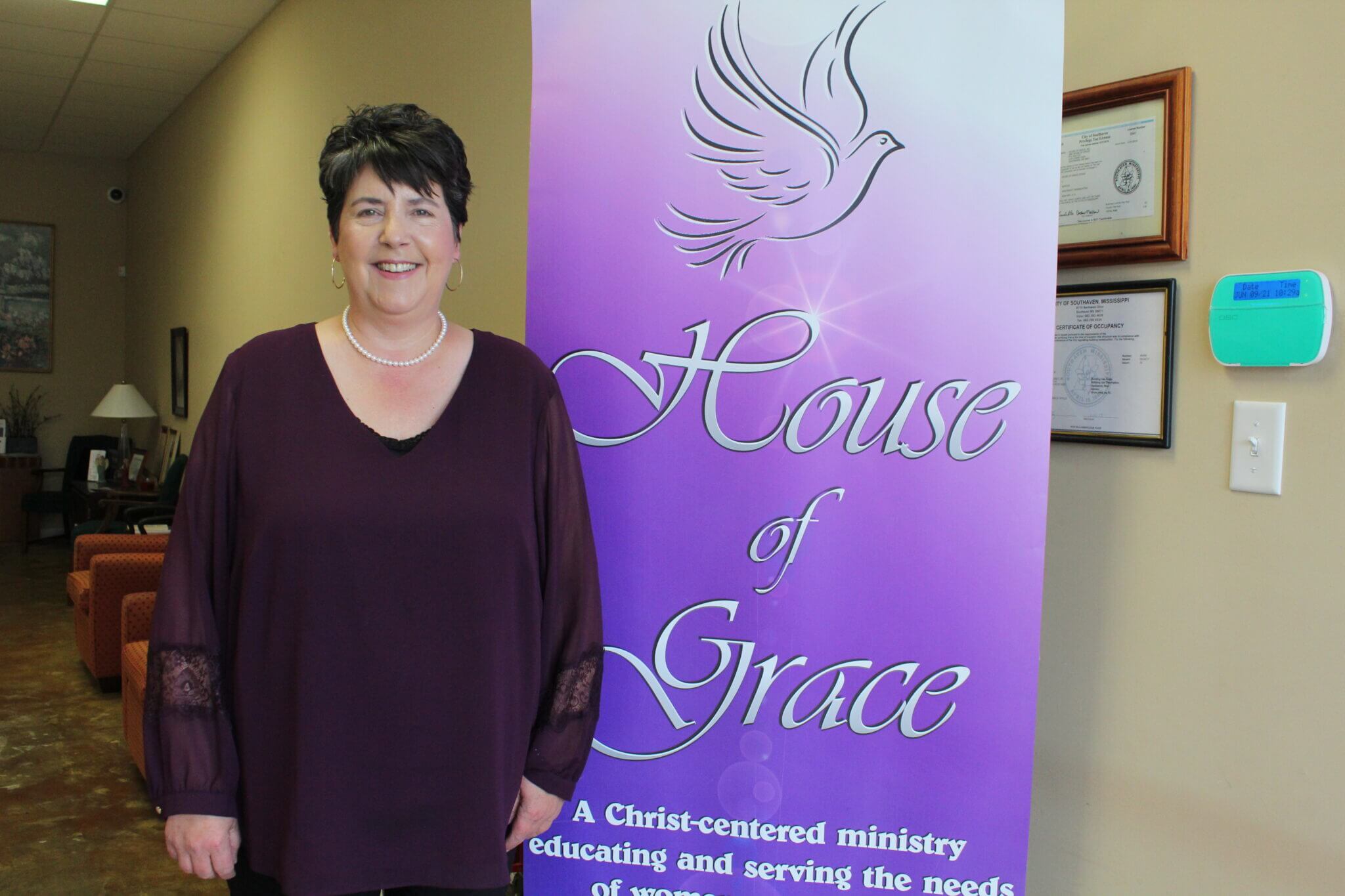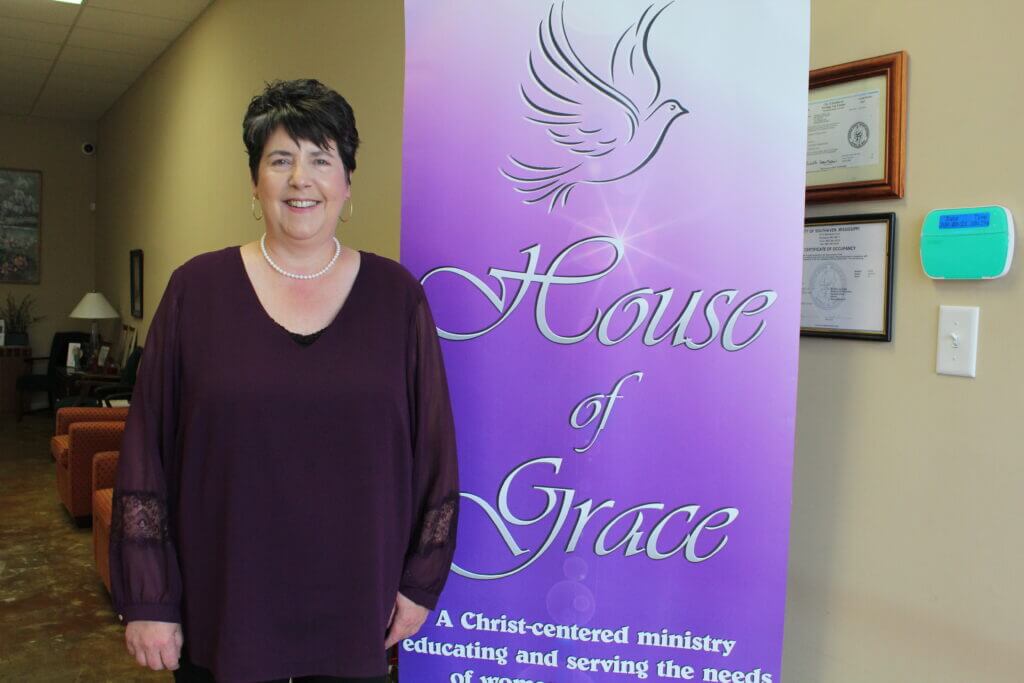 Drake spent five months in the House of Grace with her two daughters. In the meantime, she began studying to regain the nursing license she let lapse trying to protect her family at home. That led to work with a hospice and eventually to become an instructor in the nursing assistant/healthcare assistant program at Northwest Mississippi Community College-DeSoto.
But Drake continued the relationship with Cady and Dabar after her time in the House of Grace.
"I stayed in counseling with Miss Melissa at House of Grace for about a year and a half," Drake related. "Melissa said she'd like for me to consider being on the Board of Directors. I've been on the Board for about four years."
The connection with Cady has also been a close one with all the pair has seen and been through during their time together.
"I've known Miss Cady as a dear friend for six years and we've walked together through a lot," Drake said. "God has kind of knit us together as friends."
It was still likely a bit of a surprise, though, when Cady addressed the board of directors two months ago to announce her plans to retire and step away from the ministry she started more than 20 years ago. Dabar later approached Drake and said Cady wanted her to be the next Executive Director. Would she consider it?
"Inside I was saying, 'No, this is too big,'" Drake said. "But I decided I was going to ask God because I know that my choices are usually not the right ones, so I'm going to seek God on this. For six weeks, every day I was praying. I was anxious, I was in turmoil, and I didn't have peace about this."
However, peace did eventually come and Drake was voted to assume the role leading the House of Grace, which today includes the office, a warehouse, and a thrift store, along with the residential shelter.
"I'm honored and it's surreal," said Drake. "I want to do the best that I can for this ministry because it is so important."
Because of her past, Drake knows the House of Grace is a needed program for women who are tangled in an abusive relationship and require a release.
"They're scared, they're angry, they're confused, they feel worthless, they're lost," Drake said. "I need the wisdom of Solomon, but I really believe God has been training me for years with all that I've been through."
All of the services provided by the House of Grace are free and strictly confidential. Support, counseling, and a safe haven for women and their children to live are there once they decide to leave their abuser. Abuse can be physical, sexual, or psychological, from pushing, slapping and shoving, to humiliation, neglect, and threatening or harassing actions.  
Even in the pandemic year of 2020, House of Grace continued to provides service. A total of 95 women were sheltered last year, served 173 non-resident women and children, answered 922 crisis and informationall calls, and referred 52 victims to partnering agencies.
Legal and court advocacy are provided through the program, along with medical referrals, financial assistance, and personal advocacy.
According to the House of Grace, one in four women will experience domestic violence in her lifetime. Ninety-nine percent of all domestic violence cases include financial abuse, and more than three million children witness domestic violence in their families each year.
The House of Grace is a United Way-supported program that also receives support from individual to community backing. Sales from the Thrift Store, located next to the ministry's offices at 8555 Highway 51 North in Southaven, also support the ministry, as do donations to the Thrift Store.
Drake and her daughters have also become involved in another area, even before her appointment as Executive Director. You may see them on weekends helping patrol the lakes as members of the DeSoto County Sheriff's Department Search and Rescue team.
"My daughters and I have been with them for about two-and-a-half years," she said. "We did lake patrol. My days off have been with Search and Rescue."
Which seems to be quite within her DNA. Helping save lives on weekends as Sarita Drake helps save women from domestic abuse and violence during the week as part of the House of Grace ministry.
You may learn more by visiting the House of Grace website. A 24-hour crisis line is available at 662-342-1432, 877-7233(SAFE), and 662-342-3900.  You may also find information on the House of Grace Facebook page. The ministry serves seven North Mississippi counties: DeSoto, Tunica, Benton, Lafayette, Panola, Quitman, and Tate counties.