Fourth weekend cookout costs more than last year
If you're planning to have an Independence Day weekend cookout, plan to pay a little more this year. That's according to a new market basket survey from the American Farm Bureau, or AFBF.
Those picnic items of cheeseburgers, pork chops, chicken breasts, homemade potato salad, strawberries and ice cream for 10 people will cost you about $69.68, or about seven dollars a person, the survey said.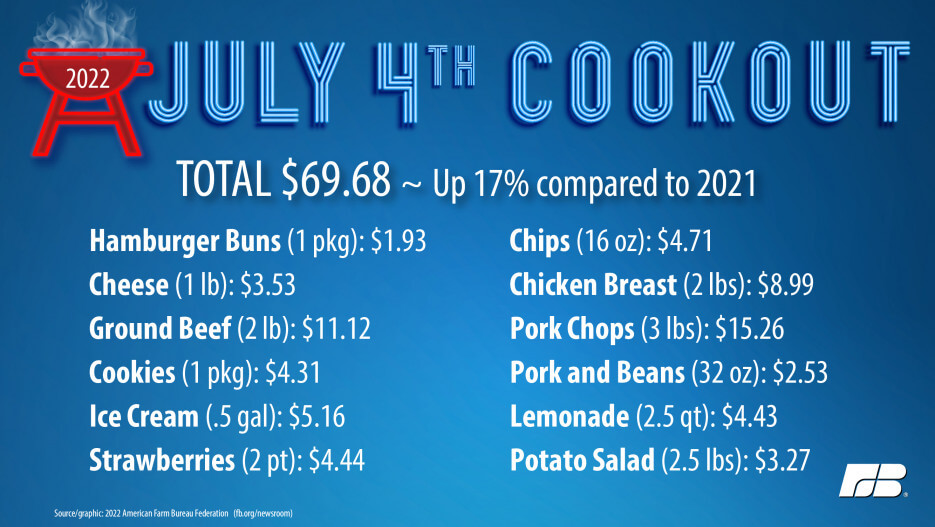 That price is an increase of 17 percent, or 10 dollars from last year. AFBF said the increases are due to supply chain disruptions, inflation and the war in Ukraine. Farmers are feeling the price-point pain too, like the people they grow food for, according to AFBF Chief Economist Roger Cryan.
"Despite higher food prices, the supply chain disruptions and inflation have made farm supplies more expensive; like consumers, farmers are price-takers not price-makers," Cryan said. He added, "Bottom line, in many cases the higher prices farmers are being paid aren't covering the increase in their farm expenses. The cost of fuel is up and fertilizer prices have tripled."
While much of the food items in the survey rose in price, strawberries actually dropped by 86 cents.
Data for this year's survey was collected by 176 volunteer shoppers across the country and in Puerto Rico, including Farm Bureau members and others.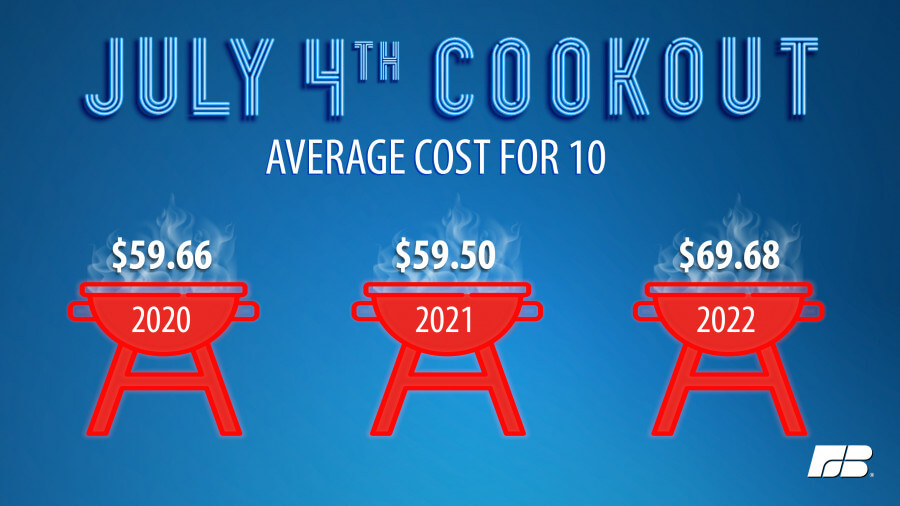 Individual Prices, AFBF 2022 Summer Cookout
2 pounds of ground beef, $11.12 (+36%)
2 pounds of boneless, skinless chicken breasts, $8.99 (+33%)
32 ounces of pork & beans, $2.53 (+33%)
3 pounds of center cut pork chops, $15.26 (+31%)
2.5 quarts of fresh-squeezed lemonade, $4.43 (+22%)
2.5 pounds of homemade potato salad, $3.27 (+19%)
8 hamburger buns, $1.93 (+16%)
Half-gallon of vanilla ice cream, $5.16 (+10%)
13-ounce bag of chocolate chip cookies, $4.31 (+7%)
2 pints of strawberries, $4.44 (-16%)
1 pound of sliced cheese, $3.53 (-13%)
16-ounce bag of potato chips, $4.71 (-4%)
More on the market basket survey can be found on the American Farm Bureau Federation website.