Trump energizes supporters at Freedom Tour stop
Photos: Former President Donald Trump in Southaven Saturday. (Bob Bakken/DeSoto County News)
Former President Donald Trump returned to Southaven for the second time Saturday, this time bringing his American Freedom Tour to the Landers Center in Southaven.
The last time Trump appeared in the Landers Center was four years ago, as then President Trump. He was then in the city as part of a late campaign push in October 2018 for U.S. Senator Cindy Hyde-Smith, who was among the dignitaries who heard him speak Saturday, along with thousands of Trump faithful.
The Trump style was in full effect for the day filled with rallying speeches from the likes of Candace Owens, Donald Trump Jr., Kimberly Guilfoyle, Mike Pompeo, and others, all meant to attack the current state of affairs under President Joe Biden's administration, inspire the conservative base. The former President again hinted of a possible run again for President in 2024, something the vast majority of those in the crowd would heartily support if it would take place.
Trump also talked about the ongoing Congressional investigation into the Jan. 6, 2021 attack on the Capitol as the Senate was about to certify Biden's election as President, which Trump has called "a stolen election," and an "Insurrection hoax."
The former President touted his America First plan and reminded his audience about lower inflation and gasoline prices, an additional 7 million jobs and tax cuts, saying, "We created the greatest economy ever." Trump said the borders were more secure in his administration.
But the former President then turned to the past months since Biden's election, an administration Trump called, "a calamity of historic proportions."
When talking about the border crisis, Trump said the United States has seen more illegal aliens come across the American border from Mexico than at any time before.
"Last year was our worst border year and we're already twice that this year," Trump said.
The audience was told that Congress, once Republicans retake the majority in the House and Senate, need to pass legislation to add thousands of ICE (Immigration and Customs Enforcement) and Border Patrol officers, adding police officers need to be added and given the respect they deserve.
Sounding as close to a candidate as possible, Trump said he would ban Critical Race Theory education in schools, he would stand up for parental rights and would separate men and women from competing against each other in sports. Trump also said the teaching of transgenderism would not be allowed, and got a large round of applause when he said he would require single-day voting, prohibiting early voting, and the institution of universal voter identification.
Trump ended by claiming his Make America Great Again movement is the greatest political movement ever and getting stronger every day.
An unannounced addition to the lineup of speeches Saturday was Mississippi Gov. Tate Reeves, who voiced his support for the former President. Reeves touted his state's opposition to COVID-19 mandates and Critical Race Theory.
"I can take these positions because you have our back," Reeves said. "We have the back of Donald Trump and the tide has never been stronger against the radical left agenda."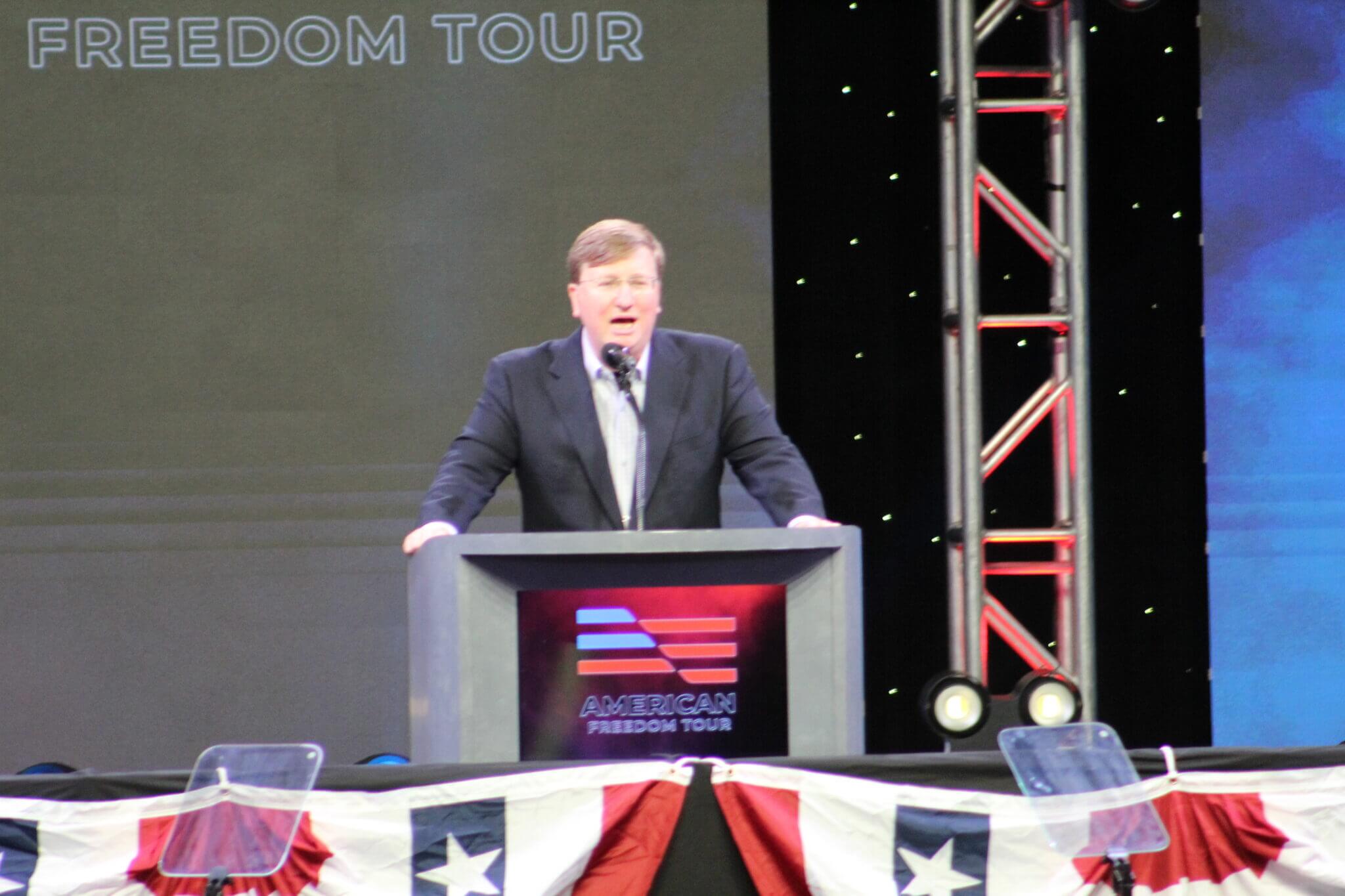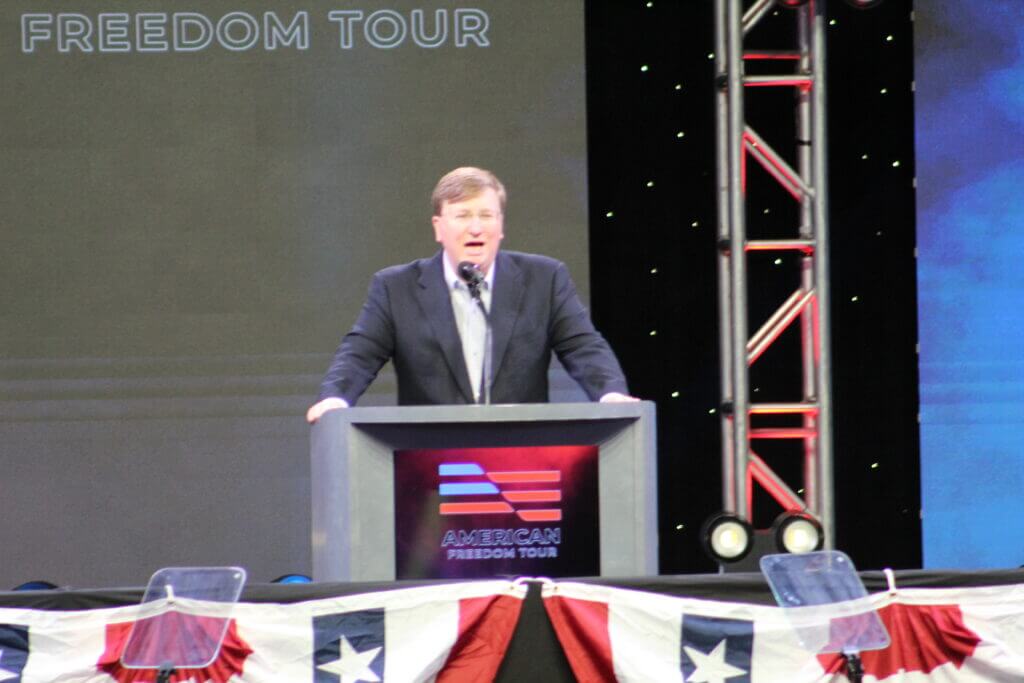 A heavy security presence was on hand for the American Freedom Tour, led by the Secret Service, partnering with local and state agencies. Despite some opposition by members of the Memphis City Council to using local police resources for protection of the former President, Memphis Police officers did provide security from the Memphis International Airport to the state line, where Southaven Police took over.
There were just a very few number of incidents that took place Saturday, including one brief scuffle between two men outside the arena which was quickly broken up by Southaven officers.
As many as seven American Freedom Tour events have been held thus far and it was said they will continue throughout the country in the next two years.