State rates well in skin cancer study
We feel there's a lot in our favor about living in the south over being in the northern part of the nation. Today, we learned another thing in our favor.
QuoteWizard®, which is one of the nation's leading online insurance marketplaces, has released a new report on skin cancer rates and Mississippi rates well in the results.
The report found that skin cancer rates are higher in cooler, northern states and the lowest in warmer, southern states.
Mississippi ranks sixth-lowest in the country for new melanoma rates per 100,000 people at 17.8 new cases over a four-year period studied by QuoteWizard.
Texas leads the nation with a new case rate of 13.1, followed by Alaska at 14.3. New Mexico, Nevada, and Louisiana round out the top five, followed by Mississippi.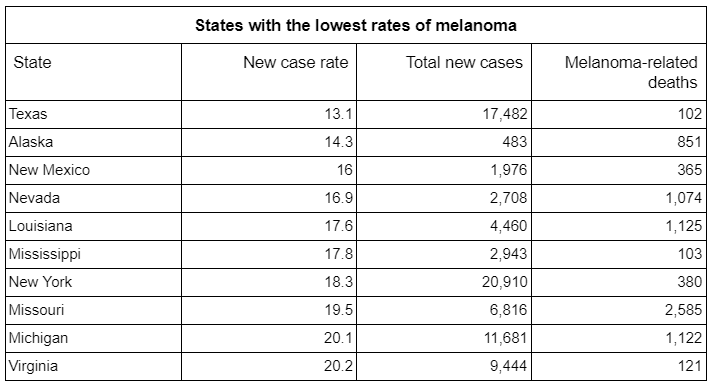 By contrast, Utah had the highest new case rate for melanoma at 40.4, followed by Vermont (37.6), New Hampshire (32.1), Minnesota (31.7), and Delaware (29.5.).
"Utah and Vermont are seeing two-to-three times more cases of skin cancer than places like Texas and New Mexico," said Nick VinZant, Senior Research Analyst and Insurance Expert for QuoteWizard.
Centers for Disease Control statistics between the years of 2013-2017 were used for the ratings used by QuoteWizard.
The study findings noted that men were more likely to develop skin cancer with a new case rate of 29.5 per 100,000 population, compared to women at 19.4 per capita. Men had 160 percent more cases of the disease than women.
Nationally, nearly 44,000 people died from skin cancer during the four-year period studied in the report from 2013-2017, including 103 deaths in Mississippi.
Sunburns remain the leading cause of melanoma.
"Severe sunburns damage the DNA of skin cells, causing new skin cells to grow out of control and become cancerous," QuoteWizard explained. "The higher rate of melanoma cases in the northern, cold-weather states could very well be due to a higher rate of sunburns compared to southern, warmer states."
Another explanation for the rate trends is that those who live with the sun in the southern segment of the country protect themselves better than in the north.
"Not having sun protection top of mind as people do in warm states, northern folks are more prone to getting sunburnt when the seasons change," the QuoteWizard report explained. "The shorter sun exposure without sun protection leaves northern people more susceptible to sunburn."
The study comes on the heels of May being named Skin Cancer Awareness Month.