Sorority holds two-day vaccination program in Delta
Nearly 100 years after its first Mississippi Health Project, Alpha Kappa Alpha Sorority, Inc.® (AKA) returned to the Mississippi Delta to host a COVID-19 vaccination outreach program and health event for residents of Mound Bayou and Greenville, MS. Partnering with local healthcare providers Delta Health Centers, Walgreens, and Urgent Primary Care of Clarksdale, the two-day event enabled 330 residents to receive the COVID-19 vaccine. 
"We are extremely pleased that hundreds of people participated in our Alpha Kappa Alpha Mississippi Health Project II. Lack of access to healthcare in rural Mississippi communities has been an ongoing barrier for this segment of America, and that's why the work of our sorority to provide education, access to COVID-19 vaccinations, and other health services is so critical," said Alpha Kappa Alpha International President & CEO Dr. Glenda Glover. "Our partners Delta Health Services, Walgreens, and Urgent and Primary Care of Clarksdale understand the tremendous need and have joined us to offer services in the Mississippi Delta. This historic health initiative is taking place under very different circumstances, but the end result is the same, AKA providing sustainable service to benefit families and possibly change the trajectory of their lives."
Under its international community service program, AKA has been delivering Pop-Up Health Programs since January to increase knowledge and awareness of COVID-19, provide greater access to COVID vaccines, and deliver much-needed support services. The COVID vaccinations took place on June 3rd at Delta Health Center in Mound Bayou, MS, and on June 4th at the Yazoo Mississippi Valley Train Depot and at Walgreens in Greenville, MS. Vaccines were administered on both days at Urgent and Primary Care of Clarksdale.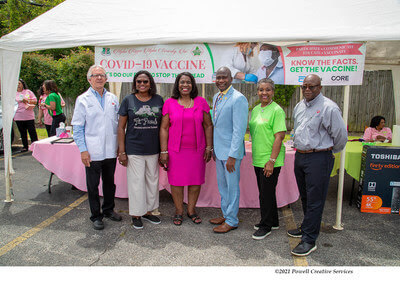 "Walgreens was proud to partner with Alpha Kappa Alpha Sorority Inc.'s Mississippi Heritage Project II to drive COVID-19 vaccinations at our Greenville, Mississippi location," said Stephen Johnson, Regional Vice President, Western Operations for Walgreens. "Alpha Kappa Alpha made history when it first launched the Mississippi Health Project to provide much-needed health services to low-income families throughout the Mississippi Delta during the Great Depression. We offer our gratitude for their continued focus on service more than 80 years later."
Originally conducted over six consecutive summers in Mississippi in the 1930s, the first AKA Mississippi Health Project was created to provide much-needed healthcare services to Mound Bayou and Greenville residents. The sorority developed a network of members and volunteers to create a mobile health clinic during one of the most challenging periods in American history.
"The return of Alpha Kappa Alpha to the Mississippi Delta to provide free COVID-19 vaccines proved to be another historic moment in the life of the sorority," said Vanessa Rogers-Long, Alpha Kappa Alpha Chair of the Mississippi Health Project II. "The Mississippi Delta, a rural community, remains marginalized and in need of additional supportive health services. In 2021, our International President & CEO Dr. Glenda Glover envisioned a return to provide similar services during the devastating COVID 19 Pandemic. Service is what we do, and we create meaningful community partnerships to make it happen."
Alpha Kappa Alpha's commitment to the Mississippi Delta is one of several pop-up events that have taken place across the country over the last three years. Most of Alpha Kappa Alpha Sorority's traveling health events have included its 3D mobile mammogram unit which provides free mammograms to uninsured women. The mobile mammography unit will travel to Mound Bayou in October 2021 for the second installment of the sorority's two-part series to provide services to residents of the Mississippi Delta.
"Since our founding 113 years ago, Alpha Kappa Alpha has a rich legacy of offering innovative programs that improve the health and welfare of women, men, and children around the world," said International Program Chair Ora Douglass. "During this critical time of a global pandemic, our commitment continues as we provide COVID vaccines. Likewise, our AKA 3D Mammography Mobile Unit has helped save lives by providing free breast cancer screenings."
Alpha Kappa Alpha and the three health partners provided other healthcare services that resulted in 120 glucose and cholesterol tests, 71 HIV tests, 50 eye exams including 31 eye exams for school-aged children. Personal protective equipment was also given to residents in need. Participating residents who were vaccinated received a cash gift card and were entered into a drawing for a 60-inch Smart TV. Activities and giveaways for families with children, high school-bound teens, and college-bound students were also provided.
DeSoto County News Service