Shooting incident ends in vehicle chases
Officials in nearby Tunica County continue investigating a Tuesday shooting incident that involved two vehicles speeding away, one heading into DeSoto County before being stopped.
A 911 call into the Tunica County Sheriff's Office Tuesday came in with the caller stating that shots had been fired in the Old Sub area, which is located just north of the Town of Tunica limits.
When deputies arrived, they were led on high-speed chases of two vehicles heading northbound on U.S. Highway 61.
One of the vehicles left the roadway and was wrecked in a field off Highway 61 near the Tunica National Golf and Tennis. Two people inside fled the vehicle and tried to flee on foot, but were apprehended by Tunica County deputies.
The other vehicle led deputies into DeSoto County on I-69 but also wrecked, being stopped near the I-69/I-55 interchange north of Hernando. The two people inside that vehicle also tried to flee the scene but were caught by DeSoto County deputies.
According to the Tunica County Sheriff's Office, the vehicles involved had been stolen outside Tunica County.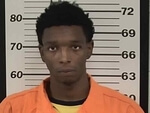 The four suspects involved are in custody in Tunica with three of the four being juveniles. The fourth suspect, Martavious Cunigan, age 18, was denied bond and is in custody at the Tunica County Detention Center awaiting an initial appearance before a judge.
There was no word on any injuries in the shots fired incident and the vehicle chases.