Fitch to join Texas election lawsuit
Mississippi Attorney General Lynn Fitch Wednesday announced in a news release her office would join the State of Texas in a lawsuit against other states that alleges election fraud in the Presidential election results that went in favor of Joe Biden.
Texas announced Tuesday it was filing a lawsuit in the U.S. Supreme Court against the states of Georgia, Michigan, Pennsylvania and Wisconsin. The Texas Attorney General alleges the states skewed the election results in those states and that Presidential electors from those states should not be allowed to vote for Biden.
Wednesday, Fitch made the following statement released by her office.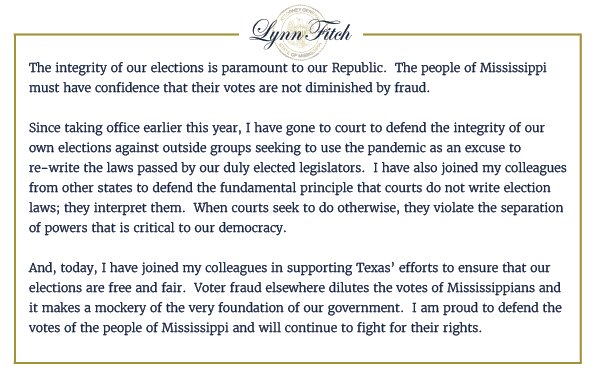 The Supreme Court has not said if it will take up the case. President Donald Trump has said he would be intervening in the case, but did not say if that move would come from personally or if his campaign would get involved.
Other efforts in support of the President's attempt to be re-elected have not gone well. The Supreme Court rejected Pennsylvania Republicans' attempt to nullify the election and Attorney General William Barr has said his office has not seen any evidence of fraud in the election results.