Senators, Congressman respond to State of the Union
Mississippi's U.S. Senators and Congressman representing DeSoto County Tuesday responded to what President Joe Biden proposed in his State of the Union address on Capitol Hill Tuesday, Feb 7, expressing the President's shortcomings in his first two years in office.  
The state's senior U.S. Senator Roger Wicker (R-Miss.) commented ahead of the address to say the President is "failing the American people."
"Americans want to see a strong commander-in-chief," Wicker said. "They want a leader who takes responsibility. This State of the Union address is an opportunity for the President to speak with clarity about our problems. But I will not hold my breath. I expect we will get more of the same: all talk and very little action."
Wicker talked about the record-high inflation that has risen during Biden's leadership, the border crisis, and foreign policy.
"The cost of living is up 13.5 percent across the board," Wicker said. "Wage gains have been erased for 21 straight months. Families are right to be angry, and the American dream is slipping out of reach for many. President Biden also promised he would be the adult in the room. But his leadership has been sorely lacking."
The Senator said he was encouraged with a new House Republican majority. "Together, we will hold this Administration accountable and get our nation back on track," Wicker said.
Wicker's complete statement was posted on his website in a YouTube video.
U.S. Senator Cindy Hyde-Smith (R-Miss.) said there are solid reasons why American people are expressing dissatisfaction with their current situations – all of it linked to not feeling sure.
"More than 40 percent of Americans say they are worse off today than when President Biden took office, and why more than 70 percent of Americans believe the nation is on the wrong track," Hyde-Smith said. "Despite the President's telling, I believe the concerns felt by many Mississippians and their fellow Americans are rooted in whether we feel secure—in our homes, in our communities, in our futures, and as a nation."
Hyde-Smith brought up the border security, including a mention of allowing a Chinese spy balloon to float the length of the country before being brought down.
"Do we feel secure when we see U.S. border security fail—resulting in more than 4.6 million illegal border crossings in just two years and record levels of fentanyl flowing across the border and into our communities?" Hyde-Smith said. " I believe it's imperative that he adjust his outlook, abandon his my-way-or-the-highway governing style, and truly work with us to turn the country around and restore a sense of security that we expect as citizens of this great nation."
Hyde-Smith's complete statement is also available in video form from her official website here:
First District Rep. Trent Kelly (R-Miss.) made a brief comment on the address through a post on the Congressman's Twitter account.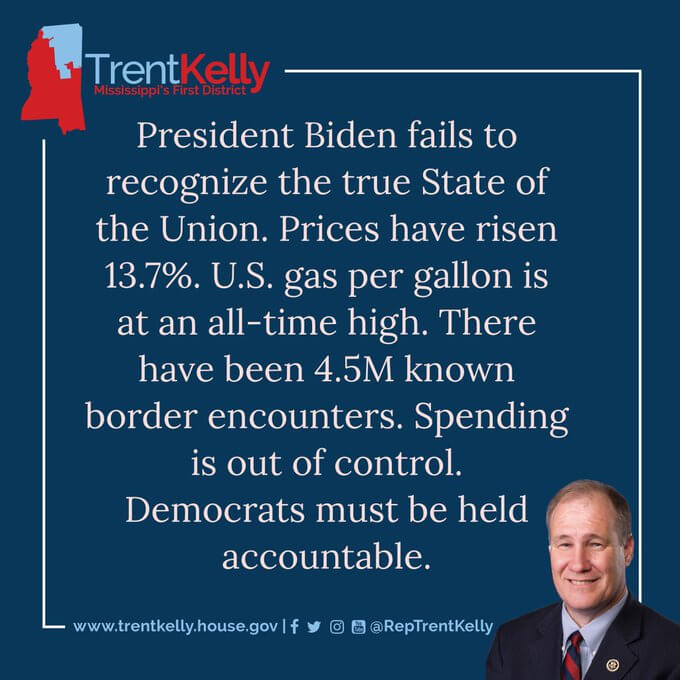 The President called for unity and touted economic recovery in his address, the first before a divided Congress with a Republican majority in the House.