Photo: Prices at DeSoto County gas pumps rose again on Wednesday, as noted at this pump Wednesday evening. (Bob Bakken/DeSoto County News)
Drivers in DeSoto County and across the country went to the gas pumps Wednesday and felt a little more pain in the pocketbook with another spike in prices greeting them when they came to fill up.
According to AAA, the average regular unleaded gas price in DeSoto County Wednesday evening rose to a record $4.199 a gallon. Mississippi's average gas price also reached new highs at $4.205 a gallon, and nationally on average, you'll pay $4.671.
Mississippi Gov. Tate Reeves posted about the high gas prices on his social media channels Wednesday, including this Twitter post:
Gasbuddy.com keeps track of gas prices provided by consumers and in checking the lowest gas prices reported in DeSoto County, for the first time Wednesday, there were no stations pricing gasoline below $4.00 a gallon. As of Wednesday evening, these were the lowest prices reported in DeSoto County, according to GasBuddy.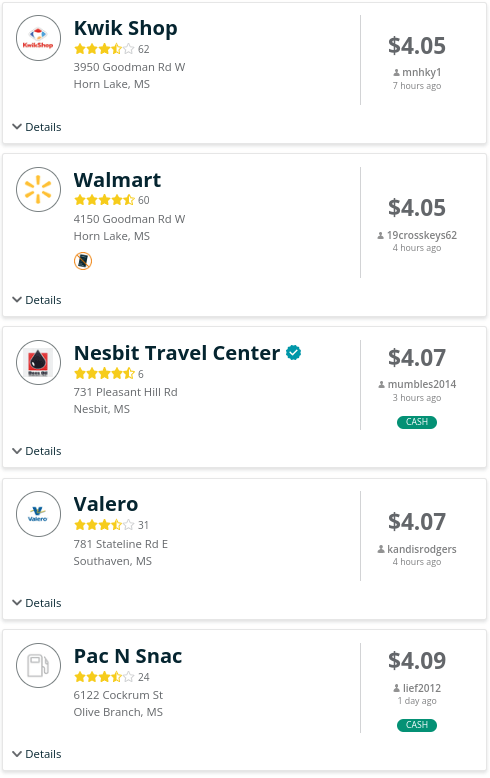 AAA offered fuel-saving tips on its website that included the following:
Slow down and drive the speed limit.
Avoid "jackrabbit" starts and hard acceleration.
Avoid extended idling to warm up the engine, even in winter.
Avoid prolonged idling in general. If your car will be stopped for more than 60 seconds, shut off the engine to save fuel.
When driving in town, adjust your speed to "time" the traffic lights.
When approaching a red light or stop sign, take your foot off the gas early and allow your car to coast down to a slower speed until it is time to brake.
Accelerate smoothly with light to moderate throttle.
Use cruise control to help maintain a constant speed and save fuel. However, never use cruise control on slippery roads because a loss of vehicle control could result.
If your car has a manual transmission, upshift as soon as you can without "lugging" the engine.
Gas prices in the nation have more than doubled in the past two years, as the average national gas price in Feb. 2020 was $2.53 a gallon and actually dropped to $1.94 a gallon in April 2020, according to an article in the Washington Post. However, average national pump prices have jumped back to $4.21 a gallon by April of this year, ahead of the 40 cent a gallon rise by the end of May.
The Ukrainian crisis along with more demand in the post-pandemic world can be attributed to much of the rise. However, the Biden administration's refusal to allow more domestic oil production for environmental reasons, production that was encouraged during the Trump administration, is also considered by many analysts as reasons.
In response to the spike in prices, the Biden administration is releasing oil from the Strategic Petroleum Reserve, Republicans are urging more domestic oil production, and many governors are calling for the suspension of gas taxes to temporarily lower fuel prices. However, that action would take away money from road projects.
Most everyone agrees, however, that a peak in the gas prices needs to come soon, although the light at the end of that tunnel still seems to be a ways away.